Milk Cult is on a Mission to Make Ice Cream for Everyone
"We just thought, man, there's pretty much nobody out there who was making a vegan ice cream sandwich or novelty that we thought was really, really good," says co-founder Ed Cornell
Heading out the door? Read this article on the new Outside+ app available now on iOS devices for members! Download the app.
Anyone who makes ice cream at scale will tell you it's not an easy business. A New York Times story from this past summer aptly headlined "The Cutthroat World of $10 Ice Cream," was widely shared for how it shed light on the intensely competitive reality of running an artisanal ice cream business — from fighting for freezer space in grocery stores to navigating expensive distribution networks. "It's a wildly, heavily invested speculative market," says Ed Cornell, co-founder of the Washington, D.C.-based brand Milk Cult.
Although he and his business partner Patrick Griffith have sold pints in the past, they stopped because it didn't make financial sense. "Even if our pints sold really well instead of just okay, we would not be able to make a profit. Everybody else is barely making money, just trying to capture as much of the market as possible," he adds. Instead, Milk Cult has chosen to focus on frozen novelties, specifically ice cream sandwiches and "Dippy Boys" — their take on a Klondike bar. They sell one dairy-based and one vegan flavor of each, four packaged products in total.
Consumers can find Milk Cult's novelties in groceries across the Northeast, Mid-Atlantic, and Midwest, including Whole Foods. And they sell well. Still, the grind for success in a "pay to play" market is demanding. Cornell says that owning an ice cream business is "the best and the worst thing that ever happened to me." Yet neither he nor Griffith have any intention of giving it up.
The duo met at an "alternative" school in a Maryland suburb of D.C. after getting kicked out of their respective public high schools for substance abuse and behavioral problems. Both of them were interested in food, and Griffith had family in the restaurant industry, but Cornell feared that working in professional kitchens would inevitably mean exposure to drugs and alcohol. So, after a couple of years of community college and working odd jobs — including in food trucks for Griffith, and catering gigs for Cornell — Milk Cult was born in 2013. Cornell had gotten really good at making ice cream at home and for events and as Griffith recounts, "there wasn't anybody [in D.C.] who was doing ice cream in ways that we thought were interesting or unique or really just fun."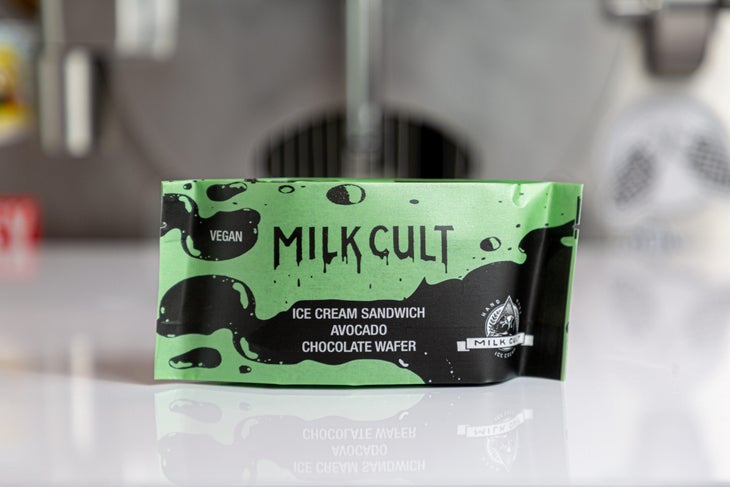 Milk Cult's first vegan product came about as a happy coincidence, shortly after its inception. Cornell was inspired by an avocado-chocolate milkshake that he fell in love with during a brief stint living in Bali. At first, Griffith was skeptical about combining those flavors in an ice cream sandwich, but after Cornell had him try a sample, he was instantly convinced. They chose to use coconut milk as the base, not in order to make a dairy-free product, but because it made simple sense. "Coconut milk is already such a beautiful, amazing flavor on its own that works with so many other flavors," Griffith says.
The success of the novelty led to a larger conversation about the lack of tasty vegan ice cream products, and why that shouldn't be the case. "We just thought, man, there's pretty much nobody out there who was making a vegan ice cream sandwich or novelty that we thought was really, really good, mostly because people were choosing flavor combinations that didn't really suit the vegan ice cream base they had chosen," Cornell says. Part of the problem is many companies market vegan treats as health food products and pursue low calorie counts. "Something falls by the wayside, and it's either taste or texture," he adds.
The goal of Milk Cult is as straightforward as making delicious ice cream that everyone is able to enjoy. But that doesn't mean the flavors are basic. An important pillar of their business is collaborating with local chefs, and it's through these relationships that they're able to experiment with a wide range of flavor profiles. Their vegan Dippy Boy was developed as an extension of the makrut lime-coconut ice cream they were making for the Lao restaurant Thip Khao. They loved it so much that they decided to roll it into their next product by incorporating orange blossom puffed rice and a hibiscus candy shell. Meanwhile, they've concoted ice creams ranging from jackfruit-and-cream cheese to smoked plum sorbet for lauded restaurants like Bad Saint and Rose's Luxury.
Anju, a contemporary Korean restaurant whose chef Angel Baretto was recently named one of Food & Wine's Best New Chefs, is one of Milk Cult's regular clients. Baretto says that everything Cornell and Griffith make "has a fantastic mouthfeel and viscosity, and such bold flavor." He's tapped them as collaborators in his rotating dessert menu, and in turn, they've churned out flavors such as tofu, vanilla-infused roasted barley, vegan Ferrero Rocher, Bourbon custard, sikhye (Korean rice punch) sorbet, and even Go-Gurt-flavored ice cream to pair with Baretto's bingsu, Korean shaved ice.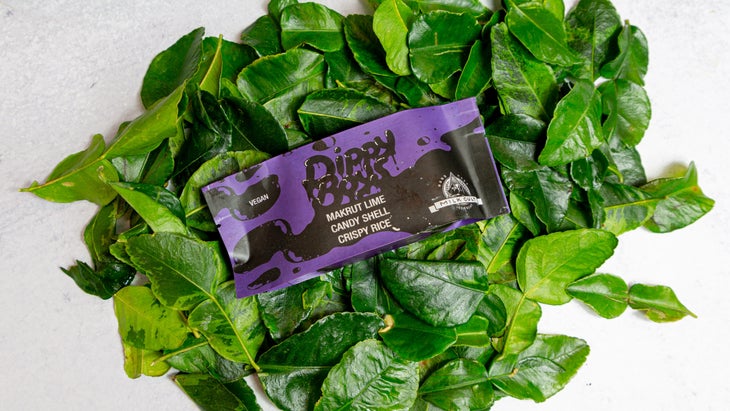 "Even though it takes a really long time to bring a product to market, we want to get ideas from the restaurants that we work with, and then also be the same people who can bring that to the grocery store," Cornell says.
As ice cream makers, it's Milk Cult's job to make people happy. And whether they're catering to diners at fine dining restaurants or shoppers at grocery stores, they take that job seriously. "When you own an ice cream company, one out of every three conversations that anyone ever has with you is, 'can you make this ice cream I want?'," Cornell says. Leaning into a product line that's always at least half vegan is part of how they're answering yes to that question. "It's cool," Griffith says, "because sometimes we're trying to solve a problem, like how can we make this product vegan? Other times it just is vegan, and we're happy that it is."
---
---
Get more of what you love from VT. Follow us on Instagram, Facebook, and Twitter and sign up for our email newsletters.