The Best Hard Seltzers for When You're Over White Claw
Big Hard Seltzer's bubble may have burst, but that hasn't stopped a new generation of spiked refreshments from popping up. These craft cans emphasize simple, natural ingredients and fresh flavors.
Heading out the door? Read this article on the new Outside+ app available now on iOS devices for members! Download the app.
Think back to the summer of 2019. "Old Town Road" is playing from passing cars, you've never heard of COVID, and the cooler at every house party is stocked to the brim with cans of hard seltzer. Hard seltzer sales reached $627.2 million in mid-2019, Bloomberg reported, quadrupling year-over-year numbers and making a billionaire of Anthony von Mandl, founder of White Claw, the brand that became synonymous with the hard seltzer surge. Dozens of brands hit the market and corporations poured huge sums into marketing. But, by 2021, those carefree, seltzer-slugging days seemed to be behind us. The fad fizzled, sales slumped, and big names like Coors and Sam Adams parent Boston Beer Company found themselves throwing out cases of unsold product and discontinuing labels entirely.
That roll-back of major players appears to have left an opening for smaller brands to enter the space. New cans have arrived on shelves offering a more "craft" take on hard seltzer, similar to the movement for craft beer brewing – many of them in fact made by those smaller-scale craft breweries. This second generation of seltz prioritizes using real fruit for flavor and keeping ingredient lists minimal. Even sippers who never saw the appeal of a White Claw might well be convinced to set down their Aperol spritz and crack open a can.
We gathered up an array of these new drinks and a few taste-testers over two warm evenings in Los Angeles to review and name some faves. Here are our notes on the best hard seltzer options out there right now.
---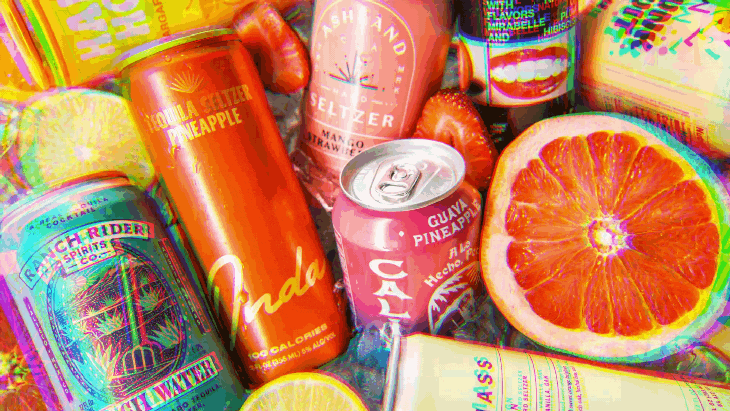 The Best Hard Seltzer Brands to Try This Summer
Amass Sun Sign
One of the most popular samples with everyone in our test was this sophisticated take. Notes of vanilla and oak bring something a depth beyond the typical fruit flavor, though the mandarin oranges here are a lovely citrus element. This one is closer to a cocktail than a La Croix and it's the one your author would most eagerly buy again. amass.com
Madre Desert Water, Grapefruit and Yerba Santa
This mezcal sparkling water was a delicious take, coming in with a little smoke and bite (in a good way) commingled with citrus and herbs; a flavor trip to the desert as the name suggests. It also claims to be infused with adaptogens, which seems cool. "The others all seem summer-specific, but I would drink this one any time of year," said one tester.  shopmadremezcal.com
Sprindrift Spiked Sparkling Water, Pineapple
Another crowd favorite, this offering from Spindrift got high marks from everyone involved. Opening the can releases a strong, natural pineapple aroma, and the drink goes down like a fun, fizzy juice drink. "I could crush these," said one reviewer whose only concern about this one was that it was so quaffable that she might down several without thinking about the alcohol content. We also tried a lime flavor which was fine, but pineapple was the clear winner. spindriftspiked.com
Cliché Wine Seltzer, Mirabelle Plum and Hibiscus
Developed by Napa Valley winemakers Dave Phinney and Joe Wagner, this chic-looking can pitches itself as the hard seltzer for wine lovers. It has the strongest fragrance of anything we reviewed and a bold, sweet flavor that one taster described as "like licking the bottom of a fruit cup." This was the most divisive seltz we popped, with tasters either marking it at the top or bottom of their score sheets, nobody put it in the middle.  drinkcliche.com
Happy Hour Margarita Seltzer, Passionfruit
While a little sticky in the mouth, this 'margarita seltzer' had a strong and satisfyingly-tequila-like flavor and mouthfeel that our tasters enjoyed. If you weren't in the mood to whip up a whole pitcher of actual margaritas, this can would be a solid alternative. Of the several tequila-based hard seltzers we tried, this one earned the highest marks from the panel.   drinkhappyhour.com
Onda Tequila Seltzer, Pineapple
The can suggests the sort of Miami Vice retro cool thing that's so big right now, so this one got my vote for most Instagram-ready. (Good work, Onda design team.) While most of our tasters enjoyed the sessionable, not-too-sweet taste, one noted an odd end-note in the mouth that threw them off a bit. All agreed we would need to be sitting poolside to properly judge this one as it seems intended to be consumed. drinkonda.com
Ashland Hard Seltzer, Mango Strawberry
The strawberry flavor stood out as an appealing change of pace from the rest of our sample, which was otherwise heavy on citrus and pineapple. It's quaffable and refreshing, reminiscent of a non-spiked sparkling water. Ashland contains zero added sugar, which may contribute to the clean mouth experience. The only complaint reported came from the cereal-y aroma. While we only tried mango-strawberry, it's worth noting Ashland offers the widest variety of hard seltzer flavors of any brand we checked out. ashlandhardseltzer.com
Bubble Party Hard Seltzer, Tangerine Fiesta
Immediately upon popping the top, it has a cereal-y alcohol aroma, but the tangerine flavor itself is bright and a little tart in a good way. "This one reminds me the most of an old-school Mike's Hard Lemonade," one sipper noted, though he added he didn't see that entirely as a criticism. moderntimesbeer.com
Good Sunday Lemon Vodka Soda
"It's giving Pledge," was the initial response from one taster, reacting to the strong lemon scent and flavor of this one. Others were unbothered by the lemoniness, appreciating the bright and natural citrus flavor and noting that the tartness seemed intentional. Is a canned vodka soda technically a hard seltzer? Maybe not, but it seemed similar enough to warrant inclusion.  drinkgoodsunday.com
Ranch Rider Spirits Co., Ranch Water
At 5.99 percent, this was the highest ABV of the hard seltzers we sampled, and it goes salty where others go sweet and fruity. While the salt and bitter lime worked well as a flavor, tasters thought it needed more lime, and one reported an "off-putting leather smell" upon popping a can. ranchriderspirits.com
---
RELATED: The Best Vegan Ice Creams in Your Supermarket's Freezer Section
---
Get more of what you love from VT. Follow us on Instagram, Facebook, and Twitter, and sign up for our email newsletters.