Most Baking Decorations Are Outdated and Chemical-Laden – All-Vegan Supernatural Is Changing the Game
Baking decorations on store shelves are either decades-old formulas full of chemicals and additives – or they're natural alternatives that just aren't vibrant and fun. Entrepreneur Carmel Hagen set out to put some joy in vegan baking.
Photo: Courtesy Supernatural
Heading out the door? Read this article on the new Outside+ app available now on iOS devices for members! Download the app.
Since its launch in 2017, Supernatural has cultivated a following thanks to their eye-catching plant-based food colors, dye-free and vegan rainbow baking chips, and inventive sprinkles. Supernatural is a unicorn in an industry in which controversial ingredients like Red Dye #40 and potassium sorbate are still commonly used, and with Holiday Baking Season in full swing, these are the sprinkles you'll want adorning your cookie swap creations.
Supernatural came to be when, after a decade working in tech start-ups, Carmel Hagen decided to return to an early childhood passion — baking – and it turned into a new business. I chatted with Hagen about her mission to reinvent decorative baking.
---
I know you've been baking from a very young age. I'd love to hear about your experience as a home baker through the years.
One of my first memories is standing on a chair in a kitchen – actually unsupervised, while my mom was away and my dad was 'watching' me – just pulling things off the shelves and putting them in a bowl and really enjoying myself, and at the end of it turning the oven on and baking a giant cookie. I remember people tasting it. I remember standing on a chair, so I had to be pretty little, 4 or 5.
My mom's an artist and my dad was an entrepreneur, and their combined energy of, "you never have to follow the prescribed way of doing something" totally transferred into the kitchen. They always just let me go in there and do whatever I wanted. I could have made a chicken with chocolate on top — they wouldn't have cared. It was always a safe space to go be creative.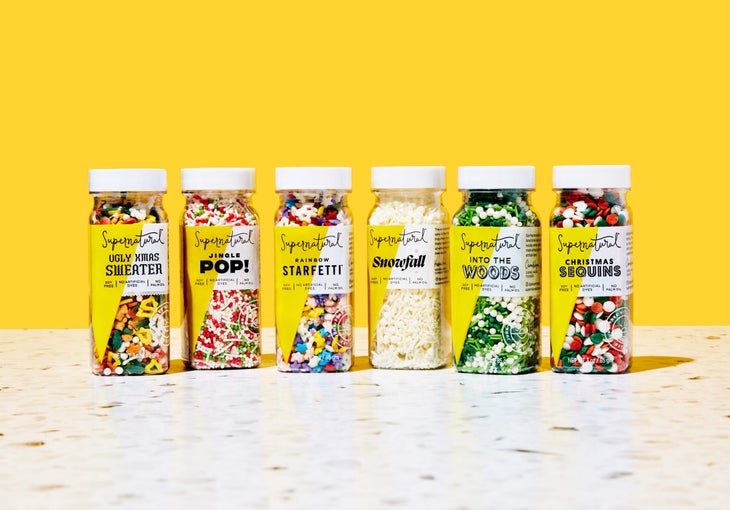 How did your experience with tech start-ups prepare you for launching and owning Supernatural?
I left tech and was hanging out in the kitchen a lot to heal myself from tech burnout, and I gave myself a personal project. I had always wanted to be more involved in food and loved food and knew that I had enough passion to be in it everyday. So I gave myself a personal project that involved all the things I loved — branding, telling a story around something that I think is underrepresented – to see how I do. That's how I started my first company, which was Purely Coconut Sugar, and at the time, coconut sugar was still a very niche-y alternative sugar, so I just had a lot of fun getting the pastry chef treatment and pointing out the benefits from a health perspective but, moreso from a chef perspective.
That's when I got into Whole Foods, and that's when I got in the baking aisle and thought, "Ok, I'm not just building a coconut sugar company. What is the gap here? What is the thing that's really missing from the natural channel?" And it was so obviously decorative. It was almost so obvious that it was uncomfortable. If I sat down with an investor, everyone's question was, "Why hasn't this been done before?" And I had the same question, because if it were possible to create these products, the natural colors, why wouldn't have done this? We should be here by now.
Tell me more about your mission to reinvent decorative baking. Where did that mission come from?
Baking is so easy to do in a healthy way these days. In some ways, it was always been easy to bake something healthy at home, but if you wanted to add that creative layer, if you wanted to go into Michael's and make something expressive on top of a cookie or make a cookie that was colorful, that was something you couldn't do without veering into chemicals, petroleum-based ingredients, and typically that came hand in hand with corn syrup, GMOs — everything you see on the back of a tube of colorful frosting these days are the same ingredients you saw 30 years ago. There's been no innovation.
So, there was enough of a need for these products. The conversational knowledge around those things is there. People know. Artificial colors and preservatives are in the top five ingredients people avoid according to Nielsen. So it was just such a good set up to try to fix this. I knew the world was ready for it.
Your product line is completely vegan. Why was that important to you?
Vegan as a product attribute across our entire line has always been something that's incredibly important to me. In the world we're living in right now, any time you can do something without animal products, just do it. There's no good reason to not do it. I knew it was a good differentiator for our product line too. There's a lot of decorative products that get into all those sneaky ingredients like bone char sugar and a lot of whey in certain products. For us, there's literally no reason to work with animal products. We're vegan for personal choices and preferences and it's the right thing to do these days.
How did you go about finding alternatives for harmful ingredients? What was the product development process like?
One thing that comes over from tech is the idea of something that's very usable. As we reinvent something that people already have one way of doing, you have to take away so much of the friction in that transition for it to really work. Working with natural colors is a very different thing than working with chemical colors. We've all been so trained that these things can just come in a bottle, and you squeeze it, and it can go in the oven, and it can do anything. And that's true for chemical colors, but natural colors are a very different bag because, like a flower, they're going to be sad if they hang out in direct sunlight too long.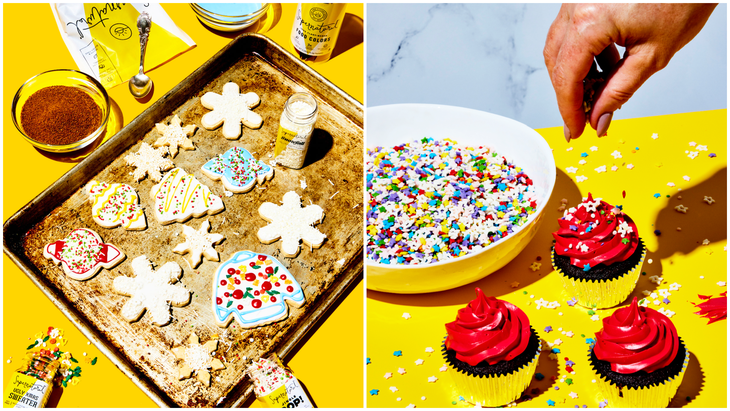 Most people are now comfortable with the idea of a natural color that you mix in water. What I knew we needed to do in order to provide a replacement for chemical colors that a mainstream customer would be open to and not just someone who's more willing to make an effort to have a natural lifestyle, was to find natural colors that had the least amount of heat sensitivity possible. So we had to find ones that were very flexible, not very sensitive, and incredibly concentrated. We had a list of things that were pretty demanding for the natural color set in general, and as I worked through these colors, putting them in a liquid to begin with opens them up to all sorts of fading and becoming harder to have that powerful colorful experience at home. So, it was my deep hope that, by keeping them in powdered form, we could preserve all those characteristics of color that would give people that wow effect at home.
We have the top-selling color on Amazon. It's great to see that people are buying it and buying again, but we haven't made that leap into mainstream where people now know that powdered colors are great and this is how you use them. It's a little nascent. We have a frosting mix that's coming out that's the first really vibrant color in the natural space and that is a different conversation. It's a little easier for the home shopper because they don't have to mix the color; all they have to do is add water and fat. It's a very simple process.
The sprinkles are so fun and unique, I'd love to hear about how they were created.
Every sprinkle that we have starts from a seed that already exists on the market. So, for example, something that we do that probably would've been very nontraditional ten years ago is I take my sprinkle development cues from Amazon search terms. So, we'll pull a giant list of search terms related to decorative from Amazon and, based on that information, we can see how many times people look for a blue sprinkle or a unicorn sprinkle.
We create our pipeline based on demand as indicated by searches online, which has worked out incredibly well for us. So we take that seed and then we might pair it up with some other piece of insight. You might see a lot of blue sprinkle searches and then a lot of blue nonpareil searches. Supernatural would never do just a blue nonpareil, we have to give it a special little twist, and this is where the pop theory comes in. That's the mix of nonpareil and bigger sized balls and sugar strands, and it creates this incredibly photogenic, fun sprinkle that just really pops off of baked goods or whatever you put it on.
How did your cookie decorating and gingerbread kits come about?
We had never done kits before. We have so many talented chefs in our inner circle now that it felt like we had to engage with them. We wanted to do product bundles, so we knew we wanted to do something together, so we asked, "what's something we can add to these kits to really make them special and to bring in people in our community who are great collaborators?" Patti Paige is a gingerbread goddess. She's gotten really geeked out on transforming her recipes into vegan recipes. Now she can do fully vegan gingerbread houses with aquafaba royal icing. She's just so gung ho with being able to do the incredible things she does. Having her contribute a gingerbread recipe was a great honor. She's a big fan of the brand and works with our colors regularly.
The girls at Ovenly accommodate a bunch of different dietary preferences. And they do a great, chewy gingerbread cookie, so they contributed the recipe for that to our kit, which was amazing. Their recipe has an egg in it, but you can use an egg replacer to make it fully vegan.
---
---
Get more of what you love from VT. Follow us on Instagram, Facebook, and Twitter and sign up for our email newsletters.