Vegan Eggnog Taste-Test: We Rank Dairy-Free Supermarket Nogs
I tried plant-based holiday nogs to find that bring festive cheer (and the ones that cause major Grinch-face)
Heading out the door? Read this article on the new Outside+ app available now on iOS devices for members! Download the app.
Let's just get this out of the way right away: carton eggnog (in my case, vegan eggnog offerings) is never quite right or great in comparison to something whipped up fresh, and even the very best homemade nog is kind of a strange proposition (is it, like, a melted milkshake, but on purpose?). Nonetheless, it's as much a part of holiday traditions as pumpkin spice is of fall – and, even though I know I'm probably going to feel a little regret afterwards, at least once a December, I crave a cup of the creamy, nutmeg-dusted stuff.
A person more dedicated to the task would make their own, but for a vegan eggnog dilettante such as myself, looking for a quick sip (or, more likely, just something to dollop into a cup of coffee) the store-bought stuff is my go-to. And, as you probably know first-hand, supermarket nog is highly hit-or-miss. So that you, dear reader, do not waste your time, money, and tastebuds on anything less than the best available dairy-free holiday cream drink, I drove around to multiple Los Angeles-area supermarkets to pick up as many brands as I could find and stage a side-by-side comparison. My tasting notes are below.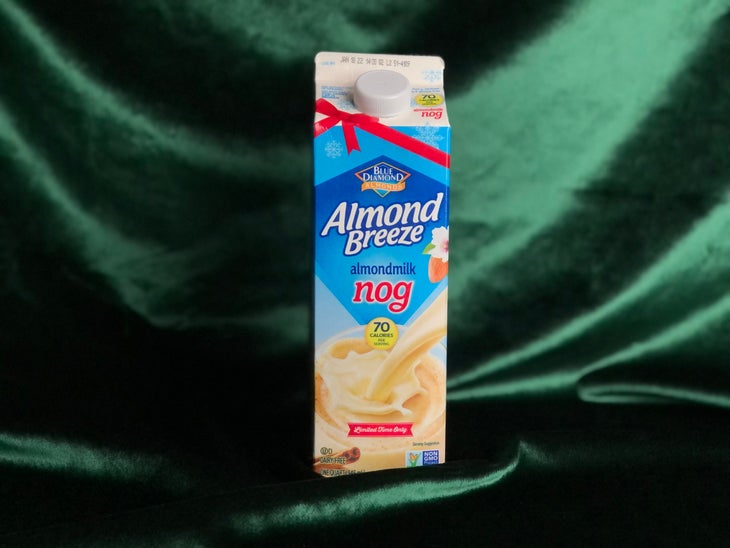 1. Almond Breeze Almond Milk Nog
This one ended up the winner amongst the six I tried. It has a pleasingly dark cream color accented by a small number of spice specks, and pours with an appropriate thickness that sticks to the sides of the glass as you take a sip. The aroma is good and… noggy(?), flavor seems pleasant and natural, and there's no icky aftertaste. A fully solid vegan eggnog experience.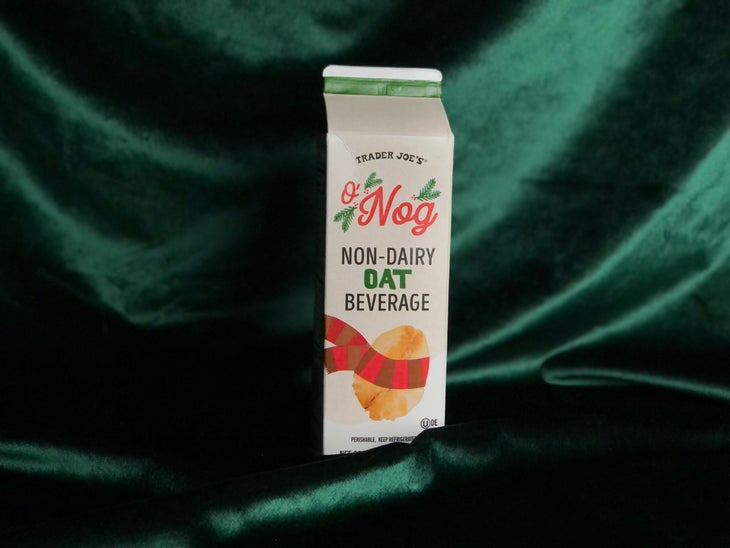 2. Trader Joe's O'Nog Non-Dairy Oat Beverage
Being married to someone with a nut allergy, I know it can be a bummer when so much plant-based dairy ends up being made from nuts. If you're not able to do the Almond Breeze due to allergy or preference, this seasonal Trader Joe's option is my second choice in the nog-off. As soon as you open the carton, you'll get a wallop of nog aroma and it looks great in the cup with an extra-thick texture and deep creamy color showing lots of nutmeg specks. Despite all those promising elements, this one came in second place for me due to underwhelming flavor; not bad, just a bit faint.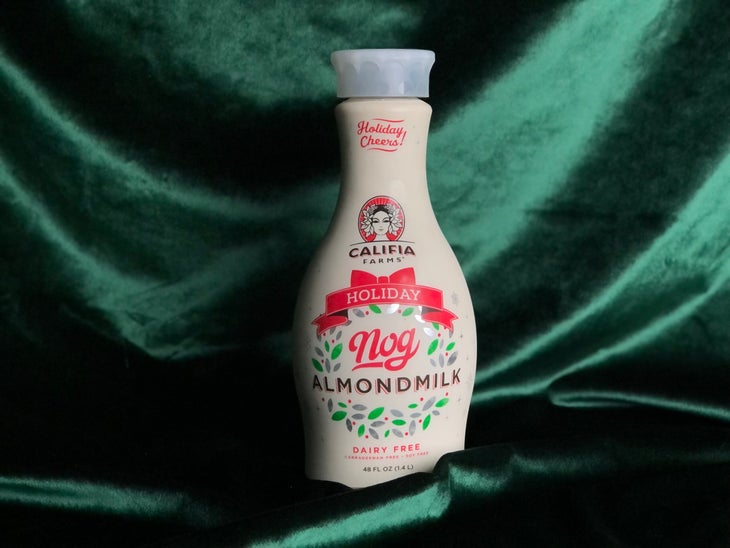 3. Califia Farms Almond Milk Holiday Nog
I generally really like Califia Farms products and I appreciate that this one was the most widely-available, sold at nearly every store I checked in the process of shopping for this test. So points for accessibility. It also comes in a 48 ounce jug, which might be useful if you're planning to serve your vegan eggnog for a holiday party. This nog looked and smelled fine, but the taste just did not work for me. This nog was among the sweetest in the sample group, which might work for you if you're planning to mix in liquor and additional spices, but was a bit too much when sipped as-is.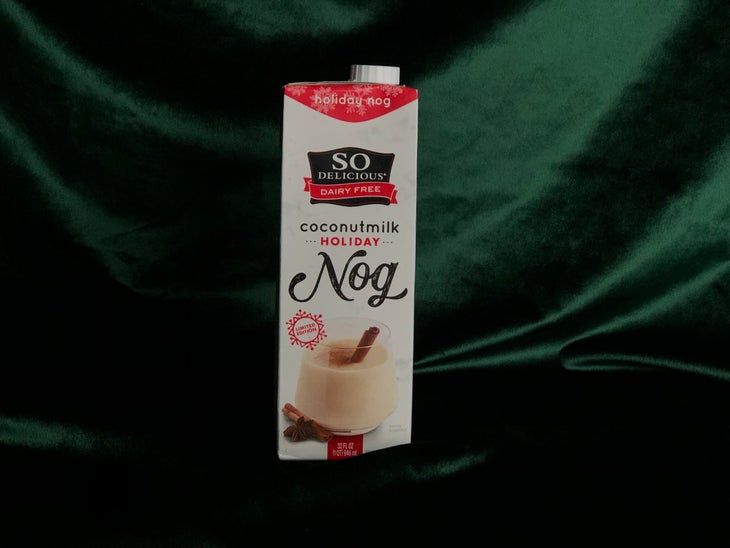 4. So Delicious Dairy-Free Coconut Milk Holiday Nog
Coconut really comes through strong with this, which isn't a criticism, but did make me think more of coquito than traditional eggnog. If you're a coconut lover, this should be your pick. It's strong on visual, aroma, and taste, though the mouthfeel is surprisingly more watery than would be expected from how it pours. There is a bit of a sticky, unpleasant aftertaste left in the mouth after a sip.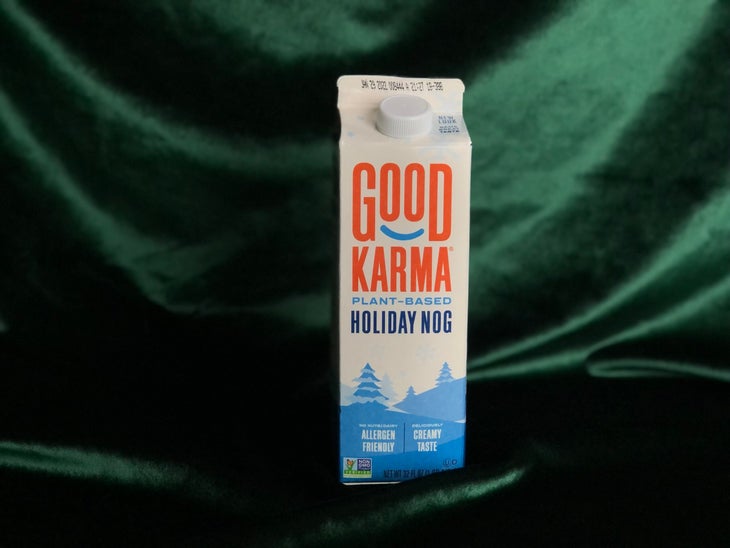 5. Good Karma Plant-Based Holiday Nog
If the Califia was a little sweet for my taste, this one was fully cloying. There is a powdery, cotton candy sugar like quality (though not as nice as that sounds) to this flax-based option. Also, it bears no actual resemblance to eggnog. It pours pure optic white and as thin as your typical almond milk (if not thinner). Spices and flavors were reportedly added, but they're hard to find.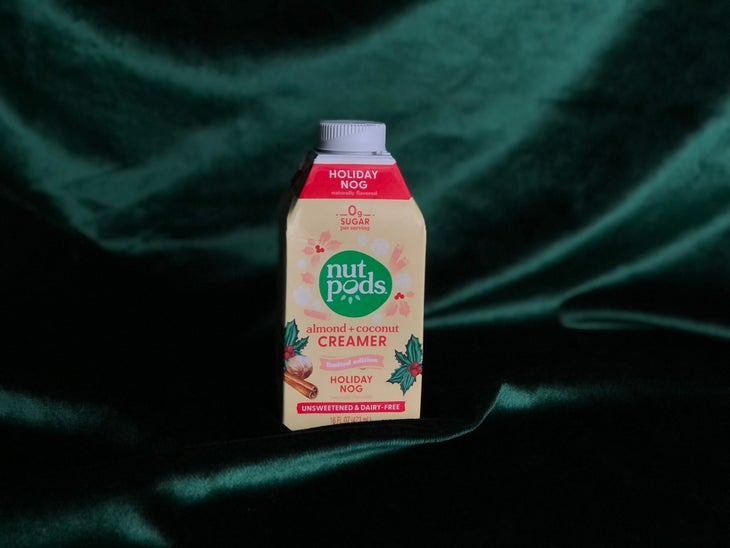 6. Nut Pods Holiday Nog Almond & Coconut Creamer
This product is marketed as coffee creamer and is not intended to be drunk on its own and I really have to strongly suggest you listen to that recommendation. I sampled it for the purposes of this test, keeping an open mind, and thinking, well, non-vegan eggnog often seems to contain heavy cream and a super-high fat content so maybe that's more like coconut cream than milk? Yeah…. no. This is bitter, dry, not nog-like, and generally totally unsuitable as a beverage – which, once again, it was never marketed as and the fault is mine. If you're looking for a coconut-based coffee creamer maybe this is for you, but do not buy mistakenly thinking it's just a smaller carton of ready-to-drink nog.
---
---
Get more of what you love from VT. Follow us on Instagram, Facebook, and Twitter and sign up for our email newsletters.