I Shopped the #PumpkinPalooza: Here Are the Best Vegan Trader Joe's Pumpkin and Fall Items of 2021
My plant-based, pumpkin-spiced haul from this week's new releases
Heading out the door? Read this article on the new Outside+ app available now on iOS devices for members! Download the app.
Trader Joe's pumpkin products have begun to hit the shelves for another year, marking the annual event known to TJ's fanatics as the #PumpkinPalooza. While I'll admit I typically hold off on pumpkin flavored treats until October, after seeing the social media hype around the big reveal, I decided to venture out and see what the popular chain might have in store for us this year. I was particularly interested to see which, if any, of the Trader Joe's pumpkin items might be vegan, as the chain has recently made commitments to roll out more vegan offerings.
While the temperatures were near 90 as I set out to visit three different Trader Joe's locations around Southern California, there really was a festive, autumn atmosphere inside the shops. Staff had arranged some of the limited edition pumpkin items in special displays and there were little fall decorations tucked around the store. Despite visiting three stores, there were some rumored items that I was not able to find; company statements indicate that vegan Pumpkin Hummus and Pumpkin Overnight Oats will be part of the collection at some point this season, but they weren't available anywhere I tried. And while it's not fall-specific, none of my sample stores stocked the new dairy-free Boursin cheese either, though TJ's has said it will be in dairy cases soon.
Of the Trader Joe's pumpkin products I was able to find, only a handful were entirely free of animal products. The Pumpkin Bread and Muffin Mix that has been around for years does not have any dairy or egg ingredients in the mix itself, but does note that it may contain traces of egg and milk, presumably due to production cross-contamination.
The Halloween Joe Joe's Cookies are free from animal products (as are the Oreo cookies they emulate) but present a different concern: palm oil. Palm oil production has been linked to ecological devastation in areas where it is harvested. It is possible to get certified responsibly harvested palm oil, but Trader Joe's has not publicly confirmed that the supply they use is entirely, and does not print a certification label or other information on the Joe Joe's box. In 2018, a company spokesperson stated that "much of the palm oil used in our Trader Joe's products comes from smaller-scale family farms. These farmers are sometimes certified by ProForest and/or are members of the RSPO (Roundtable on Sustainable Palm Oil), which ensures that they meet strict social, environmental, and technical criteria" but also noted that "while much of the palm oil our vendor's source is as described above, it is impossible and disingenuous for us at this time to ensure that all of our palm oil is sourced this way, and some of it is definitely sourced as a commodity."
With that in mind, here are my top plant-based picks from what I was able to find among Trader Joe's pumpkin patch…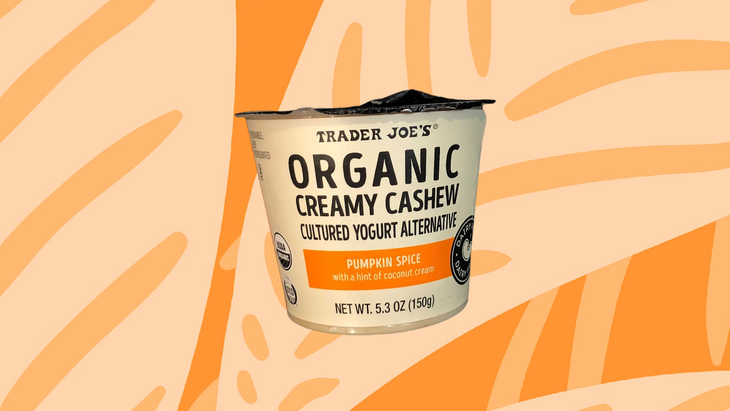 Trader Joe's Organic Creamy Cashew Cultured Yogurt Alternative in Pumpkin Spice
New for this year, this vegan yogurt is a nice way to get your day started with a little pumpkin spice. It's cashew and coconut cream based, and has a texture on the thicker side. Do be sure to give it a good stir before eating to address any separation or sinking. If you happen to have some type of maple-pecan granola on hand, this would be its best friend. While the pumpkin flavor is just for fall, the cashew yogurt itself comes in other flavors and is expected to be a year-round offering.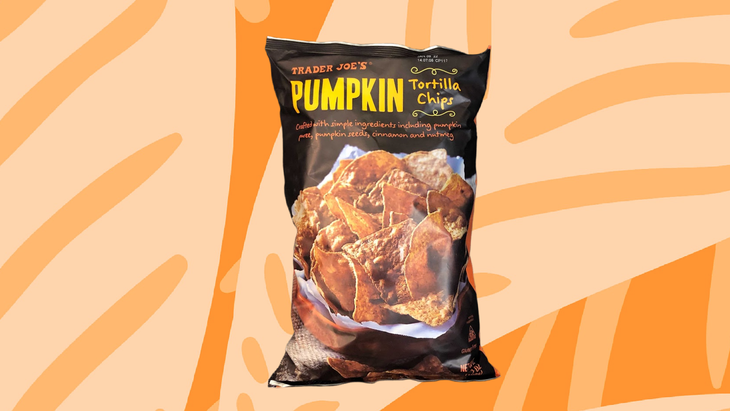 Trader Joe's Pumpkin Tortilla Chips
Nobody was clamoring for pumpkin spice tortilla chips, but here we are – and honestly, I'm here for it. These gluten-free chips are a more subtle take on the pumpkin trend, incorporating pumpkin puree, pepitas, cinnamon, and nutmeg into the basic corn chip. The package suggests you could put them in a creamy dip, but I imagine crunching a few up to sprinkle on a fall salad with some sliced apple, or dipping into a bit of rich mole coloradito. Or you could go all in and buy a jar of the pepita-based salsa TJ's also sells.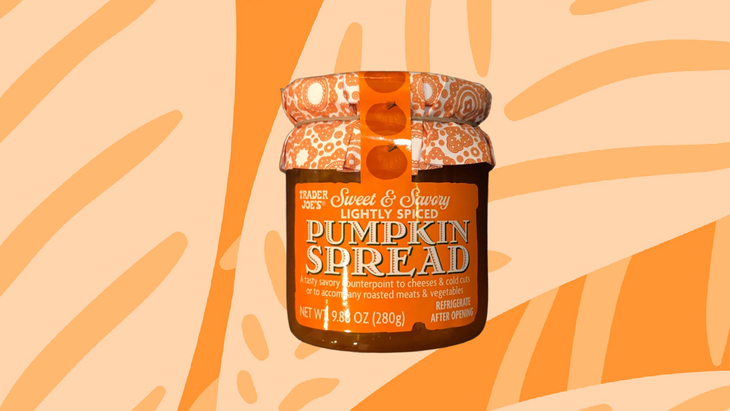 Sweet & Savory Pumpkin Spread
This pumpkin chutney is intended to be used on a cheese board or other savory applications. I would happily put a scoop alongside a plate of vegan cheeses for friends to nibble with drinks, though with this level of sweetness, I'm not sure I would smear it all over a plate of tofu for an entree course (feel free to prove me wrong and report back, though). A note for those with nut allergies: though there aren't nuts in the spread itself, a warning states that it may contain traces of almond, chestnut, hazelnut, or walnut.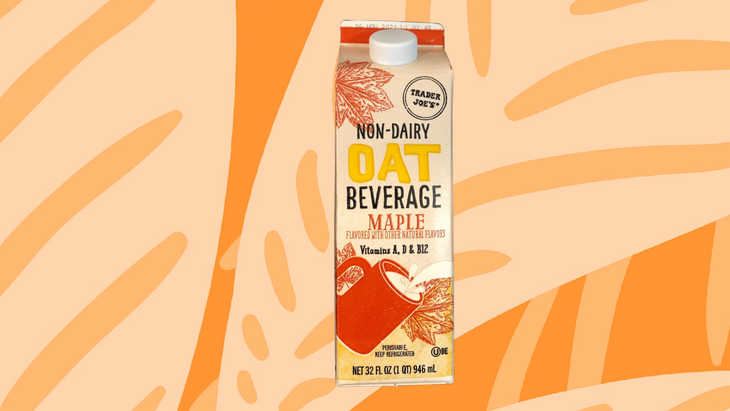 Non-Dairy Oat Beverage in Maple
While not technically pumpkin, this leaf-emblazoned carton of oat milk still speaks to the season. A dollop of this in your morning coffee is an instant mental escape to some chilly woodland surrounded by fall foliage (especially if you happen to live in a place that, for all its charms, leaves you desperately missing fall foliage to the point of mild delusion). Health-conscious folks will appreciate that, unlike the non-dairy yogurt mentioned above, this milk does have some meaningful doses of Vitamin D, A, and B12 and calcium to go along with its sugar content.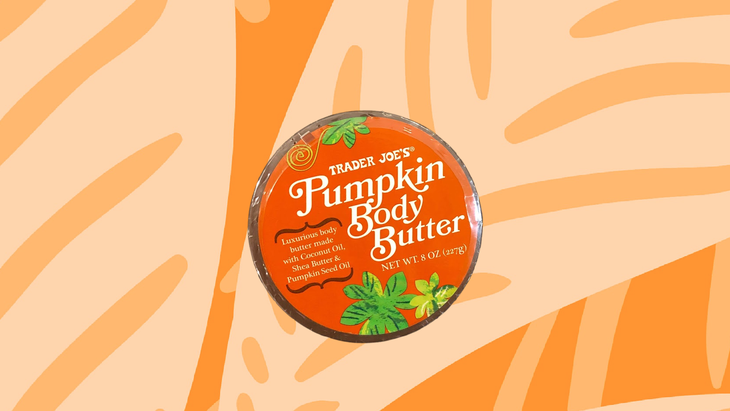 Trader Joe's Pumpkin Body Butter
So it's not something you can eat, but I wanted to include this pick from the skincare section (possibly the most underrated section of TJ's?) mostly because the texture is incredible. Thick and almost whipped, dry skin will be no match for this butter with coconut oil, shea butter, pumpkin seed oil, and other natural moisturizers. In addition to the animal-free ingredients list, it displays clear vegan and cruelty-free logos on the package (though not the specific ones associated with Leaping Bunny or Vegan Society). The pumpkin-ness of the scent is mild, I perceive it as more of a general sweet, frosting-type scent, but pleasant.
---
RELATED: Pumpkin Spice Lattes Are Back at Starbucks. They're Still Not Vegan, So We Found Some Alternatives.
---
Get more of what you love from VT. Follow us on Instagram, Facebook, and Twitter, and sign up for our email newsletters.