Excavating the 'Hidden History' of Ancient Greek Vegetarian Cuisine on Santorini
Ancient Greek philosophers from Pythagoras to Zeno encouraged vegetarian diets. Now a historian and a chef have teamed up to recreate Classical plant-based dishes for modern diners.
Photo: Allard Schager / Getty Images
Heading out the door? Read this article on the new Outside+ app available now on iOS devices for members! Download the app.
Santorini – of the sea-drowned caldera, sun-bleached, blue-shuttered houses, and crimson sunsets – may be one of the most Instagrammed places in the world, but its strengths go beyond the archetypal Greek island fantasy allure. Between 2600 and 1100 BC, the Cycladic island (then called Strongyle) served as one of the most important outposts for the Minoans, believed by many scholars to be Europe's first literate and advanced civilization. That illustrious past is reflected in the palaces, three-story houses, paved roads, spectacular sewage systems, and written works (among the continent's first writing systems), which have been excavated in Akrotiri, a village in Santorini's southwest. Those excavations have also provided a glimpse at what the ancients ate – and, historians have concluded, it was largely plant-based.
The Minoans were peace-loving seafarers, merchants, and artists, who ate many legumes, cereals, fruits, and nuts, and produced their own olive oil and wine. After a catastrophic volcanic eruption in 1600 BC, a different group of indigenous Greeks, the Mycenaeans, took control of the area. Later, Santorini fell under Byzantine, Venetian and Turkish rule. As rulers shifted, a distinct flavor of vegetarian Greek cuisine seems to have remained intact over the course of centuries. Look no further than the island's specialty, fava, a dish containing mashed yellow split peas.
"The Classical Mediterranean diet was founded on the Mediterranean Triad," says culinary archaeologist Dr. Jerolyn E. Morrison. This fancy, if slightly pompous-sounding, term describes the three most prominent crops of the ancient Greek diet: grapes, olives, and grains like emmer, barley, and millet. Legumes, like brown lentils, broad beans, chickpeas, and fava, were also significant, Morrison notes. "This food tradition was well-established during the Bronze Age in most of the islands and Greek mainland, and has remained a cornerstone of Greek cuisine through modern times," Morrison says.
People in Ancient Greece participated in animal husbandry to raise sheep, goat, and pork, and fished, and hunted, and trapped wild game and fowl, Morrison confirms – but only the wealthiest citizens ate meat regularly, a fact that has prompted academic circles to talk about the 'hidden history' of vegetarian Greek cuisine.
And there is certainly plenty of history. Ancient Greek philosopher and mathematician Pythagoras taught his followers that killing and consuming animals tainted the soul, made people more belligerent, and prevented union with a higher layer of existence. Zeno, the founder of the philosophical movement of Stoicism, lived on a diet of bread, honey, and water; believing that was the most wholesome way of living. In his essay On the Eating of Flesh, philosopher, biographer, and historian Plutarch argued that the human digestive system was not equipped to break down flesh. And one of the most prominent philosophical figures of the Roman Imperial Period, Seneca, was forced to hide his vegetarianism from emperor Caligula (who entertained his plebs by having criminals thrown to carnivorous wild animals in the arena).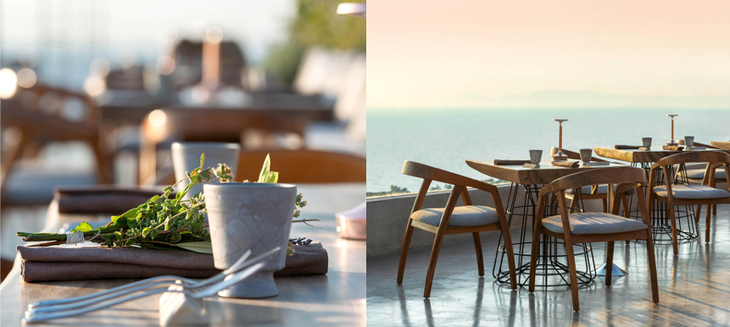 To revive Santorini's centuries-old vegetarian gastronomical tradition, Morrison teamed with Chef Stefanos Kollimadis to create a vegetarian Greek cuisine tasting menu based on the dishes enjoyed by philosophers such as Aristotle, Plato, and Omiros for Opson Restaurant at Andronis Arcadia, a hotel in picturesque Oia. Some of the dishes and delicacies included in the menu are a close approximation to what these ancient philosophers would have been eating, based on Morrison's thorough research.
The historical record makes clear that Ancient Greeks ate three times a day — breakfast, lunch, and dinner. They would begin their day with akratisma, bites of handcrafted bread baked from ancient grains flavored with aromatic spices and dipped into wine. Their lunch and dinner could be a wide assortment of dishes – some meat and fish included for the elites, but vegetarian dishes were very common, particularly for the less-privileged. One popular dish would be a preparation of brown lentils with coriander, oxymelo (honey and vinegar mixed together), olive oil, and sea salt. Another would be marinated egg yolk, resting in the middle of sweet peas, surrounded by a light sauce with morel mushrooms. Local melon and microgreens were relished in a velvety soup. Green pea sprouts with asparagus and grains appeared consistently on the table.
One of the vegetarian Greek dishes developed for Opson is dubbed "beetroot bouquet." It contains rolled beets with flowers, walnut praline, and wild garlic aioli. The ancients were inventive enough to even have conceived of a pomegranate sorbet to cleanse their palate after dinner.
The Ancients did not eat tomatoes, lemons, zucchinis, eggplants, or potatoes – ingredients some might today closely associate with Greek cooking. Those ingredients were only introduced into Greek cuisine around the early- to mid-1900's, Morrison says, though once they arrived, they were quickly and enthusiastically incorporated.
They did, however, drink plenty of wine. Wine was considered an indispensable component of every culinary ritual, and was produced in an array of varieties. "It is believed that red, rosé, and white wines were produced even back then," says Morrison.
---
---
Get more of what you love from VT. Follow us on Instagram, Facebook, and Twitter and sign up for our email newsletters.