How to Pair Beer with Vegetarian Food
Author, vegan, and beer expert John Schlimm gives us advice for pairing vegetarian food and beer.
Heading out the door? Read this article on the new Outside+ app available now on iOS devices for members! Download the app.
When I transitioned to a plant-based lifestyle several years ago, my mission was to smash through all the old, tired stereotypes about vegetarians and vegans. As a member of one of the country's oldest brewing families (Straub Brewery), it was a no-brainer that my debut would be infusing plant-based food with beer, wine, and liquor for The Tipsy Vegan. More recently, I continued the buzzworthy trip with my newest cookbook, The Ultimate Beer Lover's Happy Hour, which pairs plant-based dishes and beer styles.
Today, beer and food pairing is one of the hottest trends in entertaining, whether at home or for larger events. And now we vegetarians and vegans can get in on the action like never before. It even landed me on Bravo as guest bartender for Andy Cohen's Watch What Happens Live.
To brew up a batch of fun at your next get-together, I have three simple suggestions to follow when deciding how to pair your favorite plant-based dishes with the dozens of beer styles on shelves:
Black Bean & Corn Salsa from The Ultimate Beer Lovers Happy Hour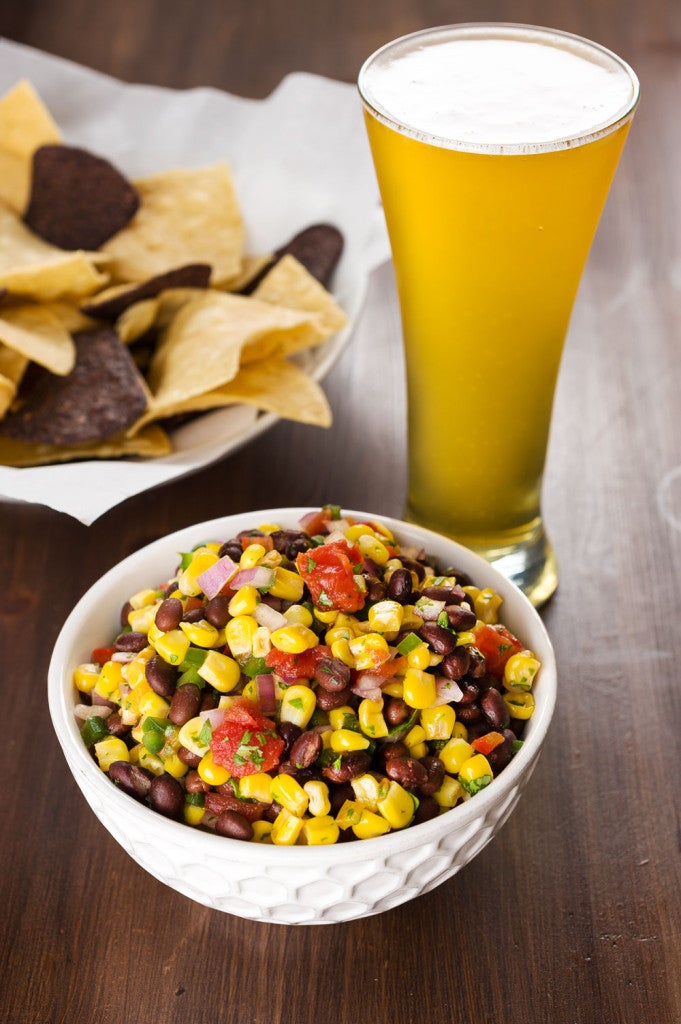 A Great Complement Goes a Long Way
Pair similar flavor profiles, such as sweet foods with smoother, maltier beers like Amber Lager, Vienna Lager, Oktoberfest, or Hefeweizen. Or, foods that have stronger, sharper, or distinct flavors with hoppier beers, such as India Pale Ale, Stout, Altbier, or Porter.
Opposites Attract
Bring balance to a beer and food pairing by mixing and matching smoother, sweeter, or subtle flavored food with a more intense, palate-grabbing beer, and vice versa. For example, pair a Portobello burger or cauliflower mash with a rich, hoppy Bock. Or, pair a spicy buffalo dip or garlicky veggie kabobs with a traditional Pale Lager.
Experiment!
Everyone's palate processes flavors in unique and different ways. Therefore, a really fun and easy way to pair is to offer a spectrum of beer styles—sweet/smooth/malty to sharp/strong/hop-heavy—for sampling in small glasses with each dish you serve. Then, let your guests vote on their favorite. For example, offer falafel or veggie meatballs with a range of Amber Lager, Maibock, India Pale Lager, and Stout. Or, chocolate cake with Dunkel, Cream Ale, Pilsner, and Doppelbock. And, by all means, don't be afraid to add a few or more dashes of brew to the food itself when prepping.
Vegetarian Food & Beer Pairing
Below, I have curated a pairing menu of appetizers, using recipes from the Vegetarian Times kitchen archive. I matched each recipe with a beer style that complements, enhances, and/or adds a resounding exclamation point to every bite.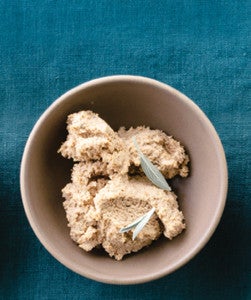 Pair with:Vienna Lager
The mildly sweet malt flavoring of a Vienna Lager will nicely complement Mother Nature's toothsome duo of fresh pecans and maple syrup, especially when served with freshly sliced apples and pears.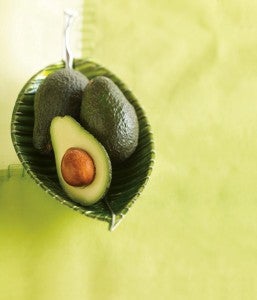 Pair with: Amber Lager
The smooth maltiness of an Amber Lager plays harmony to the sharp, peppery twang of the radishes and green onions, and gently tempers the accompanying pickled ginger and wasabi.
Pair with: Altbier
This classic comfort dip—embellished here with sparks of roasted red pepper, green onions, and chipotle pepper sauce—all but begs to be partnered with a robust and hoppy brew style like Altbier.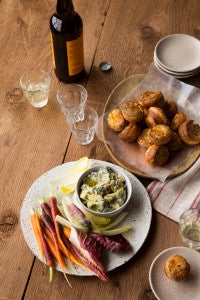 White Bean-Artichoke Hummus with Roasted Garlic
Pair with: Maibock
The blend of white beans and artichokes when supercharged with roasted garlic and a citrusy twist of lemon juice and ground sumac preps the palate for refreshing follow-up swigs of a slightly-hopped Maibock.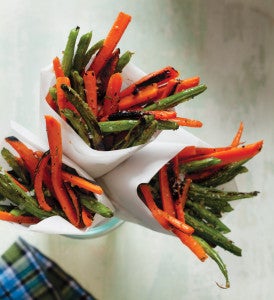 Rosemary-Garlic Carrot and Green Bean "Fries"
Pair with: Kölsch
The aromatic rosemary and garlic coating on these veggie fries will provide a surprising opening act for the low malt and moderately hoppy—even fruity—notes of a Kölsch.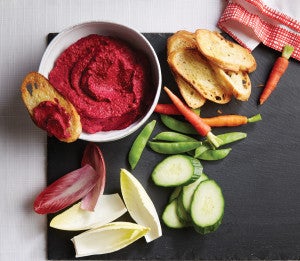 Pair with: Cream Ale
The ambrosial trio of caramelized onions, beets, and adzuki beans will find a fitting ally in the light-bodied nature of a Cream Ale.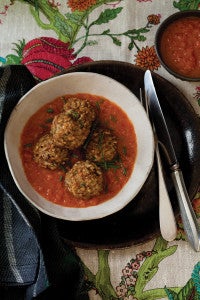 Orange-Scented Meatballs with Sweet-and-Sour Sauce
Pair with: Pale Lager
A good old, classic Pale Lager allows these eggplant, onion, and veggie-bacon balls in their tomato and orange sauce to remain the stars of this pairing while still bringing the buzz.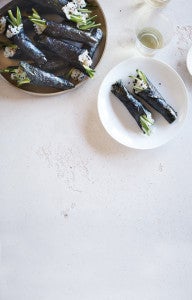 Mini Sesame-Cucumber Hand Rolls
Pair with: India Pale Ale
These cool cucumber sticks in consort with the nutty-sesame gomashio in this veggie sushi will be enhanced by a stronger, hop-heavy beer style like India Pale Ale.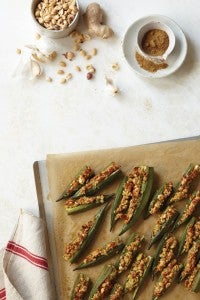 Pair with: Bock
The spirited filling mixture of peanuts, onion, garlic, ginger, jalapeno, and seasonings finds an electrifying bar mate when paired with the roasted and caramel flavor points of a Bock.
Pair with: Brown Ale
While the buttery cashews in this cheesy spread play backdrop for the lively fusion of chili powder, coriander, cumin, and garlic powder, the moderate to high maltiness of a Brown Ale will bring every bite to a memorable conclusion.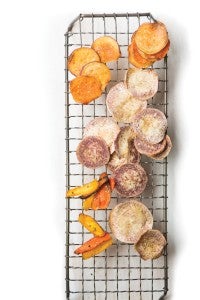 Crispy Seasoned Vegetable Chips
Pair with: American Pale Ale
The hop-heavy boldness of an American Pale Ale will ignite the WOW-factor alongside these crispy seasoned veggie chips.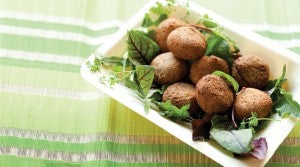 Pair with: Saison
The hearty and distinct flavor of traditional falafel melds with the earthy, spicy, and fruity notes of a Saison.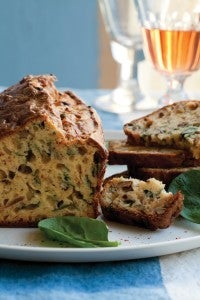 Caramelized Onion, Walnut, and Spinach Savory Cake
Pair with: Pilsner
The Onion Marmalade starring in this scrumptious cake bread needs a sidekick that can hold its own, such as a medium-hoppy Pilsner.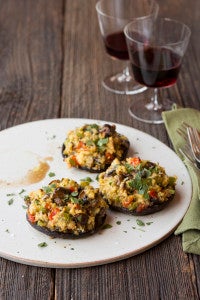 Pair with: Oktoberfest
No matter the occasion, this chic amalgamation of button mushrooms, thyme, garlic, and parsley will be accentuated by the sweet malt and mild hoppiness of an Oktoberfest.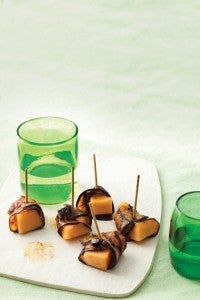 Smoky Eggplant and Melon Wraps
Pair with: Rauchbier (Smoked Beer)
Carry through with a theme for this appetizer combo of smoky eggplant and melon by pairing it with a traditional Rauchbier, which is created using smoked malt.
Carrot Dip with Crushed Walnuts and Olives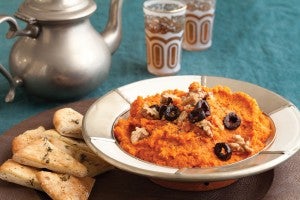 Carrot Dip with Crushed Walnuts and Olives
Pair with: Stout
The blend of carrots, toasted coriander, and pungent harissa in this spread will find an unexpected and sophisticated partner in the dark and intense, roasted maltiness of a Stout.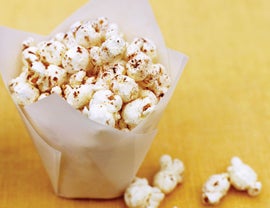 Pair with: Doppelbock
The brown sugar and cinnamon coating on this popcorn gets an extra kick when followed by the robust maltiness of a Doppelbock, with its caramel aroma and mild toastiness.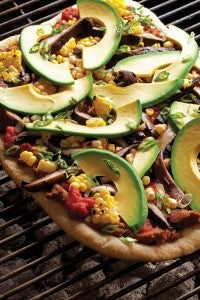 Pair with: Chili Beer
Fire up this Tex-Mex Pizza with a round of spicy Chili Beers.
ABOUT JOHN SCHLIMM:
John Schlimm is a Harvard-trained educator, artist, activist, and award-winning writer. His newest book is an inspirational memoir titled Five Years in Heaven: The Unlikely Friendship That Answered Life's Greatest Questions. John's other books include Stand Up!: 75 Young Activists Who Rock the World, And How You Can, Too! and a series of plant-based cookbooks, including The Tipsy Vegan, Grilling Vegan Style, The Cheesy Vegan, and The Ultimate Beer Lover's Happy Hour.
John has traveled the country speaking about inspirational/motivational topics, cooking and entertaining, his artwork, and public relations, including his university commencement address titled "The Road to YES is Paved with Many NOs" and his "Embrace Compassion, Change the World" keynote address on Capitol Hill. He also has appeared on such national media outlets as The Ellen DeGeneres Show, Bravo's Watch What Happens Live, NPR, Martha Stewart Living's Everyday Food, The Splendid Table, QVC and Fox & Friends.
Twitter at @JohnSchlimm
Instagram at @JohnSchlimm
Pinterest at www.Pinterest.com/JohnSchlimm
YouTube at www.YouTube.com/JohnSchlimm.