25+ Healthy Foods Vegetarians and Vegans Should Eat with Kale
Check out these suggestions on what foods to pair with kale to make it even healthier and get tasty kale recipes for vegetarians and vegans.
Photo: azurita - stock.adobe.com
Heading out the door? Read this article on the new Outside+ app available now on iOS devices for members! Download the app.
Chef Jennifer Iserloh, author of 50 Shades of Kale and one of the founders of National Kale Day, offers great suggestions on how vegetarians and vegans can maximize this green ingredient for good health. The Skinny Chef and healthy cooking expert features kale in our latest online course, Gentle Cleanse 7 Day Detox, with delicious, sustainable meal plans designed to get you looking and feeling your best. Use code KALE25 to get 25% off for a limited time.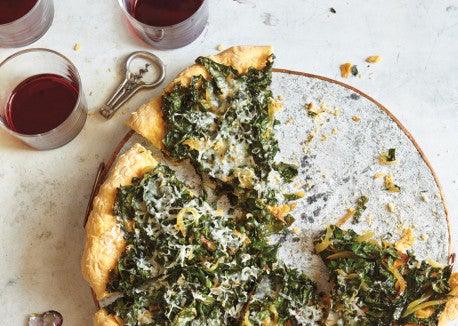 Making Kale Healthier for Vegetarians and Vegans
Plant-based diets are definitely in vogue, and for good reason. Plants provide a wide range of nutrients with few calories. But if you're limiting your diet, make sure you maintain nutritional balance so that you feel your most energized, sharpest self!
Vegetarian
Kale combines well with many foods for a variety of dishes. If you are vegetarian, you have plenty of kale combo choices that will help aid in nutrient absorption, improve digestion, and provide crucial nutrients that a lot of vegans and vegetarians miss. Check out this list below to find out how to pair kale with ingredients that will provide balanced nutrition.
B12
Eggs (Try: Sweet Potato and Kale Frittata with Goat Cheese) Swiss Cheese Manchego Cheese Parmesan Cheese (Try: Kale-Pecan Pesto)
Iron
Lentils Spinach Navy beans Sesame Seeds
Gut Health/Fermented Foods
Kefir, dairy or coconut Pickles Olives (Try: Tuscan-Style Spaghetti with Kale and Cannellinis) Sauerkraut
For Vegans
B12
Nutritional yeast (Try: Garlicky Cheezy Kale & Crispy Chick'n Salad) Fortified plant milk Fortified Tofu (Try: Asian Kale, Green Bean, and Tofu Salad) Vegan Mayonnaise
Iron
Lentils Spinach Navy beans Sesame Seeds (Try: Sesame Noodles with Kale)
Gut Health/Fermented Foods
Pickles Olives Sauerkraut Coconut Kefir
Fats
Antioxidant-rich fats like those found in nuts, coconut, olive oil, sesame oil and safflower oil are useful to cook with kale since this green vegetable is high in fat soluble vitamins such as A and B. Healthy fats are important for proper brain function and maintaining glowing skin. Mix kale with foods that are high in fats, such as avocado for a tasty kale guacamole, or use coconut oil to cook up amazing shishito peppers with kale.