How to Satisfy a Cheese Craving – Without Dairy
Thinking about going vegan, but not ready to give up cheese? You're certainly not alone. But here are some easy ways to satisfy that craving.
Heading out the door? Read this article on the new Outside+ app available now on iOS devices for members! Download the app.
Thinking about going vegan, but not ready to give up cheese? You're certainly not alone. Many vegans have gone through a period where giving up cheese felt impossible. Pizza is one of my favorite foods, and I never thought I would be able to give it up. Yet, I haven't touched cheese pizza in three years and don't miss it one bit. How do you say good-bye to cheese when you still enjoy the taste? Different things work for different people, but I have some suggestions to help you reach your goals while satisfying your cravings. Personally, I started feeling guilty every time I ate cheese pizza. I couldn't help thinking about cows being confined and pumped for their milk. After a few months of feeling like that every time I ate dairy, I finally gave it up. Fortunately, there are delicious animal-free cheeses on the market now, plus some fantastic recipes to help you make your own. Though my days of eating dairy are over, my "cheese" days are not!
Nutritional Yeast
This non-active yeast can be a vegan's best friend. Nutritional yeast is sold as flakes or a powder and has a cheesy-nutty flavor. Use it to add a cheesy or umami flavor to everything from popcorn and pizza to veggies and salads. Nutritional yeast is also a good source of B vitamins (including B12), protein, folic acid, and zinc. I love sprinkling nutritional yeast on popcorn and in the sauce for pizza or pasta.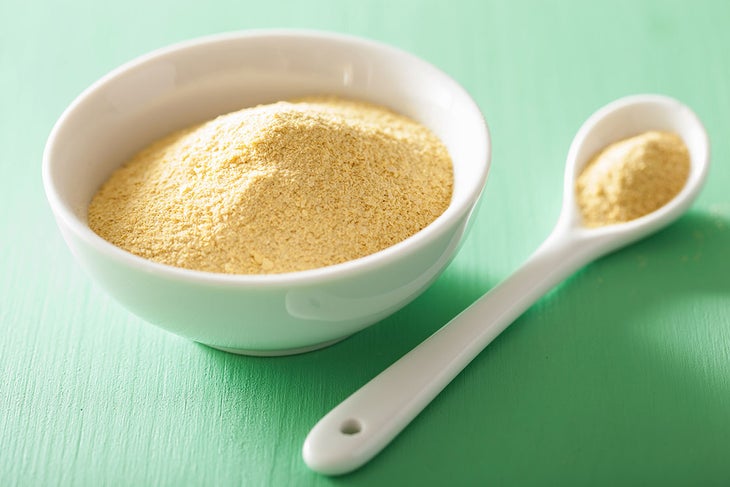 Related: 6 Tips for Making Vegan Cheese
Store-Bought Vegan Cheese
At many health food stores you can find dairy-free cheeses that melt, some that can be sprinkled (like Parmesan), and even aged cheeses. Some meltable cheeses are Daiya, Teese, and Follow Your Heart. Each of these brands sells "mozzarella" and "cheddar"—perfect for pizza, quesadillas, or grilled cheese. Use them like you would any cheese. Parma! and GO Veggie! both sell Parmesan-style cheeses to sprinkle on pizza, pasta, salads, and more. Hard and aged vegan cheeses are becoming more popular as companies look to make cheese alternatives beyond the usual soft, meltable cheeses. Look for Treeline, Kitehill, Dr.Cow, and Punk Rawk Labs gourmet cheeses, each made with nuts and perfect for cheese plates.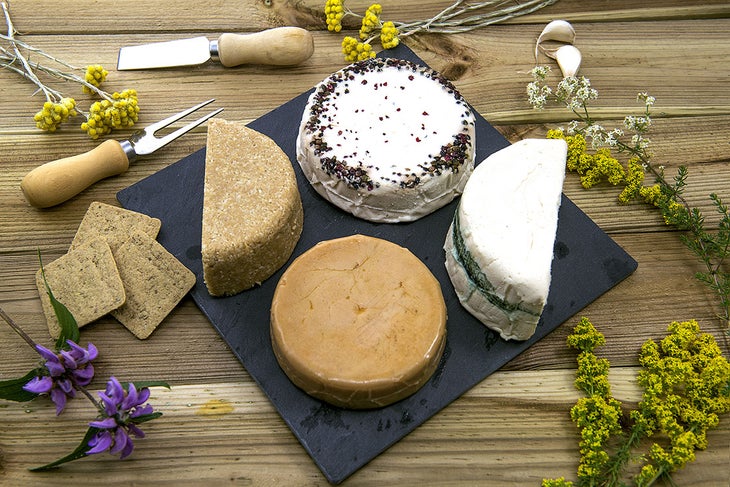 Make your own
If you like to DIY in the kitchen, definitely try making your own amazing vegan cheese. I highly recommend Artisan Vegan Cheese, by Miyoko Schinner. And be sure to browse the VT recipes archives; you can learn how to make delicious dairy-free cheeses for a variety of different dishes and occasions—even your own Parmesan-style crumbles or cheesecake!