11 Delicious Recipes That Start With Spinach
From side dishes to main dishes and sides and salads, here are some of our favorite ways to add this nutritious green to your diet.
Heading out the door? Read this article on the new Outside+ app available now on iOS devices for members! Download the app.
The benefits of spinach are pretty epic. Up there with kale, the leafy green veggie has been at the forefront of the health movement for years thanks to its nutritional, disease-fighting cred and genuine goodness.
Packed into each bunch is an incredible amount of nutrients, including high levels of vitamins K and A, as well as manganese, folate, magnesium, iron, copper, vitamin B2, vitamin B6, vitamin E, calcium, potassium and vitamin C, which is especially important for immune health. It's also pretty inexpensive, making it a go-to in our cooking. Here are some of our favorite ways to get this leafy green into your diet.
Mediterranean Rice with Wilted Spinach and Feta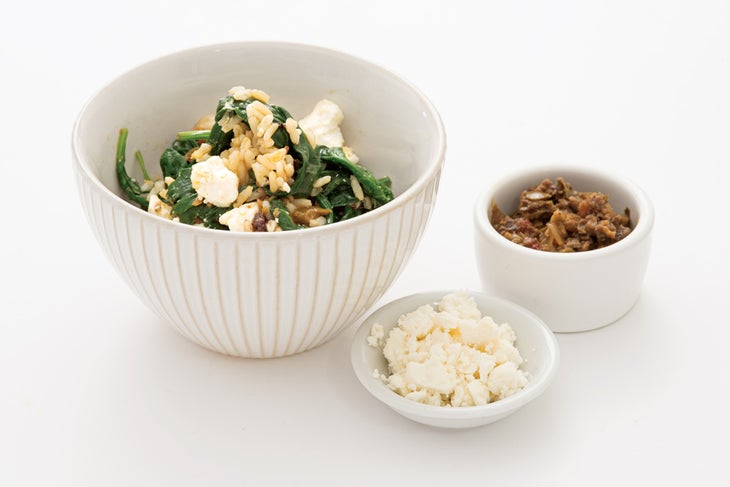 Fresh spinach is simmered with olive tapenade and feta cheese for a tangy base to this rice dish. Some prepared tapenades are made with anchovy paste, so be sure to read the label before buying.
Get the recipe here.
Spinach Souffle Casserole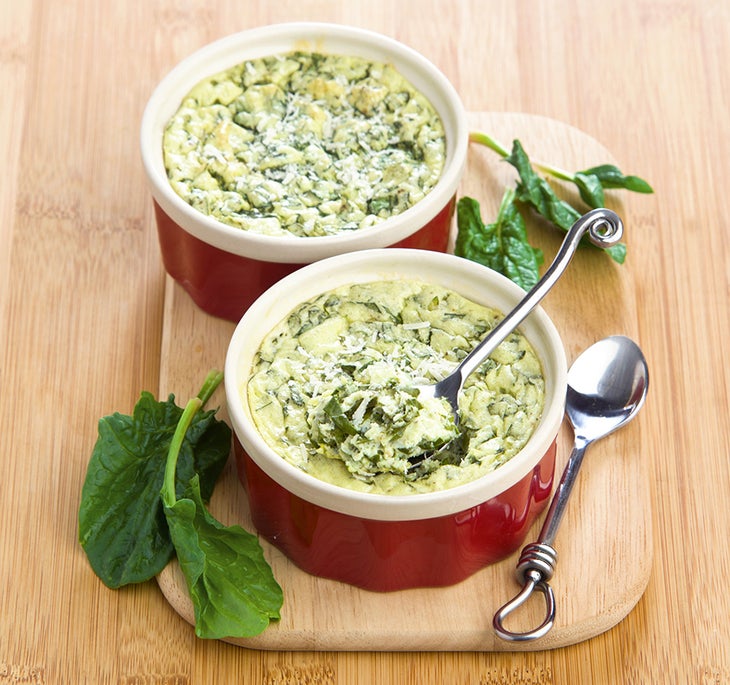 Dill and cilantro give this dish its extraordinary taste. Cut it into squares and serve plain or with a light tomato sauce.
Get the recipe here.
Spinach and Artichoke Risotto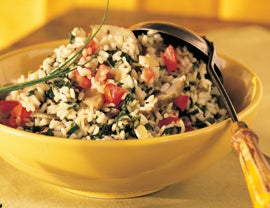 Here's a risotto based on the much-beloved "Mediterranean grandmotherly" combination of artichokes and spinach. Flecked with bits of tomato, it makes a very pretty presentation.
Get the recipe here.
Related: Nutrition Face-Off: Raw vs. Cooked Spinach
Spinach Zucchini Soup
This light soup is full of sunny flavors like lemon, zucchini, and mint.
Get the recipe here.
Spinach-Tomato Pie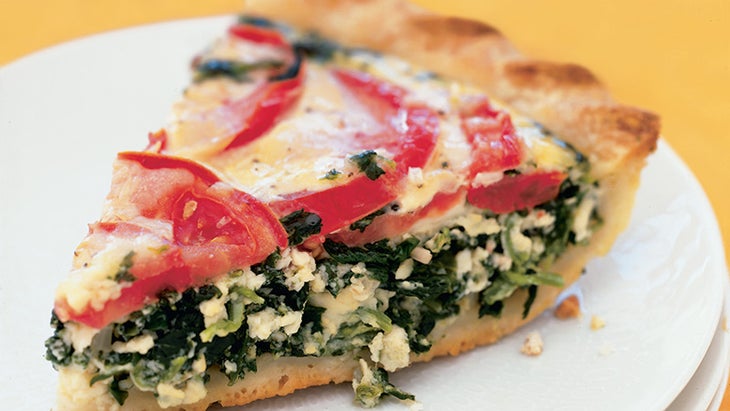 This easy-to-make Mediterranean-style spinach pie is equally good served hot or at room temperature.
Get the recipe here.
Mushroom and Spinach Quiche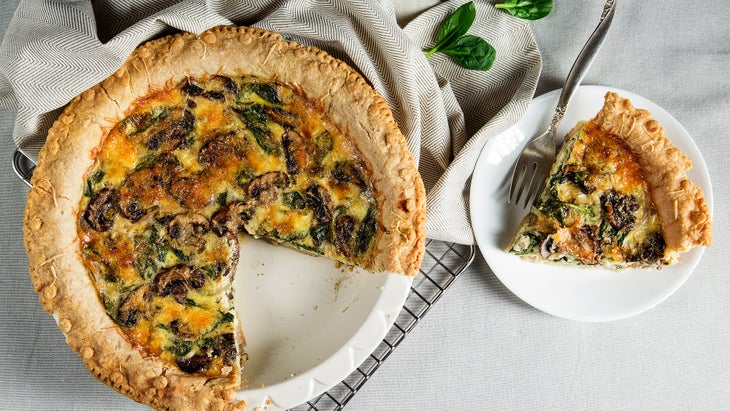 Quiche makes a comforting main dish for a family supper or a casual dinner party.
Get the recipe here.
Related: The Best Frozen Foods to Keep Stocked In Your Freezer
Extra-Healthy Spinach Salad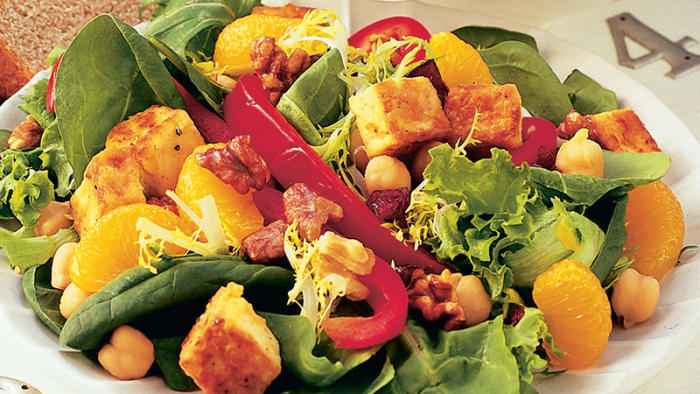 This irresistible salad is crammed with hard-to-get vegetarian goodies: protein, calcium, iron—even vitamin B12.
Get the recipe here.
Spinach-Mushroom Melts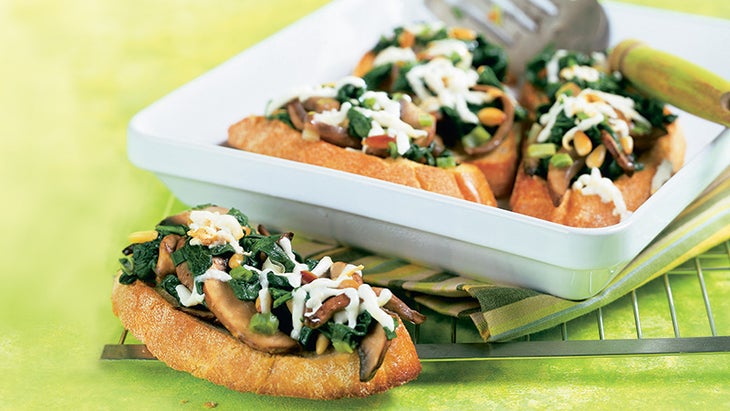 This savory, supper-worthy sandwich is a staff favorite.
Get the recipe here.
Portobello Mushroom Stacked Lasagna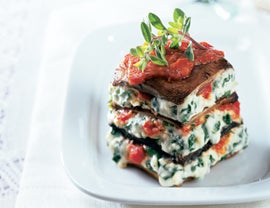 The large mushroom caps function as the pasta in this version of a luscious Italian favorite.
Get the recipe here.
Sautéed Spinach with Orange-Carrot Purée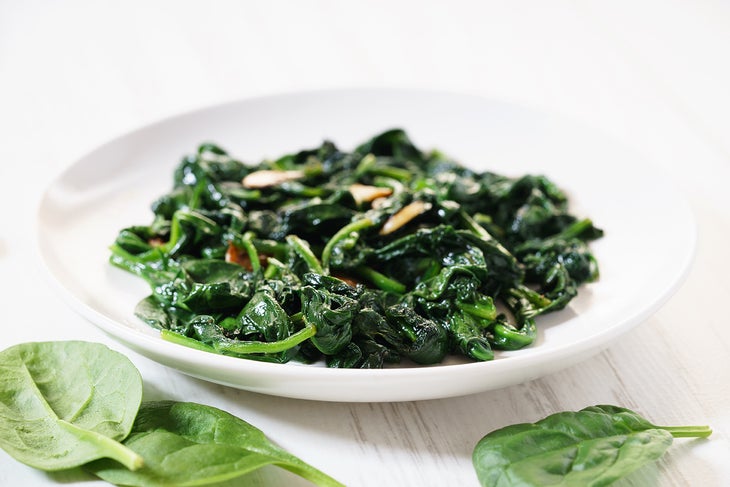 A versatile side dish, this could accompany a grain-based main course.
Get the recipe here.
Spicy Asian Spinach Salad with Toasted Pumpkin Seeds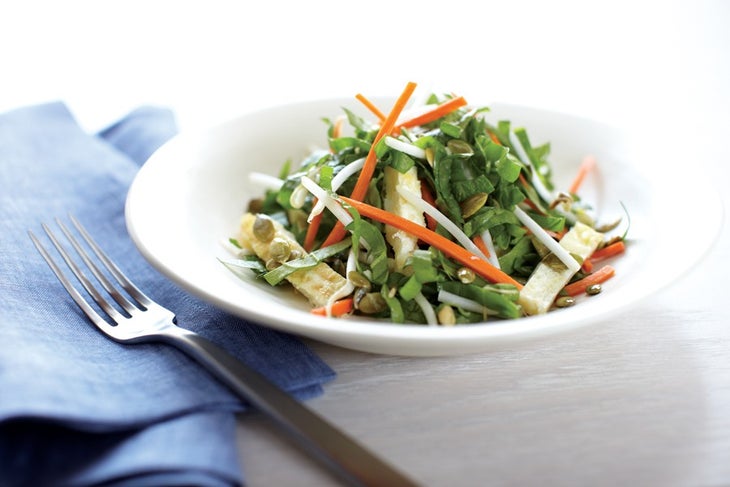 One serving of this crunchy salad provides more than half the recommended DV of magnesium. To make it vegan, simply replace the eggs with 4 ounces of chopped baked tofu.
Get the recipe here.