Q & A: Sara Sullivan, Holistic Nutrition Guru
Health Coach and plant-based nutrition expert Sara Sullivan shares some favorite recipes and everyday ways to eat a healthy, vegetarian diet.
Heading out the door? Read this article on the new Outside+ app available now on iOS devices for members! Download the app.
Certified Nutritionist Sara Sullivan realized that when she started feeding her body with healthy food, her whole world changed. That is what led her to become a passionate educator, teaching others about the healing power of food. And that's exactly why Vegetarian Times teamed up with her to create our new online course: 6 Weeks to Plant- Powered Weight Loss.
What is the best part of your job?
I love those moments when my clients have a break through. It's the moment where healthy habits "click", and they feel empowered, vibrant, and liberated.
How do you stick to healthful foods year round?
For me, eating healthy is a lifestyle. I make sure to get plenty of sleep, drink lots of water, and exercise daily. And I never go to a social event hungry.
What's your best tip for saving money at the grocery store but still eating healthy?
For the best prices on produce, be sure to buy local and seasonal items, and take advantage of the bulk section for better deals on nuts, grains, spices, and dried fruit.
What's one of your favorite recipes in your Plant-Powered Weight Loss Course?
My Almond Joy Bars (get recipe below).
What's your best time-saving trick in the kitchen?
During the cooler months I use my crock pot to save time. There is nothing better than tossing together a few ingredients in the morning and then coming home from work to a house that smells delicious and a dinner that is all done!
What is your favorite ingredient to cook with?
I love sweet potatoes! Not only do they taste amazing they are very filling and loaded with nutrients. In addition, they work well in so many different ethnic dishes.
Love sweet potatoes too? You're in luck because they're making a regular appearance on the menu in Sara Sullivan's course: 6 Weeks to Plant-Powered Weight Loss. Get recipes like Sweet Potato Bowls with Sautéed Kale and Avocado, Sweet Potato, Apple, and Wild Rice Salad and Baked Sweet Potatoes with Black Beans & Guacamole.
Who would you say this course is designed for?
Anyone who wishes to look and feel their best!
What's your approach to individual nutrition counseling?
I always meet my clients where they are and work on implementing change one step at a time. I listen, guide, and support each client with a realistic plan that is specific to their lifestyle & goals.
What do you think is the biggest misconception about trying to lose weight?
I don't believe in the word "can't" so I would say the biggest misconception is that someone "can't" lose weight. Everyone can lose weight (and feel amazing)! We just need to consistently fuel our bodies with real, whole, plant-based food.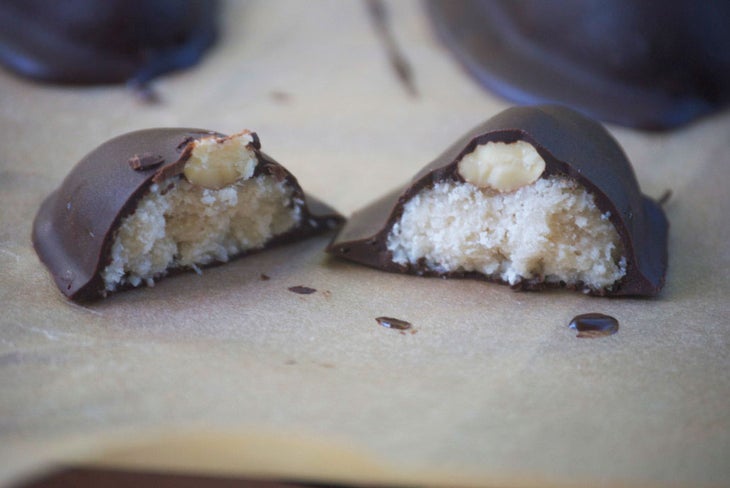 Almond Joy Bars
Makes 10 bars
SERVING SIZE: 1 bar
Ingredients:
1 cup unsweetened shredded coconut, lightly packed
3 Tbs. unrefined virgin coconut oil
2 tsp. honey
⅛ tsp. sea salt
1 tsp. pure vanilla extract
8-10 roasted or raw unsalted almonds
6 oz. dark chocolate, chopped or broken in to small pieces if you're using a bar
Instructions:
Process shredded coconut, coconut oil, honey, vanilla extract, and salt in a food processor, until it forms a thick paste, about 2 to 3 minutes. Test coconut mixture to see if it holds together by squeezing a small amount in your hand. Continue to process mixture for another couple of minutes, if it doesn't hold together well. Line a baking sheet or plate with parchment paper.
Scoop out and gently press down coconut mixture into a tablespoon. Drop tablespoon of mixture onto lined baking sheet, and then press and mold balls into a uniform shape.
Press an almond on top coconut rectangles. Place coconut rectangles in freezer 20 to 30 minutes, or until solid. Keep coconut bars in the freezer until you are ready to melt chocolate.
Melt chocolate in a small saucepan over low heat, stirring constantly with a rubber spatula, until melted and smooth. Immediately remove melted chocolate from heat, and give it a stir with your spatula. Take out frozen bars when chocolate is melted. Using a spoon, gently dip the bar into the melted chocolate, making sure the whole bar gets covered with chocolate.
Lift the bar out and tap off excess chocolate. Return chocolate covered bar to the parchment paper. Repeat the process with remaining bars. Place them in the freezer for a few minutes to set. Store the bars in the refrigerator in an airtight container.
PER SERVING (1 BAR): 200 CAL; 2 G PROT; 17 G TOTAL FAT (12 G SAT FAT); 12 G CARB; 1 MG CHOL; 29 MG SOD; 3 G FIBER; 8 G SUGARS