Veg Celeb: Cartoonist/Illustrator Harry Bliss
The cartoonist/illustrator/children's book author, who's a New Yorker contributor, reveals why he gave up eating meat, what he loves to cook, and who makes him laugh.
Heading out the door? Read this article on the new Outside+ app available now on iOS devices for members! Download the app.
Photo and art all by Harry Bliss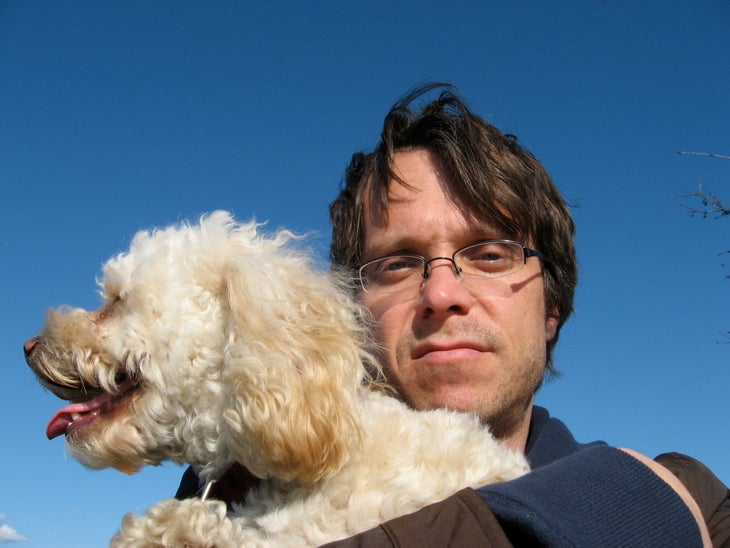 I admit that when I come across an issue of The New Yorker, I first flip to the cartoons. So I was happy to discover that an artist who's contributed to the iconic publication is vegetarian. Here, cartoonist/illustrator/children's book author Harry Bliss responds to a few questions. Check back later in the week for a Q&A with another New Yorker contributor who's veg.
You've said you're vegetarian for ethical reasons. How did that aha moment happen?
For me, it was simply education. The more I learned about the needless suffering of animals involved in eating meat, the more I became an advocate for being vegetarian. My older sister, Rachel, a vegan most of her life, had a lot to do with my understanding of factory faming, slaughterhouses, agro-business, etc. Also, it made no sense to me why we eat some animals and adore others as pets; I still find this perplexing.
You've written and illustrated two children's books featuring the character of Bailey. Is Bailey an alter ego? What's his inspiration?
So many of my New Yorker cartoons have dogs in them that my editor at Scholastic and my agent both suggested a children's book featuring a dog. Bailey is a character I created who is sweet and kind, but his doggy nature gets him into trouble. I suppose in some ways I see children this way: they're innocent—I'm generalizing—yet it's their nature to push the envelope, test boundaries, and get into trouble. Yes, I see myself in Bailey, only I was a terrible child, a true juvenile delinquent. I like to say, if it weren't for art, I'd be incarcerated. I'm serious.
Your illustrations display a sly humor. Who or what makes you laugh?
My wife and daughter make me laugh; their brainy wit has just the right pinch of stupidity in it, which I love. I find many things absurd, like civilization, so I'm always seeing humor. Ideas are everywhere!
Do you cook? Any signature dishes?
I cook all the time; it's a meditation for me as is drawing. I make a dynamite Russian borscht, veggie chili, black bean soup (a touch of good port wine brings it home), puttanesca (with tamari in place of anchovies), Asian veggie wraps, stuffed peppers, and veggie lasagna. Once you understand the art in preparing meals, the landscape is endless.