Celeriac and Potato Latkes with Dill Yogurt and Pear Sauce Two Ways
A gluten-free, egg-free, vegan-friendly update to the traditional latke to bring everyone together
Heading out the door? Read this article on the new Outside+ app available now on iOS devices for members! Download the app.
Every version of fried potato is revered as both sacred and holy in my house, but latkes (fried potato pancakes) are literally and figuratively a miracle food. Growing up, one of the best parts of celebrating Hanukkah with my family was making and eating these golden, crispy fritters. Most Jewish holidays and get-togethers are focused on food, which is used as a way to share culture and history. This is how I came to understand that a latke is not only a perfect meal, but also a symbol of the holiday during which it's eaten.
The word latke is Yiddish and means "pancake." Their inception is traced back to Ashkenzi Jews across Central and Eastern Europe. Traditional latkes are simple and made with humble ingredients – shredded potatoes, flour, salt, and eggs – and usually served with sour cream and applesauce. It's generally understood that potatoes are the main ingredient because they're accessible and affordable, but it's not the potato that connects latkes to the holiday.
Latkes are synonymous with celebrating the "Festival of Lights" because they symbolize the miracle of Hanukkah, in which the oil for the menorah lasted for eight days, even though there was only enough for one. So for secular folks, non-traditionalists, and anyone with a sophisticated palette, the takeaway is that it would be wrong to replace the cooking fat – it should always be oil – but you can play with the vegetable ingredients.
My take features celeriac to add a bit of freshness and created two pear sauces with grown-up sensibilities. I also used some non-traditional favorite ingredients to make these gluten- and egg-free, including chickpea flour and aquafaba (the juice that's in a can of chickpeas that acts as an egg replacer). I also used arrowroot, which helps make them extra crispy thanks to the starch. Key timesavers were keeping the potato skins on, in addition to using the shredding setting on a food processor instead of grating by hand. Some call that blasphemy, I say it's a shortcut. I hope you enjoy these as much as I did.
---
More Related Recipes to Try Next:
Classic Potato Latkes with Chunky Applesauce
Corn Latkes with Red Peppers
Spiced Cauliflower Latkes

---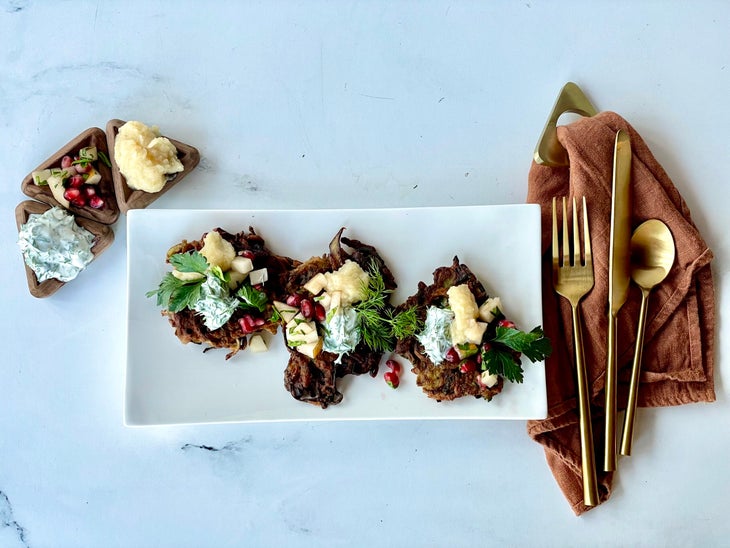 Celeriac and Potato Latkes with Dill Yogurt and Pear Sauce Two Ways
Ingredients
Latkes
1 cup russet potato, shredded (approx. 1 large potato)
1 cup celeriac, shredded (approx. 1/3 to 1/2 of a large bulb)
2 cups leeks, chopped (apron. 1 large leek)
1 cup parsley, chopped
1 cup chickpea flour
3/4 to 1 cup aquafaba (drained from one can of chickpeas)
2 Tablespoons arrowroot or potato starch
1 teaspoon Kosher salt, plus more for finishing
1 teaspoon celery seeds
Ground black pepper, to taste
Neutral oil for frying such as sunflower or avocado
Pear and horseradish sauce
2 pears, boiled until soft
2 teaspoons horseradish, jarred or fresh and minced
Pear, pomegranate, and parsley salsa
1 pear, diced
4 ounces pomegranate seeds (prepared or from approx. 1 whole pomegranate)
2-4 handfuls of parsley, roughly chopped
Dill 'yogurt' sauce
1 cup dairy or non-dairy lebneh, sour cream, or plain yogurt of your choice
1/2 cup dill, chopped
Preparation
Before you get started, note that this recipe makes about 12 latkes (3 inches diameter, about ¾ inch tall). However, I made the shredded potato and celeriac in bulk, starting from 3 russet potatoes and 1 large celeriac bulb for a 1:1 ratio, which yielded about 6 cups of the mixture total. The mixture lasted 7 days, enabling me to make fresh latkes throughout the week (key, since they don't taste as good reheated!).
Step One: Make the shredded potato and celeriac mixture.
The celeriac adds a beautiful earthy and fresh flavor while also shaving off a few calories and carbohydrates.
Prepare the russet potato(es) and cut out / peel any knobs. If you're using a food processor, cut into pieces thin enough to fit through the top.
Peel the celeriac. If you're using a food processor, cut into pieces thin enough to fit through the top.
Shred with your preferred method, mixing so that both potato and celeriac are even in proportion.
Fold shredded combination into a large dish towel, ringing out any excess liquid. Return to mixing bowl.
Reserve 2 cups, and if you've made additional mixture for later on in the week, move it to a container (glass or silicon work great).
Continue through steps to make condiments, or skip to Step Five if you're making only the latkes.
Step Two: Make the pear and horseradish sauce.
This is like apple sauce's sophisticated older sister. You can leave the horseradish out if you have picky eaters, or make half with and half without (proportionally, you want a teaspoon per cup of pear). Makes about two cups.
Quarter two ripe pears and de-seed.
In a small to medium pot, add water and boil. Add the pears and boil for 5-10 minutes.
Pull out your jar of horseradish, or if you're using fresh horseradish, chop thinly at this juncture.

Once the pears are ready, transfer them to a blender (a small one works great for this). Add the horseradish and blitz until smooth. 

Transfer to a container and put in the fridge until you're ready to serve.
Step Three: Make the pear salsa
This sweet, crunchy, and fresh pear salsa adds a nice contrast to the blended and spicy sauce. Makes about two cups of salsa.
Chop and deseed one pear into even pieces. Roughly chop the parsley. Add both to a small mixing bowl.
Add the pomegranate seeds to the bowl (to speed things up, use a 4 ounce package of deseeded pomegranate.) Mix together well.
Transfer to a container and put in the fridge until you're ready to serve.
Step Four: Make the dill yogurt.
Traditional latkes are eaten with plain sour cream, but the dill adds a little freshness and complexity. You can make this with a variety of non-dairy or dairy products, depending on your diet or preference.
Add the dairy or non-dairy yogurt, sour cream, or labneh to a small mixing bowl.
Chop the dill and add to the bowl and mix well.
Transfer to a container and put in the fridge until you're ready to serve.
Step Five: Make the latkes.
In a large mixing bowl, add the shredded potato and celeriac mixture. Add the arrowroot and kosher salt first and mix evenly. Then add the rest of the dry ingredients (chickpea flour, pepper to taste, celery seeds). Add the aquafaba and mix until it becomes a batter. If it's not incorporated, you can add a tablespoon of water at a time until it combines better. Last, chop the leek and parsley and mix evenly.
Heat a large skillet and neutral oil (I prefer sunflower for these, but avocado oil would also be good). Once it's hot, add the mixture to the pan using a large spoon or fork. Aim for about 3 tablespoons per latke, which should form a patty roughly 3 inches in diameter and about ¾ inch tall. Fry until the sides appear golden and crispy (about 3-4 minutes), then turn over for another 3-4 minutes. Repeat for 1-2 minutes on each side until perfectly golden brown.
Transfer cooked latkes to a plate layered with a few paper towels to soak up the extra oil.
Repeat until all your batter is used.
Step Six: Put it all together. 
Remove the paper towels from the latke plate. If you're using a different serving platter, transfer them.  Add a pinch of salt and grind more fresh pepper over the patties to taste.
If you're using different serving platters for the sauces, transfer them. Otherwise, simply remove from the fridge and serve together.