Vanilla-Almond Cream Tartlets
Top these crowd-pleasing tartlets with the best berries of the season — or sprinkle with nuts or chocolate chips. Look for the miniature tart pans in most cookware stores, or use mini muffin pans.
Heading out the door? Read this article on the new Outside+ app available now on iOS devices for members! Download the app.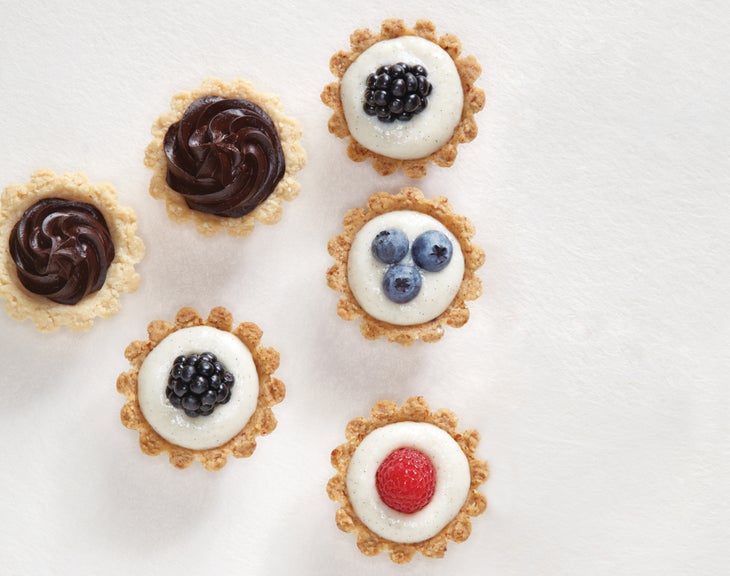 Ingredients
Cream
1 cup blanched almonds
1 vanilla bean
1/4 cup agave syrup
3 Tbs. agar flakes
1 Tbs. maple sugar
2 Tbs. kudzu powder
Tartlets
1 cup pecans
1 cup all-purpose flour
1/4 cup maple syrup
1/4 cup melted coconut oil
2 cups fresh blueberries, raspberries, and/or blackberries, for garnish
Preparation
1. To make Cream: Combine almonds and 2 1/2 cups water in heavy-duty blender (such as Vitamix) or food processor on high speed until almonds are well puréed. Strain liquid through fine strainer lined with double-layered, wet cheesecloth.
2. Slice vanilla bean lengthwise, and scrape seeds from pod. Reserve vanilla pod for another use. Combine vanilla seeds, almond milk, agave syrup, agar flakes, and maple sugar in small pot, and bring to a simmer over medium-low heat. Simmer 15 minutes, or until agar flakes are completely dissolved, whisking frequently.
3. Stir kudzu powder into 3 Tbs. water in bowl. Whisk kudzu slurry into almond milk mixture. Cook 2 to 3 minutes, or until mixture thickens. Transfer Cream to small baking dish. Chill until firm.
4. Transfer Cream to food processor or blender, and purée until smooth. Spoon Cream into pastry bag fitted with round tip. Chill.
5. To make Tartlets: Preheat oven to 350°F. Combine pecans and flour in blender or food processor; process until pecans are powdered. Whisk together maple syrup and coconut oil in small bowl. Stir pecan mixture into maple syrup mixture.
6. Press maple-pecan mixture into 28 1 1/2-inch tart molds or mini muffin cups, and prick bottoms all over with fork. Transfer tart molds to baking sheet. Bake 15 minutes, or until crusts are golden. Cool 15 minutes. Pry from molds with toothpick.
7. To assemble: Pipe almond cream into Tartlets. Garnish with berries.
Nutrition Information
Serving Size

1 Tartlet

Calories

114

Carbohydrate Content

11 g

Cholesterol Content

0 mg

Fat Content

7 g

Fiber Content

1 g

Protein Content

2 g

Saturated Fat Content

2 g

Sodium Content

3 mg

Sugar Content

6 g