Gluten-Free Vegan Mandarin and Thyme Polenta Cake to Celebrate Citrus Season
During the winter months mandarins are so sweet and tasty, and moist polenta cakes are such a great way to enjoy gluten-free baking.
Photo: From "Vegan Recipes to Enhance Your Yoga Life: Food to Balance and Invigorate Your Chakras" by Sarah Wilkinson
Heading out the door? Read this article on the new Outside+ app available now on iOS devices for members! Download the app.
The recipe for this beautiful polenta cake is reprinted with permission from Vegan Recipes to Enhance Your Yoga Life: Food to Balance and Invigorate Your Chakras, CICO Books. In her book, Wilkinson highlights "the importance of well functioning chakras in helping you attain optimal health and wellbeing." This citrusy cake is believed to stimulate the sacral and solar plexus chakras, with the hint of thyme activating the heart and brow.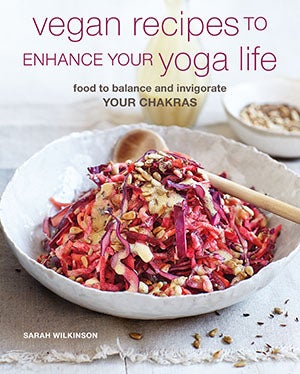 ---
More Related Recipes to Try Next:
Gluten-Free Lentil Quinoa Taco Pie
Gluten-Free and Vegan Pumpkin Pie
Vegan Gluten-Free Nachos

---
Gluten-Free, Vegan Mandarin and Thyme Polenta Cake
Ingredients
3 tablespoons golden ground flaxseed
¾ cup/180ml extra-virgin olive oil, plus extra for greasing
½ cup/120ml rice syrup
2 cups/200g ground almonds
1 cup/175g polenta
3 teaspoons baking powder
2 tablespoons fresh thyme leaves, plus extra sprigs to decorate
6 large mandarins
chopped almonds, to decorate
Special equipment
7 in/18cm nonstick springform cake pan
Preparation
1. Place the flaxseed in a bowl with ½ cup/135ml water and leave to swell for 10 minutes.
2. Preheat the oven to 160ºC fan/180ºC/350ºF/gas mark 3. Lightly grease the cake pan with olive oil.
3. Mix the oil and three-quarters of the rice syrup together in a large mixing bowl, then beat in the flaxseed mixture. Stir in the ground almonds and fold in the polenta, baking powder, and thyme. Add the zest and juice of four of the mandarins and mix thoroughly. Add the remaining rice syrup if the mixture is too dry.
4. Transfer the mixture to the cake pan. Peel and slice the two remaining mandarins and carefully place the rounds on top of the cake.
5. Place in the center of the preheated oven and bake for 1¼ hours. Remove the cake and cool on a wire rack. Decorate the top with thyme sprigs and chopped almonds.