Los Angeles Baker Jen Yee Is Making Phenomenal Croissants That Just Happen to Be Vegan
The acclaimed pastry chef heard a lot of people say that they'd never had a good vegan croissant. She decided to change that.
Heading out the door? Read this article on the new Outside+ app available now on iOS devices for members! Download the app.
Jen Yee was pitting cherries when I arrived at her commissary kitchen in Los Angeles's Chinatown on a Thursday morning in late June. "Do you want a cherry? They're so good. They're so sweet," she said, nodding towards the tub full of mahogany fruit. I happily obliged, then agreed. She had picked them up from Andy's Orchard at the Santa Monica Farmers Market the day before for her seasonal fruit danish at Bakers Bench, the bakery she runs out of a kiosk on the other side of the Far East Plaza. Yee's danish, along with her croissants and her cookies, are entirely vegan unless you count the honey used in her frangipane, which many vegans don't eat. After several years running the pastry program at the Japanese sandwich spot Konbi, where her croissants were revered, and many more working in professional kitchens, Bakers Bench is her first solo project.
Yee herself isn't vegan. One of the biggest reasons she chose to focus on vegan pastries has to do with California's exceptional fruit. "Because your palate isn't getting coated with that dairy taste, or eggs, the flavor of the fruit pops more," she explains, recalling an a-ha moment she had years ago over a vegan blueberry crostata at the farmers market. "You could taste the blueberry so much. When I realized that it was because there was no butter, it blew my mind."
So there's flavor, for one. Yee's other motives for opening a predominantly-vegan bakery focus on sustainability – and ambition. "In order to make good croissants, you're probably going to import butter from France, and if you're importing butter from France, it's going to come frozen. I've never done a scholarly deep dive, but the implications of importing something frozen from France sounds like a carbon nightmare," she says. European-style butter has a higher percentage of butterfat, which means there's less air and water, and therefore it doesn't absorb into dough as quickly. This is a key factor in achieving tender honeycombed insides and flakey exteriors, which are caused by pieces of fat melting during baking to create air pockets in between layers.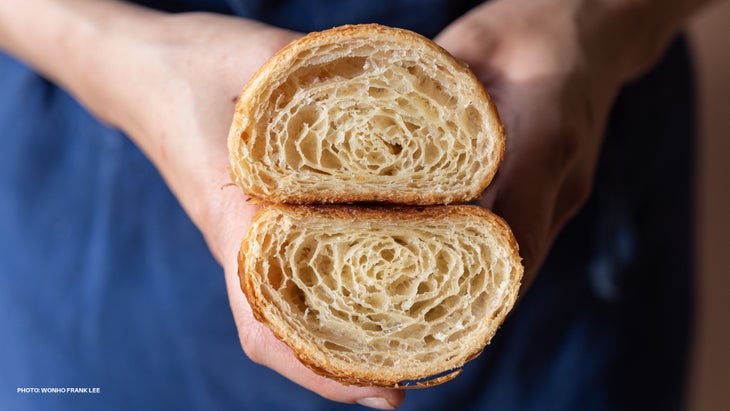 Then there was the matter of having heard a lot of people say that they'd never had a good vegan croissant. Many of the versions available at vegan bakeries have an off taste or leave a lingering waxiness on your palate. For years, Yee wanted to embrace the challenge of changing that. But even in Los Angeles, a mecca of products made for dietary restrictions, all she could find for butter substitutes was margarine. Since margarine is made from vegetable oil and the fat doesn't tend to solidify as it does in butter, it can't achieve the proper attributes of a croissant. (Many margarines on the market are also made with hydrogenated fats, trans fatty acids that raise cholesterol and increase risk of heart disease, and palm oil, whose production is extremely harmful to the environment.) When one day at Konbi, Yee received a sample of ForA — a cocoa butter-based butter made with coconut cream, sunflower lecithin, and nutritional yeast — everything changed. "I always had this thought that if vegan butter was going to work with a croissant then it had to have cocoa butter in it, which has a higher melting temperature," she says. It worked almost instantly.
Croissants and danishes are made through lamination, the pastry technique of layering thin sheets of butter in between thin sheets of dough. ForA's slow-melting and fat stable traits are not only helpful to mastering the delicate process, but also essential to creating a genuinely great croissant. That said, Yee says that Fora does have a bit of a coconut-y aftertaste. To mask it she uses a pre-ferment called poolish in her dough, an approach that's relatively common amongst bakers who make croissants. The poolish is equal parts flour and water with a little bit of yeast, and it adds a subtly sweet and nutty flavor to the pastry. Her hydration ratio is slightly different than what she'd use in a traditional butter croissant and her water has to be a tad colder to make the ForA work seamlessly, "but I'm not reinventing the wheel," Yee says.
The next morning, I showed up to Bakers Bench to try one for myself. (For now, the bakery is only open on Friday and Saturday mornings from 9 AM until sold out.) I can say confidently that Yee's croissants are not only the best vegan variety I've ever tried, they're some of the most exceptional croissants I've had, period — including in Paris. And she's just getting started. For example, she wants to try making her own dairy-free whipped cream from scratch for a fruit tart. And, although she uses and adores Fora, Yee is driven by a desire to make most of her ingredients in-house. She's excited by the potential for innovation within vegan cuisine; in fact, she thinks that the ways in which she and other chefs are experimenting with technique and flavor in a plant-based capacity represents the next major shift in food culture. "I would personally argue that since El Bulli [put molecular gastronomy on the map] in the '90s, and other chefs caught on after they published their book in the early 2000s, food technique hasn't really changed," she says. "Vegan stuff is finally getting the respect it deserves now."
Although her initial motivation wasn't to cater specifically to vegan eaters, she appreciates the opportunity for inclusivity plant-based baking provides. "I'm Asian, so a lot of my friends and family members are lactose intolerant, and if you can't eat eggs and you can't eat dairy, then you can't go to a bakery, and that sucks," she says. "This is what I want to do, and I want to share it with everybody, and for someone to come and be like 'oh yeah, I can't eat that,' it makes me feel like I'm not doing my job."
---
RELATED: A Mezcal Expert Tells Us How to Shop for Sustainable, Artisan Bottles
---
Get more of what you love from VT. Follow us on Instagram, Facebook, and Twitter.