Restaurateur Brian Ricciardi Is Bringing Vegan Dining to Small-Town North Carolina – Whether Locals Are Ready or Not
Meat-eating customers complained about his plant-based pivot, but Brian Ricciardi was undeterred. "I've always kind of been a little rebel. I think it was natural in me to be like, 'OK, then I'm going to do it in spite of your comments.'"
Heading out the door? Read this article on the new Outside+ app available now on iOS devices for members! Download the app.
The restaurant industry is a bad place to try and get rich. The margins are too small and the work too physically taxing. Brian Ricciardi, who spent 10 years in the industry before opening his first restaurant in 2016, knows this all too well.
"This industry is so tough," Ricciardi says. "It's pretty much constant giving. This isn't a business you go into to make an abundance of money."
That's become clearer in the past two years, as the pandemic hammered local restaurants. Ricciardi — who operated his casual, sit-down Italian restaurant named Mozzarella Fellas on the outskirts of Winston-Salem, North Carolina — almost gave up.
"I was ready to just close the restaurant and be done with everything," the New York native admits. But instead of shutting down, he made a bold move: he turned the entire menu at his pizza, sandwich, and pasta place vegan.
"If I have to accept this as the new reality and possibly lose everything," he remembers thinking, "then I'm going to go out on my own terms and do what I want to do."
In June 2020, Ricciardi reworked every offering on his menu. That would be an ambitious pivot anywhere, but Winston-Salem — a small city in central North Carolina arguably most known for Winston, Salem, and Camel cigarettes — isn't home to many plant-based restaurants. Vegetarians flock to Mexican restaurant La Botana for its extensive array of meatless options, but at the time, the move made Mozzarella Fellas the only explicitly vegan restaurant in town.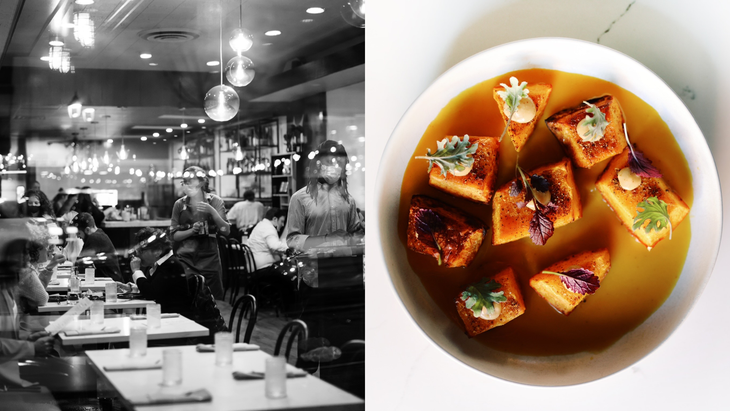 Some regulars were pissed. They'd grown fond of dishes like the cheesesteak chips over the years, and after all, Ricciardi had named his restaurant after a cheese. Complainers blew up the restaurant's social media posts with critical comments, but Ricciardi took it in stride. In some ways, it motivated him.
Ricciardi had started eating vegan a year before opening Mozzarella Fellas while helping his aunt with her own vegan pop-up in New York. He figured he'd try it for a month, but when friends started ridiculing his decision, it hardened his resolve.
"I'm not a person who likes being told what to do," he says. "I've always kind of been a little rebel. I think it was natural in me to be like, 'OK, then I'm going to do it in spite of your comments. That definitely drove me a little further into it and educating myself more on what being plant-based or being vegan means."
When he opened Mozzarella Fellas, Ricciardi included a barbecue jackfruit sandwich on the menu so he'd have something to eat while pulling shifts. It sold modestly, but he added more options including a vegan pizza anyway. He didn't have any investors, which made it harder to scrape by, but it also meant he didn't have to answer to anyone.
"A lot of what I do is not the best business decision, but I don't care about that," Ricciardi says. "I'm prepared to fail. If that means doing what I believe in, that's OK with me."
In early 2021, he closed Mozzarella Fellas and opened Dom's, a vegan restaurant in downtown Winston-Salem. And he started planning Radici, a sister restaurant in the heart of neighboring Greensboro. It's a bigger, less conservative, city and home to five colleges. Students at UNC-Greensboro have helped keep vegetarian restaurant Boba House in business across from campus for almost 20 years. But while veganism isn't as maligned here as it used to be, every local brick-and-mortar vegan venture has failed in recent years.
"If we were talking strictly from a business standpoint, I would be much better off if I were in Raleigh or Charlotte [North Carolina]," he says, "but I live here, so it's my community."
Ricciardi isn't shy about what he's doing. A massive, hand-painted sign in Radici's entryway screams "VEGAN" in all caps. That's part of staying true to himself. He's even steering away from some of the most conventional plant-based offerings.
"At this point in my vegan journey, I'm done with the mock meats," he says. "I don't want the Beyond Burgers anymore. I constantly change the restaurants to match where I'm at in my life. It's not about what I think will sell. It's about me telling my story."
Ricciardi almost seems to like doing things the hard way. He opened Radici in January – a historically weak time of year for restaurants – and his commitment to local, seasonal ingredients limited chef Sean Sigmon to winter crops like beets and carrots on that opening menu. That hasn't slowed them down.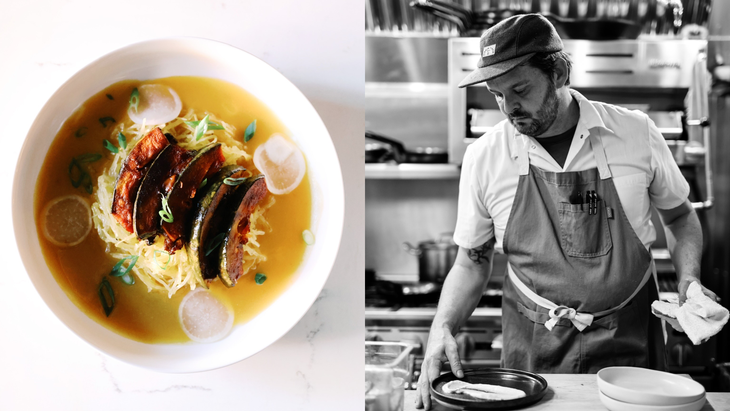 Sigmon, who grew up in rural North Carolina and got his start at his parents' barbecue restaurant, isn't new to veganism. That's apparent in his cooking. His deft preparation of dishes like a light and refreshing roasted beet 'tartare' appetizer or masterful execution of a 'yogurt cheese fondue' to accompany charred broccoli are a delight. Touches like a preserved lemon salsa verde with sunflower yogurt and sunflower dukkha make the tenderly-grilled carrots into regal triumphs. Every dish is creative, resourceful, and most importantly, remarkably satisfying.
"He has the opportunity to do his thing with little restraint from me, and I have someone who shares in the goals and the vision," Ricciardi says of Sigmon. "Egos in the kitchen tend to be a problem often. A lot of the time that's one of the big hurdles you deal with. That's not an issue with Sean."
Dom's is still finding its footing and cycled through several chefs in its first year. That's partly because Ricciardi can't find many chefs who want to cook scratch-made vegan food in the area. Chef Crystal Hartman just took the helm, and Ricciardi is counting on her to bring Dom's up to the level of Radici and its special-occasion, date-night vibe.
It's too early to say if Ricciardi and the teams he's assembled at Radici and Dom's will beat the odds. They're still fresh, so green that Ricciardi is still waiting on some of the décor he ordered for Radici to arrive. But his "little rebel" spirit may be just what the teams need to push through where their predecessors have failed.
"We know what we're capable of and what this is eventually going to be," Ricciardi says. "We're excited about that. The future looks really bright."
---
RELATED: Chef Shenarri Freeman is Cooking Vegan Soul Food That Everyone Wants to Eat
---
Get more of what you love from VT. Follow us on Instagram, Facebook, and Twitter, and sign up for our email newsletters.