The Best Vegan Ice Creams in Your Supermarket's Freezer Section
No disrespect to Tofutti Cuties, but the current crop of vegan ice creams has upped the game
Heading out the door? Read this article on the new Outside+ app available now on iOS devices for members! Download the app.
As a kid who didn't consume dairy, my frozen treat selections in the summer typically ran towards the fruity side – sorbets, popsicles, Italian ices – rather than ice cream. If I did want something creamy, I might be able to talk a grown-up into buying a box of Tofutti Cuties at the grocery store, but there weren't a lot of there options. While I would still crush a Tofutti Cutie today, it's exciting to live in the midst of a dairy-free ice cream boom. There's now an almost overwhelming number of options at the supermarket. In honor of National Ice Cream Day, I decided to stage a taste test and highlight the best vegan ice cream choices out there.
When it came to narrowing down my recommendations, I had a few key criteria in mind. First, and perhaps most important, texture. The best vegan ice cream makers know that cream is key. We've all experienced that gritty, icy texture that befalls lesser plant-based frozen desserts. If I wanted granita, I would eat granita! I was also looking for flavor, of course, sweet but not cloying, and with no weird aftertaste. And, ideally, it shouldn't have to be mail-ordered or hard to get. Everything in these recommendations was purchased straight out of the freezer at large chain grocery stores near my home in Los Angeles.
One note to keep in mind: A number of vegan ice cream brands are processed in facilities that also produce dairy ice creams, in rare cases even using the same equipment. Be sure to read disclosures on labels carefully if this is a concern for you.
This way to indulgence…
---
The Best Vegan Ice Cream Brands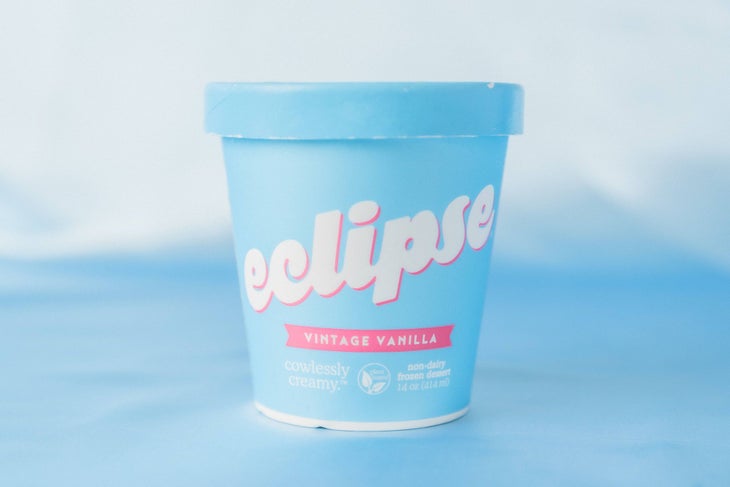 Eclipse Vintage Vanilla
Vanilla ice cream never gets its due. People treat it like a second-tier also-ran to chocolate. This is a disservice to vanilla! I'm not a major ice cream eater at home, so vanilla is typically the only flavor I actually keep around. While my go-to vanilla vegan ice cream before this project was Craig's (more on that below), I found I liked the Eclipse vanilla a lot. The real vanilla bean specks are there, and it has a rich, custardy flavor. There's tapioca in the base mix with this one and you defiantly get a note of that in the finished product – something I consider an advantage. For best results, be sure to let it soften on the counter for a few minutes before digging in. eclipsefoods.com
---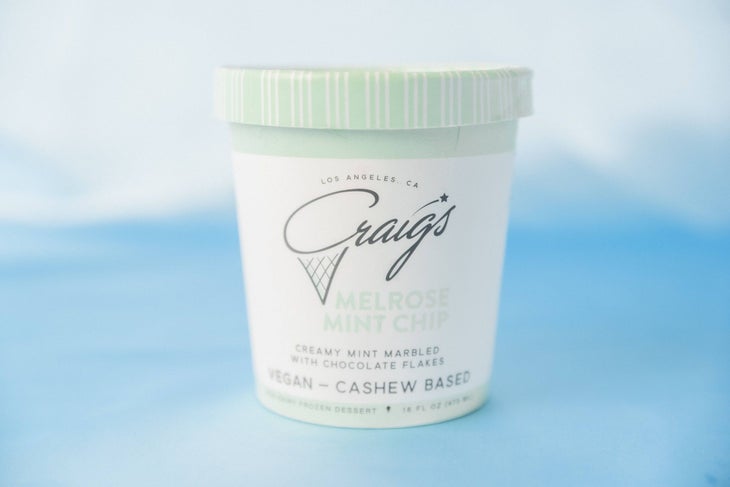 Craig's Melrose Mint Chip
Craig's is a swanky, scene-y restaurant in West Hollywood, where paparazzi stake out positions to snap the celebrity clientele coming and going, occasionally without pants. When the chef Kursten Kizer started putting housemade dairy-free ice cream on the menu in 2016, the requests for take-home pints began almost immediately. That blossomed into a retail ice cream line that's available in supermarkets and sold online. The vanilla from Craig's was a staple in my house before I started this testing project, but in the research for this story, the mint chip won me over, with everything from the pale green color to the refreshing mint flavor just jumping out with nostalgia and happiness. craigsvegan.com
---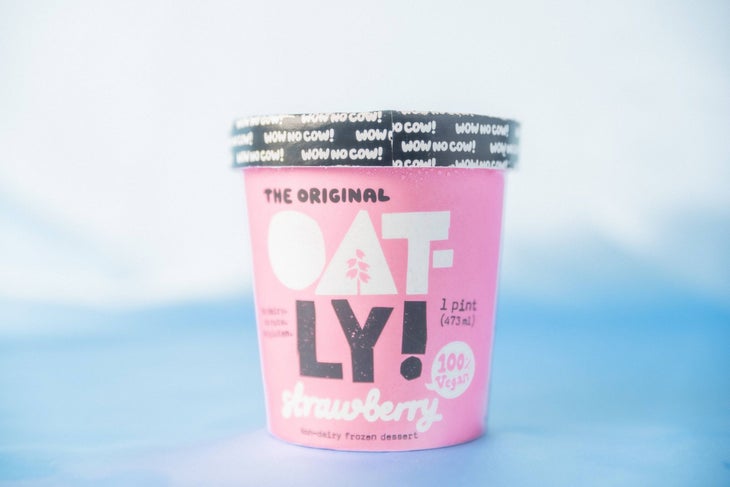 Oatly Strawberry
Oatly has become market-dominant, and this strawberry ice cream certainly makes a good case for why. It's strawberry perfection, like making your own ice cream in a rock salt churn with strawberries straight from farm. That's partially thanks to the inclusion of actual, real strawberries, rather than a processed flavoring. It's also probably the single best vegan ice cream we tried that contains zero nuts, making it a good option for allergy sufferers. Strawberry ice cream lovers who can handle nuts may also enjoy Eclipse's version.  oatly.com
---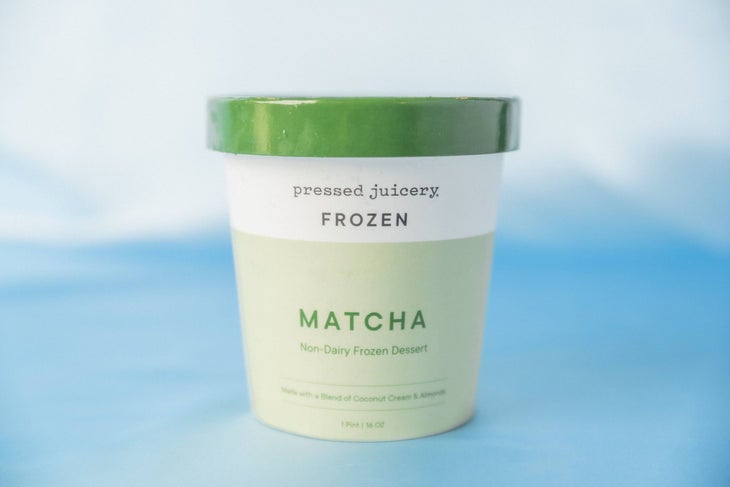 Pressed Juicery Matcha
Why do so few of the best vegan ice cream brands offer a matcha flavor? That's my free consulting for the ice cream corporations: More matcha. Pressed Juicery's take creamy, satisfyingly green, and everything you want from matcha ice cream. Plus, the ingredients list is just eight simple, easy-to-pronounce items, and contains no refined sugar. pressedjuicery.com
---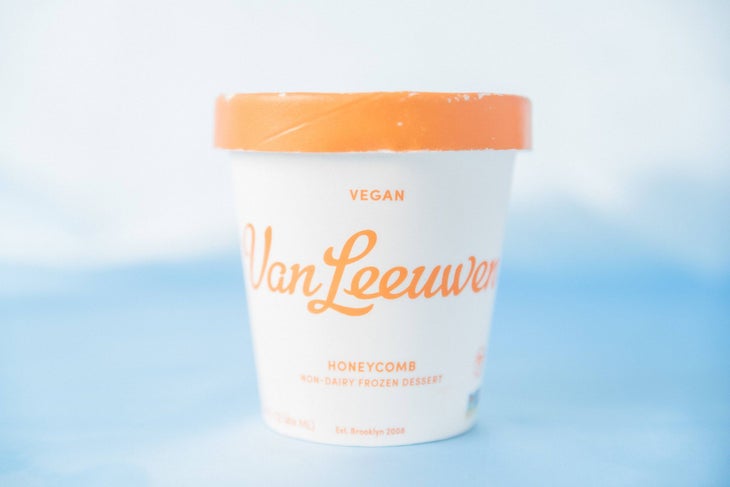 Van Leeuwen Honeycomb
Honeycomb, in this context, is not actual honeycomb. It's a type of crunchy, caramel candy from Australia, which Van Leeuwen makes in-house to mix in with this vegan flavor. The Brooklyn-based brand has been making vegan ice cream since 2008, and you can really tell that they've got it down. It's rich and creamy and melts appealingly in the mouth (without that strange filmy residue). The honeycomb flavor is only for those with sweet teeth, and it was almost too much for me, but its held in balance by the rich, creamy cashew-coconut-cocoa butter base. vanleeuwenicecream.com
---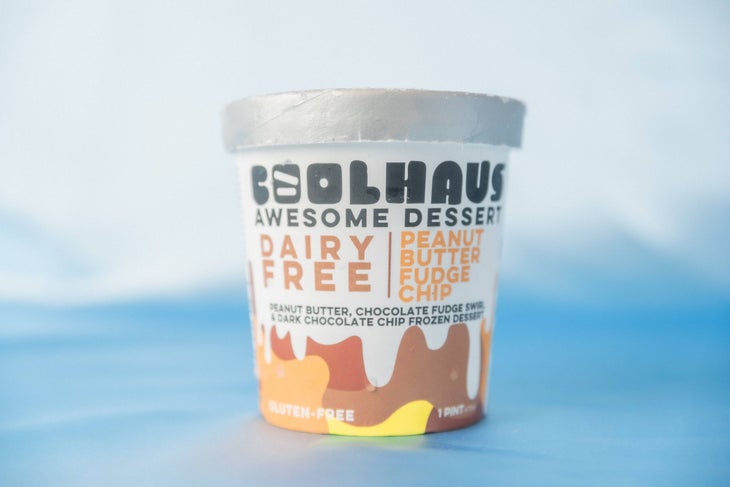 Coolhaus Peanut Butter Fudge Chip
Coolhaus is a queer-woman-owned brand with a commitment to finding ways to give back through social partnerships and other initiatives. Which would be lovely and all, but would not get them a spot on this list if they didn't make one of the very best vegan ice cream options on the market, built on their proprietary pea protein base. The peanut butter fudge chip is for lovers of texture and mix-ins – something not a ton of vegan brands have nailed, to be honest – giving you chips, chunks, and swirls. Coolhaus also makes pre-packed ice cream sandos with their vegan flavors, and you should grab them if your grocer has any. cool.haus
---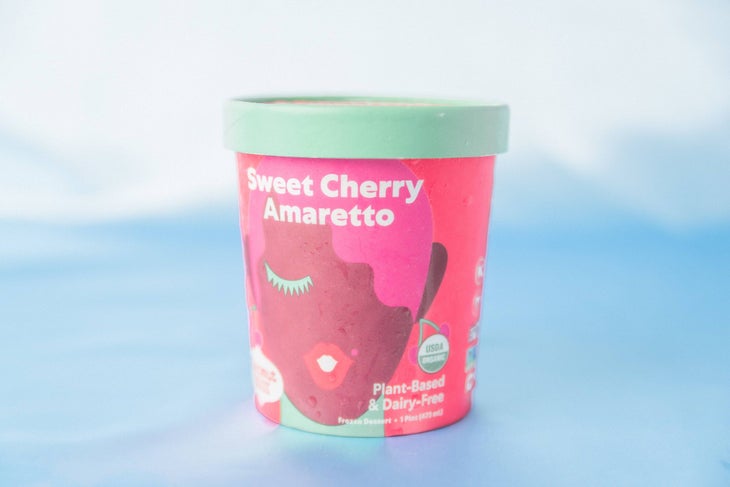 Coconut Bliss Sweet Cherry Amaretto
My husband who has a (very!) mild nut allergy was unable to resist trying this pint, despite it being bad and dumb for him to do so. Such is the siren call of this ice cream. (Note: Please don't eat this if you, also, have a nut allergy of any kind! This is not an endorsement!) The flavor has the distinctive, just-a-bit-bitter amaretto flavor, the bright cherry notes, creamy coconut back-up. Coconut Bliss has been around since 2005, making what they claim are the "creamiest and Earth-friendliest scoops you can find." No lies detected. coconutbliss.com
---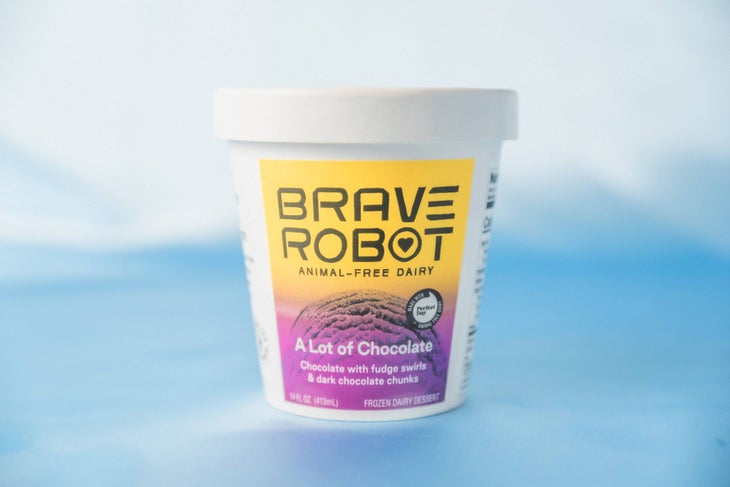 Brave Robot A Lot of Chocolate
I wasn't going to let you go without a little something for all the chocolate ice cream people. Brave Robot is the most science-y of vegan ice cream brands – and not just because of the name. Read up on how they make their non-dairy milk proteins on their website; it's really cool. (It does mean the packages are printed "Contains Milk Protein" but it's because their lab-made chain is so similar that it could trigger allergies, not because it's actually from cows.) This dark chocolate hits all the pleasure points, but importantly maintains some of the bitter elements of chocolate rather than going light and sweet. braverobot.co
---
RELATED: Los Angeles Baker Jen Yee Is Making Phenomenal Croissants That Just Happen to Be Vegan
---
Get more of what you love from VT. Follow us on Instagram, Facebook, and Twitter, and sign up for our email newsletters.