We Tried Tofurky, Field Roast, and Other Boxed Thanksgiving Mains (So You Don't Have To)
Have our plant-based palates moved beyond the need for boxed faux-turkey loaves – or do the nostalgic holiday options still holds up?
Heading out the door? Read this article on the new Outside+ app available now on iOS devices for members! Download the app.
For this year's Friendsgiving feast, I rounded up a crew of vegans to help me taste as many plant-based Thanksgiving centerpiece options as possible. We gathered around a table in my backyard and sliced into four stuffed loafy things from Tofurky, Quorn, Field Roast, and Trader Joe's, served alongside a smattering of vegan sides, and then spent the rest of the night comparing them to figure out which ones hit the mark, while nursing our bloated bellies by the firepit. Are any of these store-bought 'turkey alternatives' worth your time? Here's what we discovered.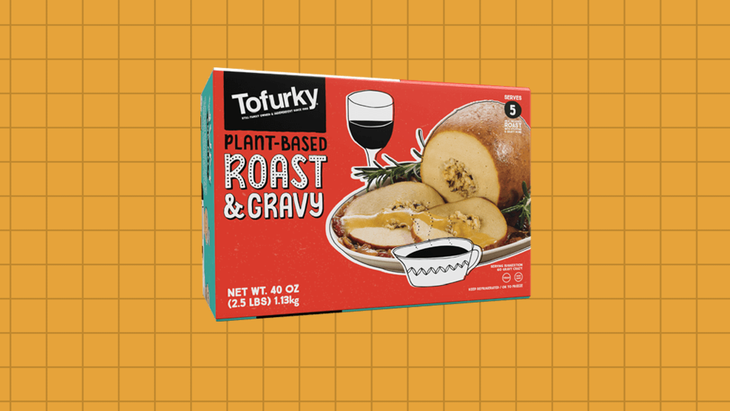 Tofurky Plant-Based Roast & Gravy
Oh, pioneer of plant-based loaves, Tofurky has given us so much! If it weren't for Seth Tibbot starting a business from his treehouse in 1980, we might not even be having this conversation. Fifteen years after launching Tofurky, the company introduced its first Holiday Roast in 1995, setting the gold standard for what mothers would add to the table to appease their college-age vegetarian and vegan children when they came home for the holidays – and baby, we've come a long way since then.
However, we may have come such a long way that we're now in a post-Tofurky moment as a culture, our palates having outgrown the vegan food we once relied on. Perhaps so much that Tofurky itself seems to fall a bit flat. Despite having the best packaging of the items we tested, Tofurky's Plant-Based Roast & Gravy disappoints on almost every other metric. Rather than tasting like turkey, the stuffed ball of vital wheat gluten and tofu tastes like what I imagine turkey-flavored ChapStick or a turkey-scented candle might taste like, with a turkey smell upfront and a sad reality on the tongue. 
I followed the package instructions to defrost in the fridge for 24 hours before roasting, and, taking a recommendation from the box, I basted the roast in a mixture of soy sauce, olive oil, garlic, and ginger; yet the final product still felt lacking. The stuffing within the roast, however, was quite pleasant, with a mixture of bread cubes and brown and wild rice, plus the typical onion and celery flavors of a proper Thanksgiving stuffing. I found myself wishing the ratio of stuffing to roast skewed more toward the stuffing.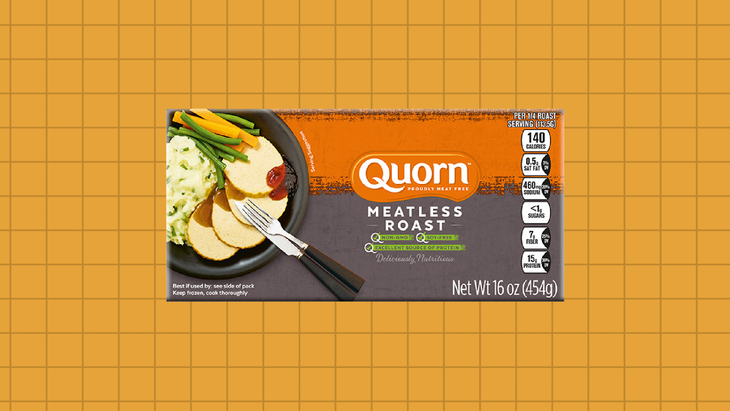 Quorn Meatless Vegetarian Turkey Roast
Quorn uses its own proprietary protein, called Mycoprotein, as the primary ingredient in its Meatless Vegetarian Turkey Roast. Compared to its competitors, all of which rely on vital wheat gluten, Quorn is unique. Mycoprotein comes from a fungus called fusarium venenatum that's been fermented, making it the only gluten-free option on the list.
The Quorn roast comes frozen and can be cooked straight from the freezer for a little over an hour or post-fridge-defrost for a little under an hour. I chose to defrost mine in the fridge, taking that time to marinate it in a mixture of balsamic vinegar, olive oil, sage, thyme, salt, and pepper, which required me to remove the film covering that's typically cooked right on the roast. Instead, I wrapped the roast in aluminum foil. I checked on it halfway through cooking, added a pat of Earth Balance butter, wrapped it back up, and continued roasting for another half hour. 
With the most turkey-esque flavor and texture, Quorn's Meatless Vegetarian Turkey Roast wins my vote for 'Most Likely to Fool Your Omnivorous Uncle.' The mouthfeel of the product is similar to that of a roasted piece of poultry, and, nestled in a Thanksgiving leftovers sandwich, its plant-based origins would be all but obscured to an unknowing palate. Unfortunately for vegans, this product includes both egg and milk, which, no doubt, contributes to its success as a turkey substitute but takes it off the table for a vegan audience. Quorn does offer a handful of vegan options, including meatless filets, patties, and pieces; but there are no turkey roasts in the line-up.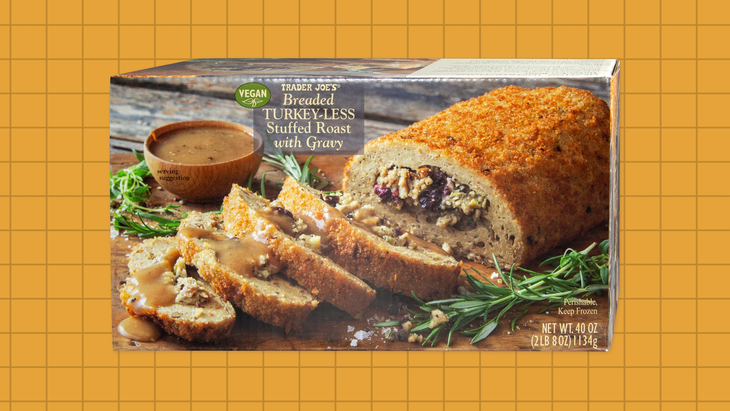 Trader Joe's Breaded Turkey-Less Stuffed Roast With Gravy
This was one of the more interesting options we sampled, thanks to the breading, which provided a nice textural component to what, otherwise, amounts to a lot of wheat. The roast is a vital wheat gluten base with a cranberry and rice stuffing, and unlike Tofurky, the stuffing-to-roast ratio in this roast goes heavier on the stuffing, and the stuffing is pretty good!
What's lacking in the TJ's Turkey-Less Roast is flavor. There's a subtle hint of celery and some vaguely Thanksgiving-y flavors that are hard to pinpoint, but it's much more subdued than the Field Roast. To give this one more of an edge, I'd suggest adding flavor via gravy. Saute onions, garlic, and mushrooms, deglaze with a bit of wine, throw in a sprig of fresh thyme, and then add the gravy and bring to a simmer to marry the flavors.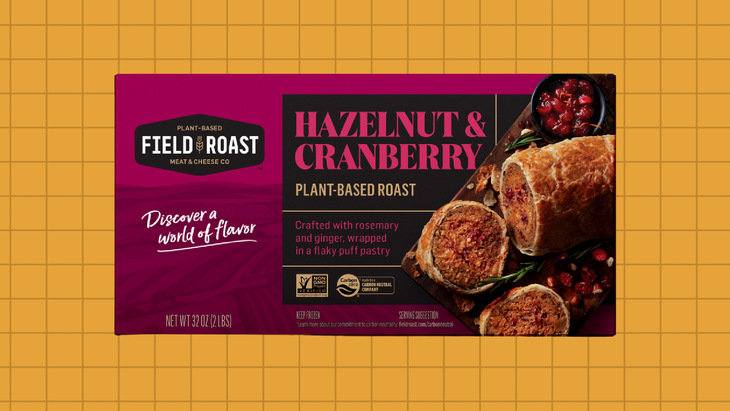 Field Roast Hazelnut & Cranberry Plant-Based Roast
Field Roast really seems to get today's audience of plant-based eaters. They're all about tapping into flavors that transcend the 'meat proxy' paradigm and creating something entirely new. Their Hazelnut & Cranberry Plant-Based Roast is a great example of this, with a brightness derived from cranberry and ginger. This roast gets closer to what I want to see in a Thanksgiving centerpiece, with a vivid color from the cranberry and a flavor profile that telegraphs holiday without trying to taste like actual turkey. Instead, notes of rosemary and ginger fill the air as the roast bakes in the oven, creating a super inviting, festive vibe.
While the directions suggest roasting at 400°F for 45 minutes draped in aluminum foil and then removing the foil to finish cooking for another 15 minutes, I found that this doesn't quite do justice to the puff pastry encasing the roast. Instead, I roasted at 400° for 40 minutes in foil and then removed the foil, cranked up the oven to 425°, and continued roasting, turning once or twice, to make sure the pastry got golden brown all over. It's that flaky layer of puff pastry that really makes this a show stopping centerpiece, elevating it to something you would want to include in a holiday spread, so it's worth a little extra fussing at the end to make sure it's just right. 
Time to Talk Tofurky…
I'll be the first to admit that I tend to avoid vegetarian and vegan meat substitutes in general, and this experience validated those instincts. I realize that eating four vegan loaves in one night is pretty atypical, but at the end of the experience, my body felt oddly jittery, nauseous, and so gassy that I tried to aim my body away from the fire pit. It occurred to me that I felt the way I would if I ate a bunch of fast food. I think that's because of the highly processed ingredients and unconscionable amount of sodium hidden in these products that market themselves as virtuous. No, they're not meat, and that's great, but they're pretty far removed from the world of whole foods, and they absolutely feel that way if you eat too much of them. 
What I loved about vegan Thanksgiving was the same thing I love about omnivorous Thanksgiving — the sides! Sweet potatoes with maple syrup, a red cabbage salad with peanut dressing, butternut squash gnocchi, and a vegan copycat of Stove Top stuffing that tasted almost as good as my memories. And it made me ask myself: why work so hard to reproduce the least remarkable part of the meal, ie. the turkey? I couldn't come up with a good answer. Instead, for future Thanksgivings, whether they're vegan, vegetarian, or meat-inclusive, I'll focus on the things I do love — abundant seasonal ingredients like mushrooms and acorn squash, pecans, and apples, and I'll give thanks for exactly what they are as well as what they aren't.
---
 Find More Thanksgiving Recipes and Holiday Ideas from Vegetarian Times
---
Get more of what you love from VT. Follow us on Instagram, Facebook, and Twitter, and sign up for our email newsletters.