The Best Vegan Greek Yogurt Options to Buy Right Now
Silk says its new product is the best vegan Greek yogurt yet, so we compared it to the competition
Photo: Courtesy Danone SA / Silk
Heading out the door? Read this article on the new Outside+ app available now on iOS devices for members! Download the app.
Geek yogurt is not like other yogurt. It's a cool yogurt, extra thick, and tangy, great in recipes. However, while the concept seems straightforward enough – take regular yogurt, strain it – finding a good vegan Greek yogurt on grocery store shelves has been less than easy, even as non-dairy dairy products have proliferated.
Certainly, you could address this situation with a DIY solution. Minimalist Baker has a recipe that can be made with just two ingredients and requires no specialized equipment. But what if you just want to buy a carton at the store and eat it with your morning granola?
"Traditional Greek yogurt accounts for about 44 percent of all yogurt sales and really dominates the dairy category, but no brand has really nailed Greek in plant-based until know," Lia Stierwalt, senior director of marketing at Silk, told Food Navigator USA. "We haven't seen anything that has delivered on Greek's signature thickness and texture. Silk Greek is so thick, you can turn your spoon upside down and it's not going to fall off."
While Stierwalt has good reason to be confident in her brand's product, it actually is not the only vegan Greek yogurt option on the market. Here's how it and the competition stack up.
---
Best Vegan Greek Yogurt Brands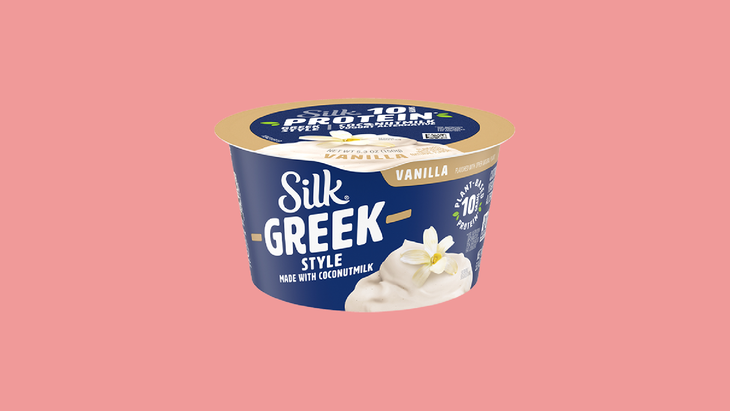 Silk Greek Style Coconut Milk Yogurt Alternative

Primary Base: Coconut milk
Flavors: Vanilla, Strawberry, Lemon, Blueberry
Much like Stierwalt said, the thick texture really is key here. I did not technically try the full upside spoon test for myself, but it seems within the realm of possibility. It's pleasantly dense and smooth. However, unlike traditional dairy Greek yogurt, this is quite sweet and lacks the distinctive tang. I won't be using this as a swap in savory cooking, for example. Still, as a sweet breakfast or snack item, it's definitely satisfying and the texture is a big winner. The company claims that all water used in production "is restored to nature drop-for-drop," which seems like a nice if vague statement.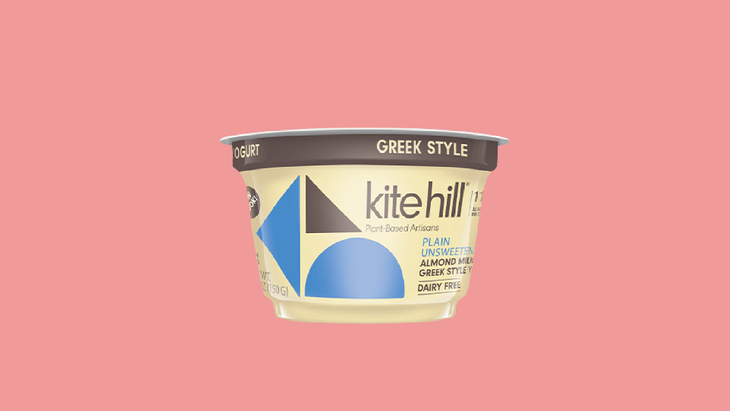 Kite Hill Greek Yogurt
Primary Base: Almond milk
Flavors: Plain unsweetened, Vanilla unsweetened
Kite Hill is a favorite non-dairy dairy brand of mine; I'm particularly partial to their cream cheese. Their soy-free, gluten-free, and artificial preservative-free Greek yogurt option is a totally worthwhile buy. The plain flavor works for a variety of dips and dressings, as well as eaten on its own or with a little sprinkle of maple sugar if you want to go the sweet route. It's not as smooth or thick as Silk's version, and fruit flavors that were available when the product launched in 2017 have apparently since been discontinued.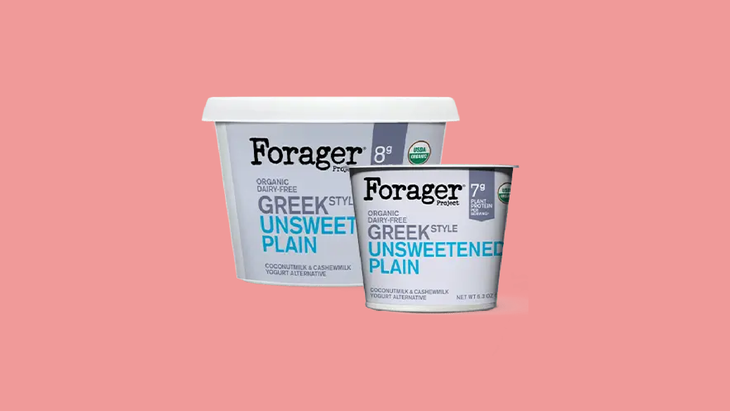 Forager Organic Dairy-Free Greek Style Yogurt
Primary Base: Coconut milk and cashew milk
Flavors: Plain unsweetened, Vanilla, Strawberry
Like Kite Hill's, Forager's unsweetened plain Greek yogurt is great to use in savory dishes, subbing in for yogurt, sour cream, or even lebneh for your various kitchen experiments. It has a little tang and sourness, which you want in a Greek yogurt, but it doesn't really have the thick, strained texture of the original. Still worth adding to the shopping cart for what it is, but don't expect to try that spoon trick here.
Note: Daiya also makes a vegan Greek yogurt but we were not able to purchase it at a local retailer in time for this article. 
---
RELATED: The Newest Plant-Based Milk Is an Underground Phenomenon
---
Get more of what you love from VT. Follow us on Instagram, Facebook, and Twitter, and sign up for our email newsletters.