Willkommen to Germany's First Fully-Vegetarian Alpine Cabin Restaurant
Bavarian traditions get a plant-based update at the Hündeleskopfhütte
Photo: Courtesy the Hündeleskopfhütte
Heading out the door? Read this article on the new Outside+ app available now on iOS devices for members! Download the app.
Silvia Beyer is the owner and head chef at the first vegetarian mountain cabin in the German Alps. Located within the rolling Alps of Pfronten, Germany, the Hündeleskopfhütte has been a dream come true for Beyer — not just because she's able to spend her days cooking plant-based meals with her family but because she's able to provide plant-based alternatives to the more traditional Schnitzel and cold meats that most travelers anticipate finding in the mountains.
Beyer has found that many classic Bavarian dishes are vegetarian-friendly already, and she regularly serves omnivorous and plant-based locals and visitors alike who simply want to enjoy a traditional Bavarian meal made with love and the bounty of fresh produce available in the Alps year round.
We spoke to Beyer to better understand how she decided to open such a restaurant in the Alps and what drove her to make plant-based dining more accessible in such a far off corner of Germany.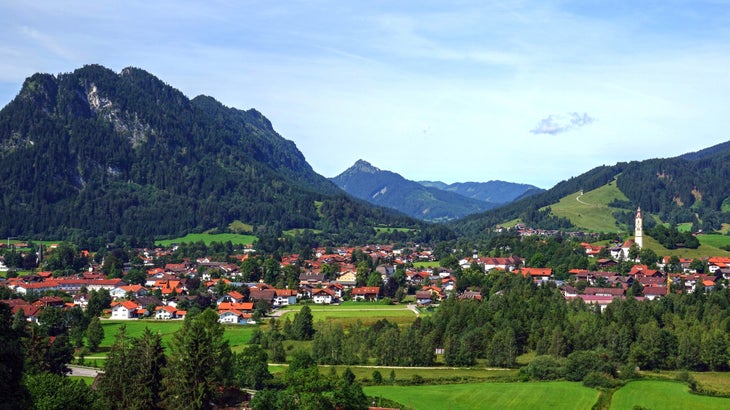 What exactly was your inspiration to create a vegetarian-friendly approach to classic German cuisine?
I've lived as a vegetarian since I was 12 years old. It started when I realized what happened to our baby cows. My grandmother from my mother's side was vegetarian all her life, so it was not such a completely new thing, even on a traditional Bavarian farm.
Later I worked as a waitress around the mountains and I realized that people always asked about vegetarian meals. I love cooking and I knew I had to start a complete vegetarian kitchen when I found my own place in 2015, the Hündeleskopfhütte. The time was right and people are very happy to have a vegetarian location in the mountains — even with vegan dishes. Here outside of the big cities there is not much offer, so it worked out great!
What was the most challenging part of converting these recipes to plant-based and vegan?
The funny thing actually is, that people here, in former days, did not eat so much meat! They really only ate meat on Sundays, so we have a lot of traditional Allgäu and Bavarian dishes that are vegetarian already. For example, the Kässpätzle or the Cabbage Rolls, Krautkrapfen, they are even vegan, but of course nobody called it like this in the former days. And it's so much fun to create and cook the vegan spreads for our vegan Brotzeit ourselves!
I stick with what works and in a very, very, small kitchen. We don't need anything more than fresh and healthy ingredients.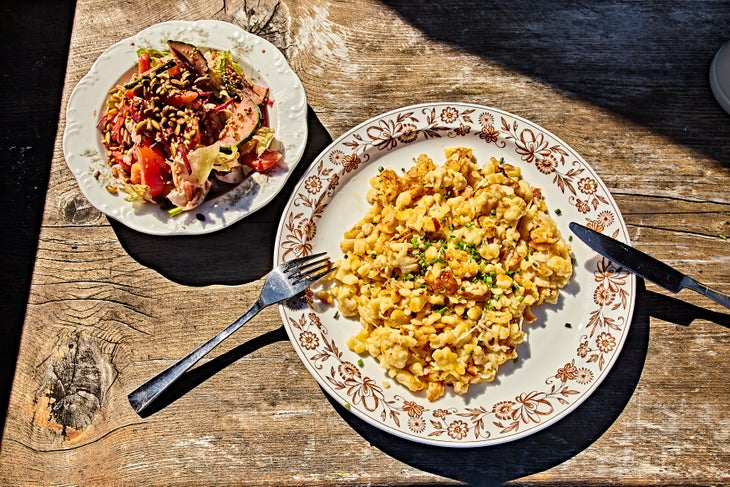 What are some of the most popular dishes that your guests order at the Hündeleskopfhütte?
The most popular dish is the traditional Allgäuer Kässpätzle, and for me the best compliment is that the locals are coming to eat them because they love it that way too! The vegan and gluten-free zucchini lasagna topped with white almond cream is also a dish my guests like a lot and are often surprised by.
My own creation is the Hüttenwrap: a pancake with lots of herbs, with a cream cheese spread on top. The cream cheese is melted on top, then we roll fresh carrots, ruccola, paprika, cucumber, and salad inside. We finish it off with some of our homemade herbal oil on top.
There is no need to find alternative things that look like meat or sausage. I'm not a fan of that. My guests appreciate the fresh, naturally organic products we use. The taste is fantastic, just pure and simple, handmade with experience and love!
What is your favorite (or the most rewarding) part of serving vegetarian alternatives?
It's such a pleasure to be at the right place at the right time! I love to use the herbs from nature, buying almost only organic-grown and local food. And to make people happy with healthy, fresh, handmade dishes is a wonderful thing.
We get a lot of positive feedback, especially from families that visit with a vegan or vegetarian in the group. They can come all together with no problem with the food or menu. I'm grateful to be a part of a change that a lot of people all around the world are starting to see – in a rather unusual place. We have to treat the animals and Mother Earth much better.
---
RELATED: Barrio Bread Is Helping to Revive Arizona's Nearly-Forgotten 'Grain Chain'
---
Get more of what you love from VT. Follow us on Instagram, Facebook, and Twitter.