This Vegan, Localvore Sugar Shack Is Shaking Up a Quebec Tradition
Sugar shacks – and their hearty meals – are an iconic Canadian tradition. We speak with Simon Meloche Goulet, chef and owner of La Cabane à Tuque, about creating one of the first fully vegan sugar shacks in Quebec – and his "even more warm and cozy" plans for the coming season.
Photo: Courtesy La Cabane a Tuque
Heading out the door? Read this article on the new Outside+ app available now on iOS devices for members! Download the app.
Visiting the humble cabane à sucre — or sugar shack — is one of the most well-loved traditions in Quebec. And for good reason. The rural restaurants operate around the annual maple harvest— usually from late March to early May, just as Quebecers start coming out of hibernation — drawing locals and visitors to celebrate the fruits of the winter while indulging in maple sweets and outdoor activities. The day's events vary depending on the given cabin and region, with options ranging from sleigh rides to snow shoeing — but all sugar shack excursions begin and end with a smorgasbord of homemade dishes served family style.
Historically, the meal at a Quebec sugar shack would be a combination of ham, bacon, sausages, and baked beans with pork, all drizzled with a healthy serving of fresh maple syrup. But now, plant-based sugar shacks like La Cabane à Tuque, are opening up throughout the province, offering a way for vegetarian and vegan eaters to enjoy the humble maple harvest at its fullest.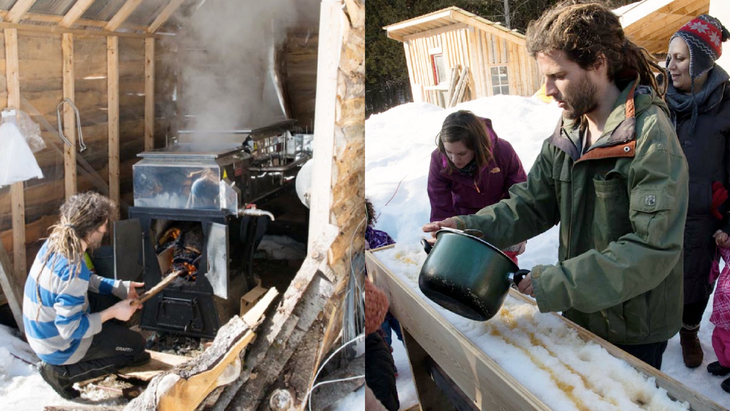 Tucked within the Mont-Tremblant ski region, La Cabane à Tuque leads the way when it comes to vegan and vegetarian alternatives to the traditional sugar shack. The ecologically-minded operation takes sustainable farming seriously without sacrificing the root of the Quebecois tradition – and they take the same approach to food. Menu items include traditional dishes like pea soup, baked beans, and pancakes, while also translating familiar flavors into modern vegan alternatives like the homemade smoked baguette and temp'egg omelette (omelette-style home-cooked tempeh).
We spoke to Simon Meloche Goulet, chef and founder of Quebec sugar shack La Cabane à Tuque, about how a vegan sugar shack has been received in a sea of omnivorous alternatives — and exactly what makes the concept so special.
 Why did you decide to create a vegan-friendly sugar shack?
La Cabane à Tuque is not just vegan-friendly, in fact, dairy and meat products are not an option in my restaurant. I decided to start a vegan sugar shack because I'm vegan as well and I was tired of going to regular sugar shacks and only being able to eat a potato – while trying not to think about the fact that it was probably cooked with animal products.
What has the reception been like? Is it mostly vegan/vegetarian people who come to La Cabane à Tuque?
I would say the clientele is actually about half vegetarian and half omnivore. Many strict vegetarian and vegan clients come, but a lot of local people come to enjoy the family-style type of restaurant.
What were the challenges of opening and running a vegan sugar shack?
I was really amazed at how much easier it was to open a vegan restaurant versus a more classic type. The only downside I would say is that it takes some time to convince certain locals who are regularly omnivore eaters. That said, I'm only an hour and a half from Montreal or Ottawa so my clientele is mostly tourists… but I'm working on the locals to come more and more.
Do you have any new projects, menu items, or events that will be launching this season?
I tend to change certain items on the menu every year, but this year it was a recipe I wasn't able to offer previously [due to ongoing Quebec lockdowns and stay-at-home mandates]. I'm also planning on changing the whole way of operating as restaurants are able to open back up — it's going to be even more warm and cozy than before.
Aside from being one of the only plant-based and vegan options in the province of Quebec, what makes La Cabane à Tuque so special?
I think vegetarians who are unfamiliar or felt left out from the Quebecois tradition need to come and see the sugar shack for themselves. The table at La Cabane à Tuque isn't just vegan — it exclusively features ingredients that come from less than a 100-mile radius and is served by some of the farmers that grow what they're eating!
---
---
Get more of what you love from VT. Follow us on Instagram, Facebook, and Twitter and sign up for our email newsletters.