Mindful Eating: Q & A with Russell Simmons
How long does it take to change your health and your life? Twenty minutes, twice a day, if you ask legendary hip hop producer Russell Simmons, a vegan, yogi, and meditation practitioner.
Heading out the door? Read this article on the new Outside+ app available now on iOS devices for members! Download the app.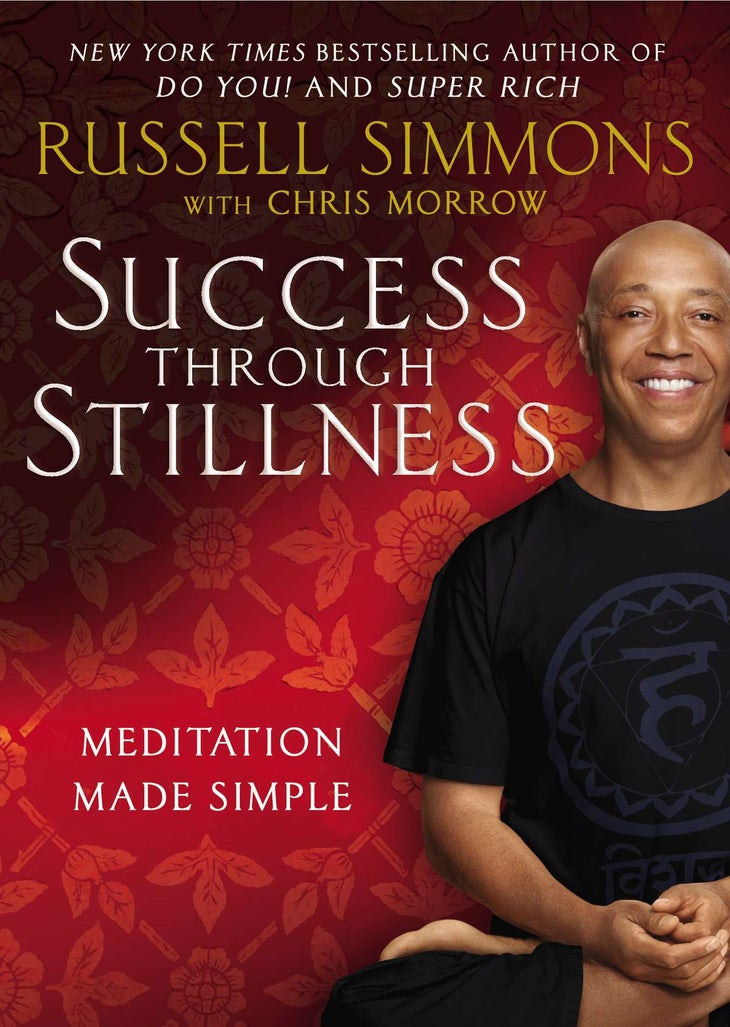 How long does it take to change your health and your life? Twenty minutes, twice a day, if you ask legendary hip hop producer Russell Simmons, a vegan, yogi, and meditation practitioner. "Committing to 20 minutes of silence twice a day will radically transform how you feel about yourself and your relationship with the world."
In his latest book, Success Through Stillness: Meditation Made Simple, and below, Simmons talks about "mindful eating," the relationship between veganism and meditation, and meditation's power to not only cultivate compassion, but also to grow gray matter in the brain.
So what are you waiting for? In the same time it takes to shower, vacuum the house, or fix yourself a simple meal, you could begin your practice. This book will teach you how. Read on for a taste of what's inside.
In the book, you describe the many positive physical effects that meditation has on both the brain and the body. What changes have you noticed in your own health since you began practicing meditation?
Well, I have not had a scan to look at the gray matter of my brain, but my understanding is that the research says that the gray matter in the brain grows dramatically over six weeks. I've been meditating for 20 years, so I'm hopeful that something happened in there. But also, my memory is a little better, I am more awake and focused, I'm happier, I'm less anxious, I sleep dramatically better, I have better relationships with the world, and I live a stress-free life.
I have lots to do every day, but if I have my mediation and my physical yoga, I can take on a full day—from morning until night. As long as I can stop to take care of my first chakra, I can keep it moving.
People put way too much weight on the outside world and don't value the benefits of looking inside. There are so many benefits of meditation, according to research: the lowering of blood pressure, the diminishing of ADD, the greater brain functionality. All these things are just truths. Neuroscientists know these things to be true, and I have first-hand experience of these benefits. I'm happier since I started and increasingly more present because of it.
You talk about "mindful eating," describing it as "the practice of slowing down and savoring each bite of your food, instead of eating it unconsciously." How does one begin to eat more mindfully, and what are the benefits of doing so?
As you eat, you taste your food. You're awake. I think you are more mindful of everything, including eating. You are more mindful when you go to work. You are more thoughtful. You are more present. You are more awake. The person who is more awake, more thoughtful, and more present, gives more, and this is how I always talk about how success comes: great givers are great getters.
Of course if you have a more mindful eating practice, you eat less, you digest food better, and you lose weight. Becoming a yogi and a vegetarian has made a great difference in my weight. I'm a lot smaller now than I was 20 years ago.
You write about the "so-called comfort foods" you were raised eating. You rename these foods "un-comforting food" due to how they make your body feel after you consume them. Now that you're vegan, what are a few of your favorite vegan "comfort foods"?
I go to the restaurant Crossroads in LA. I know that it's not accessible to everyone; it's a gourmet vegan restaurant. But all over now we are finding meat substitutes for people who are just leaving their meat diet and want to feel comfortable. More chefs are spending more energy creating more meals. There are more choices for vegetarians now as vegetarianism is becoming more popular. And a lot of that stuff is made for people who have a history with meat, who are close to meat, so they want meat substitutes.
The new wave of vegetarians needs ideas that kind of sync with their history, right? They want to move gradually toward vegetables and grains and foods that really are healthy. So, I don't like to call them junk foods, because they are so much better than the alternative. I think that our next challenge is to bring healthy food to communities that can't always afford these expensive alternatives.
I think we have to promote the truth. The other day I was promoting my book, and I go to Dr. Sanjay [Gupta] and Dr. Oz, and Fox and Friends, and they're talking about how scary steak is, specifically, that there are so many carcinogens that it's equal to smoking 20 cigarettes a day. That's the kind of information that you should knock on everybody's door with. And they don't. That information was out for a couple of days and now it's gone. That kind of information is so damning and promotes a vegetarian diet so well to anyone with common sense. People work out and treat themselves well for the most part, and think that their steak is OK—but when they find out that it's equal to 20 cigarettes a day, they won't eat it.
Do you find that your vegan diet has rubbed off on others around you?
Absolutely. I've been a vegan for 15 years and everybody around me seems to be going vegan. I'm watching the whole world transform in front of me. I don't know if it's my diet, but all the yoga and all the consciousness, my book being a best seller for five weeks on the subject of happiness and meditation—come on! These subjects were not subjects that were selling 15 years ago.
Can you elaborate on the relationship between a vegan diet and meditation?
When you meditate, you are more in tune with your body. That's one of the first things that you notice. One teacher once said that after a very difficult yoga practice, you should put something in your mind that promotes your practice. You do all kinds of twisting poses to clean your liver and cleanse your intestines, so when you think about what adds to your practice, what will nourish you, you know that you don't want to put animal products in you.
You devote a chapter in the book to The Power of Compassion. In that chapter you talk about meditation's power to grow compassion. Compassion must be a major influence in your diet. Does eating vegetarian create a loving feeling for you?
It goes both ways. Eating a vegetarian diet allows you to be more compassionate, but being more compassionate promotes a vegetarian diet. They go hand in hand.