Plant Power: Q & A with Vegan Bodybuilder Robert Cheeke
Heading out the door? Read this article on the new Outside+ app available now on iOS devices for members! Download the app.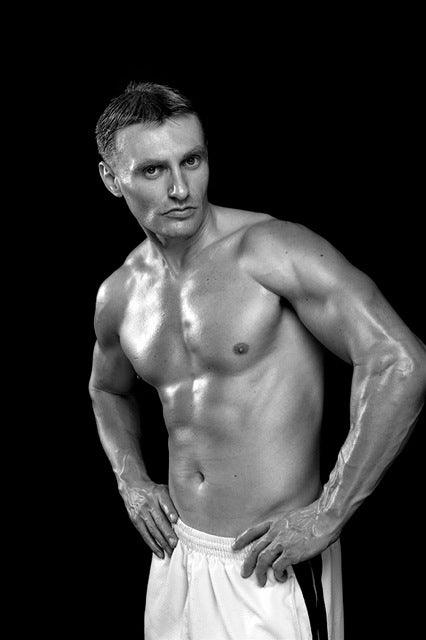 PHOTO Vegan body builder Robert Cheeke
PHOTOGRAPHY Melissa Schwartz
You can't help but admire vegan bodybuilder Robert Cheeke. A trailblazer in bodybuilding and fitness, he is amongst a growing roster of plant-powered pro athletes who are showing the world that a vegan diet and optimal athletic performance go together like peanut butter and jelly. Winner of the 2005 INBA Northwestern USA Natural Bodybuilding Overall Novice Championship, Cheeke is living proof that following a plant-based diet is one of the best things you can do for your health and your body. Here, he shares why it's so important to educate others about vegan living and why giving up animal products doesn't mean we have to give up achieving our fitness goals.
When did you first go veg? What motivated you to make the change?
My journey to veganism began when I was a sophomore in high school. My older sister, Tanya, was interested in animal rights and held an animal rights week at our high school in 1995. She became a vegetarian, and I soon followed. For a long time before that, I felt a connection to animals and believed it was wrong to eat creatures with personalities, thoughts, and the ability to show love and affection. I grew up on an animal farm, and my father worked in the animal science department at Oregon State University. It was in this environment, with direct contact to farm animals, that I decided that eating meat was not in accordance with my values. By the time I was a senior in high school, I took over organizing the Animal Rights Week at my high school.
There are not many people out there doing what you do, promoting plant-based bodybuilding and fitness. How do you convince others that it can be done?
There is nothing more effective than tangible results to show people that athletic achievement and substantial muscle growth can be achieved healthfully on a plant-based diet. I've been recording my weight since high school, ever since I was a skinny teenager of 120 pounds. When I began bodybuilding and cross-country running in college in 1999, I was able to go from my starting weight in college of 155 pounds to 185 pounds in the first year. I gained 30 pounds in one year on a vegan diet and eventually got up to 195 pounds all without eating animal products or dairy-based protein powders and shakes. If I can do it, other people can do it too.
Amongst the bodybuilding community, what has been the overall response when you explain that you are vegan?
In general, people are very supportive of my lifestyle. I've hung around with all of the best body builders in the world and I've had discussions with other athletes about the health benefits of consuming plant-based protein versus meat and dairy proteins and processed protein shakes and powders. The latter puts too much stress on the body and predisposes us to heart disease and other health conditions. I've had countless conversations with athletes and body builders and for the most part, I've received inquisitive, thoughtful, and positive responses.
What is the most rewarding aspect of your career?
Bringing so many people together through my website Vegan Bodybuilding & Fitness, befriending other like-minded individuals, and being part of a supportive community of people who wish to make a difference in the lives of others. Because of my website, I've had the opportunity to meet people I otherwise would never have had the pleasure of becoming acquainted with, and I've gotten to share the knowledge that I have about healthy, plant-based living. Helping animals is another hugely satisfying part of my job. One of my goals for the future is to eventually open up my own farm animal sanctuary where abused animals can find peace in a natural, spacious setting. I've missed the relationship with farm animals that I enjoyed in my youth, and I want that to be a part of my life again.
What is your favorite food?
I love fruit. I eat in-season, and I love them all. It's not unusual for me to have as many as 20 different types of fruits in my house at one time. I love persimmons, berries, figs, mangoes, pineapple, and exotic fruits like dragon fruit and jackfruit. As for meals, I'm a big fan of Indian food and Thai food.
Talia Fuhrman has a B.A. in Nutritional Sciences from Cornell University and is a freelance body image and nutrition writer and chef. She's on a mission to help people understand that eating healthfully and feeling fantastic can be fun, delicious, and easy. She has written for numerous websites and magazines including Psychology Today, Positive Impact Magazine, VegNews, CrazySexyLife.com, GirlieGirlArmy.com, and DiseaseProof.com. You can find her at www.taliafuhrman.com and on Facebook.