Very Non-Traditional, Very Delicious Butternut Squash Hummus
This creamy hummus recipe is a little sweet and a little savory and insanely delicious.
Heading out the door? Read this article on the new Outside+ app available now on iOS devices for members! Download the app.
If there were hummus police, officers would likely shut down this recipe, because it contains very little of the time-honored formula. But for what it lacks in tradition, this hummus more than compensates with its super-creamy texture and slightly sweet, "goes-with-everything" flavor. It plays particularly well with crudites like carrots, celery, and jicama and makes a delicious spread for whole-grain crackers and rice cakes. It also makes a great spread for wraps and sandwiches.
Reprinted with permission from Smart Plants © 2019 by Julie Morris, published by Sterling Epicure.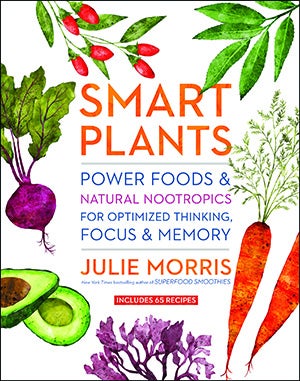 Food for Thought: Butternut Squash
Butternut squash is very high in antioxidants and phytonutrients and has more beta-carotene than pumpkins. It offers many of the B-complex vitamins as well—all of which help to protect your brain from oxidative stress. Don't be shy about buying several gourds at time—a butternut squash can last up to 3 months when stored in a cool, dry place.
Related: How to Pick, Prep & Cook with Butternut Squash
Go Vegan! 30 Days to a Plant-Based Lifestyle
Ready to embrace the power of a completely plant-based lifestyle? Join celebrated vegan chef and cookbook author Julie Morris in this comprehensive online course that gives you essential knowledge and skills for going vegan—and reaping the benefits of this healthy, energizing, vibrant way of eating! Click here to learn more. 
Ingredients
1 pound butternut squash, peeled and cut into 1-inch dice (4 cups)
1 1/2 cups cooked unsalted garbanzo beans (or 1 [15-ounce] can, rinsed and drained)
1/3 cup tahini
1 clove garlic, sliced
1/2 teaspoon red pepper flakes
1/4 cup red wine vinegar
Sea salt
2 scallions, trimmed and sliced thinly on a sharp diagonal
Pomegranate seeds, hemp seeds, and extra-virgin olive oil, for serving (if desired)
Preparation
1. Bring 1 inch of water in a large heavy-bottomed pot to a boil. Place a steamer basket inside the pot and fill it with the butternut squash. Cover the pot, and steam the squash for about 10 minutes, or until it is very tender when poked with a knife. Remove the squash from the pot and let it cool to room temperature.
2. Place the squash in a food processor, along with the garbanzo beans, tahini, garlic, red pepper flakes, red wine vinegar, and 3⁄4 teaspoon sea salt. Puree the mixture until it is very smooth (this may take a few minutes). Taste and make any adjustments to the seasoning, adding additional vinegar or salt, or even more garlic, if desired. Swirl the hummus in a serving bowl and sprinkle the scallions on top. If desired, garnish the hummus with a handful of pomegranate seeds and hemp seeds, and drizzle a little olive oil over the top, just before serving.
Brain Boost: Add 1 tablespoon of lion's mane powder to the food processor while pureeing the squash, garbanzo beans, tahini, and other ingredients.