Flaky Harvest Vegetable Squares
An assortment of autumn vegetables is paired with a garlicky roasted cauliflower purée in these savory pastries.
Heading out the door? Read this article on the new Outside+ app available now on iOS devices for members! Download the app.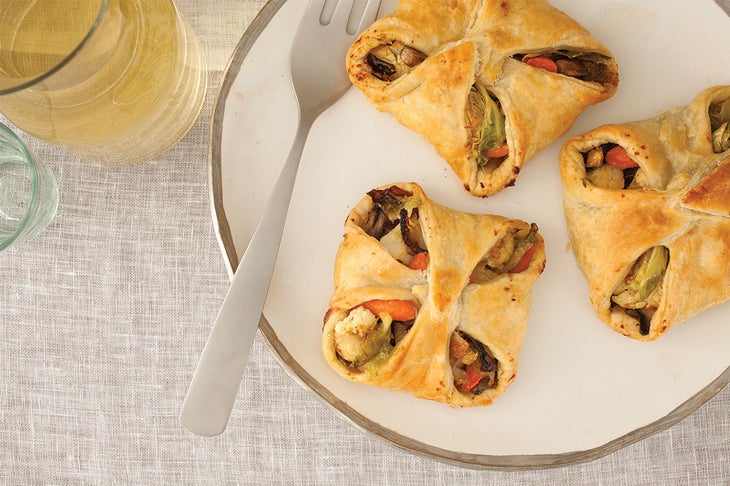 An assortment of autumn vegetables is paired with a garlicky roasted cauliflower purée in these savory pastries.
Ingredients
1 large head cauliflower (2 1/2–3 lb.), broken into small florets, divided
1 medium onion, sliced (1 1/2 cups)
3 Tbs. plus 1/2 tsp. olive oil, divided
1 1/4 tsp. salt, divided
3/8 tsp. ground black pepper, divided
2 heads elephant garlic
2 tsp. vegetarian Worcestershire sauce, divided
3 Tbs. white wine
1 Tbs. cornstarch
1 tsp. fresh thyme leaves (chopped if they look large or tough)
10 Brussels sprouts, halved
10 baby carrots, halved on the diagonal
10 small button mushrooms, halved
6 shallots, peeled and quartered, root end left intact
1 17.3-oz. pkg. frozen puff pastry, thawed (2 sheets)
1 large egg, beaten, for brushing dough, optional
Preparation
1. Preheat oven to 425°F. Set aside 20 cauliflower florets in bowl. Toss remaining florets and onion with 1 Tbs. oil; season with 1 tsp. salt and 1/4 tsp. pepper. Spread on large baking sheet. Cut tops off garlic heads, place on foil square, and drizzle with 1/2 tsp. oil. Close foil around garlic. Place foil-wrapped garlic and cauliflower-loaded baking sheet in oven, and roast 30 to 45 minutes, stirring cauliflower occasionally, until cauliflower and onion are browned and garlic feels soft.
2. While garlic is still warm, squeeze garlic pulp from each clove into bowl of food processor. Add cauliflower mixture and 1 tsp. Worcestershire sauce, and purée until smooth. Season with salt and pepper, if desired. Set aside.
3. Combine wine, cornstarch, remaining 1 tsp. Worcestershire sauce, thyme, remaining 1/4 tsp. salt, remaining 1/8 tsp. pepper, and 1/2 cup water in small bowl until cornstarch has dissolved. Set aside.
4. Heat remaining 2 Tbs. oil in wok or large skillet over high heat. Add Brussels sprouts, carrots, reserved 20 cauliflower florets, mushrooms, and shallots, and stir-fry 5 to 7 minutes, or until vegetables begin to brown. Add cornstarch mixture, and stir-fry 1 to 2 minutes more, or until most of liquid has evaporated and vegetables are coated with sauce. Remove from heat, and cool.
5. Meanwhile, roll each sheet of puff pastry into 12-inch square on floured work surface. Cut each sheet into 4 squares, and place on 2 parchment-lined baking sheets. Chill 15 minutes.
6. Preheat oven to 425°F. Spread 1/4 cup cauliflower purée in circle in center of each pastry square. Stir cooled vegetable mixture to coat with sauce, then scoop 1/2 cup vegetables in center of square, making sure each portion contains a good mix of vegetables. Fold corners of pastry squares over vegetable filling and into center, pinching corners to seal. Brush each square with egg (if using), and chill 15 minutes. Bake 12 to 15 minutes, or until crisp and golden brown, checking bottoms of squares with spatula to make sure they are browned. Let stand 5 minutes before serving.
Nutrition Information
Calories

386

Carbohydrate Content

39 g

Cholesterol Content

0 mg

Fat Content

22 g

Fiber Content

6 g

Protein Content

10 g

Saturated Fat Content

5 g

Sodium Content

726 mg

Sugar Content

8 g