A Gluten-Free and Vegan Pumpkin Pie for Everyone to Enjoy
A traditional family recipe gets modernized with miso and cayenne
Heading out the door? Read this article on the new Outside+ app available now on iOS devices for members! Download the app.
In many ways my husband and I had parallel lives growing up, but the most prominent was the way we ate. Both of us grew up with natural ingredients, whole foods, and home cooked meals. As kids, we couldn't trade our carob chip "cookies" and whole wheat sandwiches with sugarless peanut butter with anyone and it was pretty depressing. Not that either of us are complaining anymore – far from it. A funny thing happens when you get older – you find yourself turning into your parents and falling back into the habits they taught you. Needless to say, I fit in well with his family, as he does mine.
After almost two years of Zooms and texts (no) thanks to an unwelcome pandemic, we recently reunited with my mother-in-law, who lovingly made us pumpkin pie and gave me her recipe. She's an overachiever, and it shows in the pie. True to form, it features coconut sugar, pumpkin puree from scratch, fresh ginger, and loads of cinnamon and spices. It's maximalist, warming, and encompasses everything about the holidays. There's only one problem with it: I can't serve it to my chosen family who have dietary restrictions.
I set out to adapt her recipe into a gluten-free and vegan pumpkin pie, plus I added a couple more modern ingredients for fun. What follows is the result that I hope you'll love.
---
 More Holiday Recipes and Ideas from Vegetarian Times
---
Get more of what you love from VT. Follow us on Instagram, Facebook, and Twitter, and sign up for our email newsletters. 
---
Gluten-Free Vegan Pumpkin Pie with Miso and Cayenne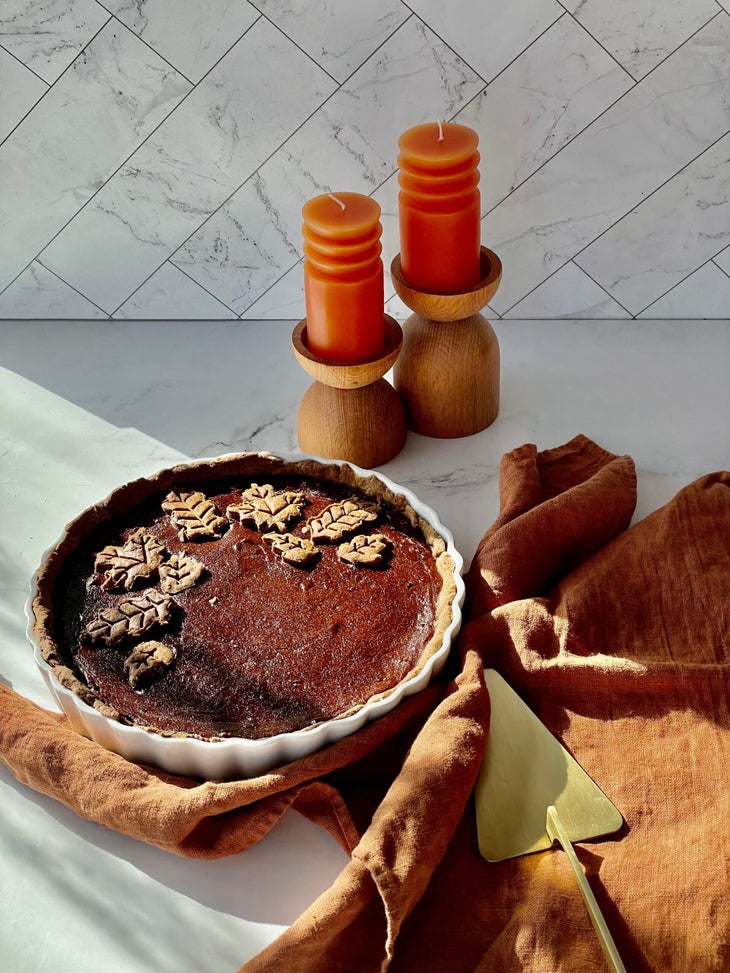 Ingredients
For pumpkin puree
2 medium (6-8 inch) sugar pumpkins
Oil (coconut or avocado)
For filling
1 1/2 cups pumpkin puree (either homemade following recipe or canned if in a pinch)
1/2 cup coconut cream
1 1/2 cups coconut sugar
4 Tablespoons arrowroot
2 Tablespoons ground cinnamon
1 teaspoon ground nutmeg
1 teaspoon ground cardamom
1 teaspoon ground cloves
1 teaspoon fresh ginger, sliced or grated
2 Tablespoons mild white miso (optional)
1 Tablespoon vanilla bean paste (optional)
1 teaspoon cayenne pepper (optional)
Preparation
Before you get started, note that the recipe for the pumpkin puree generally makes enough for two pies, which is handy since the process takes a while. However the pie and crust ingredients are for one pie each. If you plan to make two, double the filling and crust ingredients.  
Prepare the pumpkins.  
This step takes about an hour and a half with prepping and baking, and can be done about a week in advance of making pumpkin pie(s). You could also skip this part altogether if you prefer to use canned pumpkin. 
Preheat the oven to 350 degrees F (176 C) and line a baking sheet with parchment paper.

Halve the pumpkins with a sharp knife and scrape out the seeds with a spoon to remove them. 

Spray or brush with oil to lock in moisture (coconut or avocado are nice here). 

Place flesh down on the baking sheet. Pierce skin a few times with a fork or knife to allow steam to escape.

Bake until the pumpkins are partially collapsed and fork soft, around 50 minutes to an hour. 

Remove pan from the oven, let the pumpkin cool for 10 minutes, then scoop out the flesh / peel the skin off. 

Toss in a blender, puree until smooth, and refrigerate until ready to use. You should expect around the same amount you see in a can (15-16 oz) or slightly more.
Prepare the dough.
This crust is vegan and gluten free! Buckwheat flour, despite its name, has no gluten in it. Gluten free flour isn't the easiest to work with, but this combo lends a nice, nutty flavor and isn't too heavy, making it worth the hassle to appease most diets. You can hand mix, but I prefer to  use a table mixer or even use a food processor to speed up the process. 
In a bowl, add all the flours and sugar. Add the miso (you can sub with the same amount of salt if needed). 

Cube the cold butter in small pieces to make it easier to incorporate and add to the mixture. Start mixing either by hand or machine. Keep in mind the goal is not to incorporate the butter completely; when you're done there should still be pea-sized pieces throughout the mixture.

Slowly incorporate the water until a dough forms. A quarter cup should be the right amount, but if you find it's not sticking together, add a tablespoon at a time until you're satisfied. If you find it's too wet, add a tiny bit of flour. 

Form a ball and wrap in your non-stick material of choice like saran wrap or silicon bags, leaving no air around it, and refrigerate for at least one hour (or up to 24 hours).
Make the pie crust.
When you're ready to start making the pies, preheat the oven to 350 degrees F (176 C).

Lightly flour a clean surface and a rolling pin. Set down the ball of dough. (If you're decorating the top of the pie, reserve some dough for cookie cutouts and put aside.) Squish down the ball to form a circle and then start rolling out with the pin until it reaches about 9 or 10 inches in diameter.

Oil or (vegan) butter your pan (I like spray oil here). 

Gently peel the circle of dough with your fingers and set into your pan. Pinch and pat any tears back together. Poke the bottom with a fork. Don't worry about crimping the crust since the dough is more challenging to work with. 

If you've decided to decorate the pie, stamp the remaining dough with cookie cutters (leaf shapes are pretty for fall, but anything goes) and set aside. 
Prepare the filling.
This filling is naturally sweetened, vegan, and gluten free. The coconut sugar adds a nice, robust flavor but it does make this pie darker than usual, so if you prefer a lighter, more traditional orange color, consider regular sugar. The miso, vanilla, and cayenne add a modern twist but are certainly optional. If you don't have miso you can use salt instead (I suggest about a teaspoon worth to counteract the bold spice flavors). 
In a high speed blender, add the pumpkin puree, coconut cream (make sure you're using cream for the best result), sugar, arrow root, and spices. For a more modern take, add vanilla bean paste, miso for umami flavor, and cayenne pepper for an extra kick. Blend until smooth for a few minutes to incorporate the ingredients. 
Finish the pie(s). 
Pour the filling into the crusted pie pan. Use a spatula to scrape the sides and to smooth out any ripples in the filling.

If you have decorative leaves or other pie crust shapes, arrange them on top of the filling.

Gently slide into the oven and bake for 50 minutes to one hour.

Once finished, remove, let cool, and set for at least an hour. It's even better the next day. Then cut, serve, and enjoy.