Vegan Meatless Loaf with Shallot and Thyme Gravy
This flavorful loaf uses sturdy chickpeas instead of the lentils-and-walnuts combination used in most vegan meatloaves.
Heading out the door? Read this article on the new Outside+ app available now on iOS devices for members! Download the app.
This loaf is served with a simple, savory gravy; for an even richer flavor, add minced mushrooms, or swap unflavored soy milk for half the stock. If you can't find panko, use regular or gluten-free bread crumbs or quick oats. Or make your own panko: remove the crusts from stale bread, tear the bread into small pieces, dry it out in a 300-degree oven for 10 minutes, then let cool and coarsely crumble. Leftovers make a great next-day lunch, sandwiched between thick slices of bread and layered with sliced onions, lettuce and vegan mayo.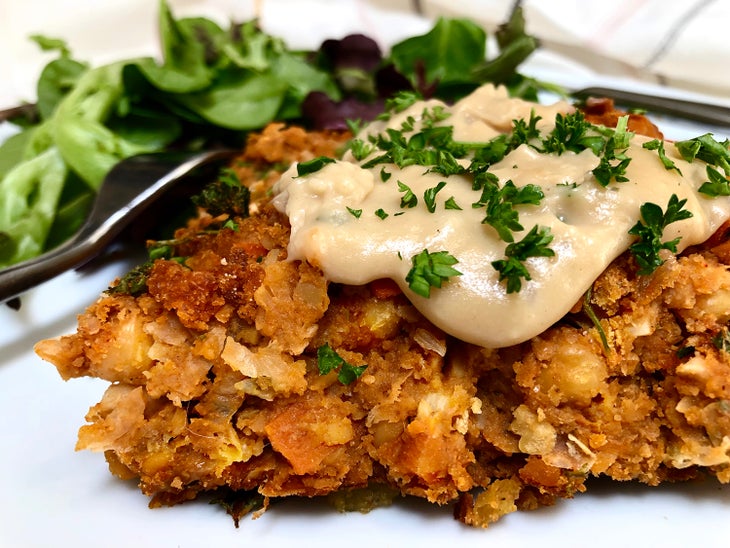 Ingredients
2 tablespoons olive oil
1 small red onion, diced
2 medium carrots, diced
1 large celery stalk, diced
4 large garlic cloves, minced
2 cans chickpeas, drained and rinsed well
1 cup panko (regular or gluten-free)
1/3 cup ketchup
1/4 cup minced parsley
3 tablespoons vegan Worcestershire sauce (substitute tamari)
1 teaspoon smoked paprika
1/2 teaspoon black pepper
Gravy
1/4 cup coconut oil
1 small shallot, finely minced
1/4 cup flour or gluten-free flour
1 cup vegetable broth
1 cup soy milk
2 tablespoons finely minced fresh thyme leaves
Chopped flat-leaf parsley for garnish (optional)
Preparation
1. Preheat oven to 375 degrees. Generously grease a 9-inch loaf pan.
2. In a large skillet, heat olive oil and sauté onion, carrots, celery and garlic for 5 minutes, until just tender. Set aside.
3. In a large bowl, mash chickpeas with a potato masher, breaking them up into a coarse paste. (You can use a food processor; just be sure not to turn the mixture into mush.) Add sautéed vegetables, panko, ketchup, parsley, Worcestershire or tamari and paprika; stir to mix well. Season to taste with salt and pepper.
4. Transfer mixture to prepared loaf pan, pressing evenly into pan and lightly smoothing the top. Cover with foil and bake for 25 minutes. Remove foil and bake for 20 minutes longer, uncovered, until lightly browned and firm. Remove loaf from oven, transfer to a rack and let cool for 15 minutes before slicing.
5. While loaf is cooling, make gravy: melt coconut oil in a medium saucepan; add shallots and cook for 2 minutes. Whisk in flour and cook for 1 minute, whisking constantly. Slowly whisk in vegetable broth and soy milk. Continue whisking until mixture is smooth and thick, 3 to 5 minutes longer. Whisk in thyme. Season to taste with salt and pepper, and keep warm.
6. Cut loaf into 6 to 8 slices and transfer to individual plates. Top with hot gravy and parsley, if desired, and serve immediately.