Besharam Chef Heena Patel on Cooking for Yourself, Changing Kitchen Culture, and Being Shameless About Living Your Values
"I want to have fear-free culture in my kitchen," she says of her staff, many of whom are, like her, first-generation immigrants. "I want to give them the support that I didn't receive."
Heading out the door? Read this article on the new Outside+ app available now on iOS devices for members! Download the app.
"I want the guest to feel like they have entered into my house, where the time slows down and I give them a taste of dishes that change daily," says chef Heena Patel of her cozy San Francisco restaurant Besharam, where she cooks seasonal Gujarati, Indian food in an open kitchen as her husband Paresh Patel welcomes guests to the dining room.
Heena, who grew up in Gujarat, India and immigrated to the Bay Area in 1992, opened Besharam in 2018 in the Minnesota Street Project, a contemporary art gallery space in the Dogpatch district. The concept came together after a residency at culinary incubator La Cocina that began in 2013.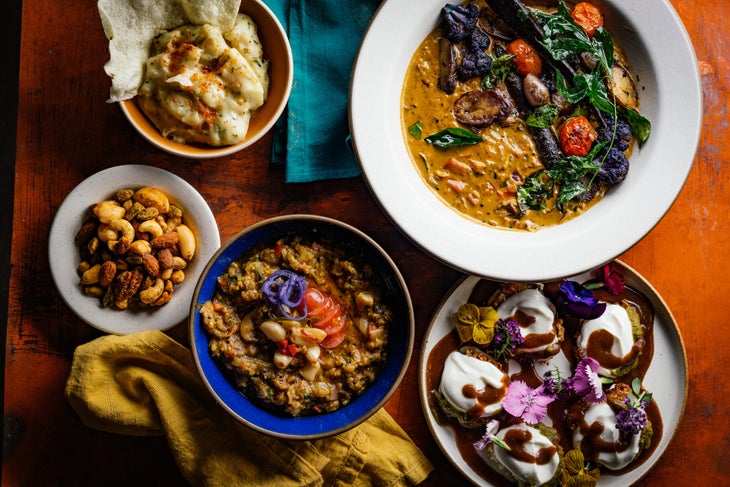 "I stayed there for five years. I learned how to turn my dishes from home cooking to more upscale in volume," It was there that Heena also learned to turn her flavors into words. "You learn so much from describing your food. It took me awhile to learn that language. La Cocina played a big roll in my realizing how good the regional food is, what sets it apart from other Indian restaurants."
Heena's elevated take on homestyle Gujarati cooking is one of the many things that sets Besharam apart. "I feel like it's a hidden gem. Nobody is talking about Gujarati food," says Heena who was raised, the second of five daughters in a vegetarian household where her mother Leela cooked every meal with fresh vegetables.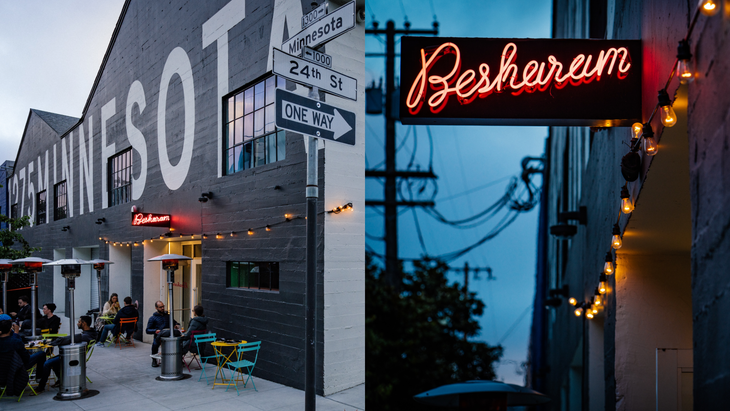 "The state of Gujarat has a lineage of vegetarianism," she says, noting that a majority of its population is vegetarian like her. Despite this, she eventually learned to cook chicken and lamb and put them on Besharam's opening menu.  But after two years and a global pandemic that forced a shutdown, Patel decided to retool and reopen in April of 2021 as a fully meat-free restaurant. She wanted Besharam to be a place where she could celebrate her upbringing, specifically the vegetarian food she had grown up eating.
"Besharam tells the story of myself. The guests who come here, they come to eat my food and that was natural for me to have it be vegetarian. That's why I switched."
In addition to a well-received fully vegetarian menu, Patel has very recently launched Leela's Sunday Night Khichdi Supper Club at Besharam, where the traditional rice and lentil dish is served as a three-course family-style feast with moong dal and basmati rice.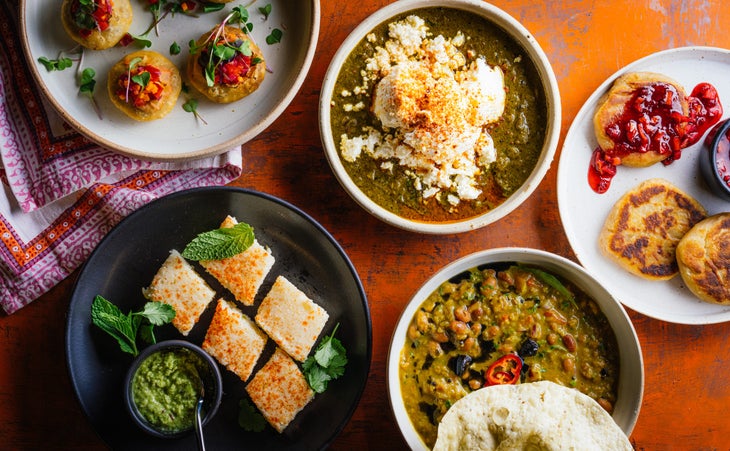 Much like her mother, Patel's dishes are inspired by her daily farmer's market finds – but Patel also has her own style.
"Besharam is the place where I want my guests to know about the cuisine I grew up with but I also have my own twist. My food has traveled with me. My dishes taste different than my mom's because my food has evolved with me."
Besharam the restaurant isn't only a reflection of Patel's culinary ethos. She also wants her kitchen to be a place of mentorship and support.
"I want to have fear-free culture in my kitchen," says Patel, who worked at several notable Bay Area restaurants before striking out on her own. "I want to give them the support that I didn't receive and that's always my goal."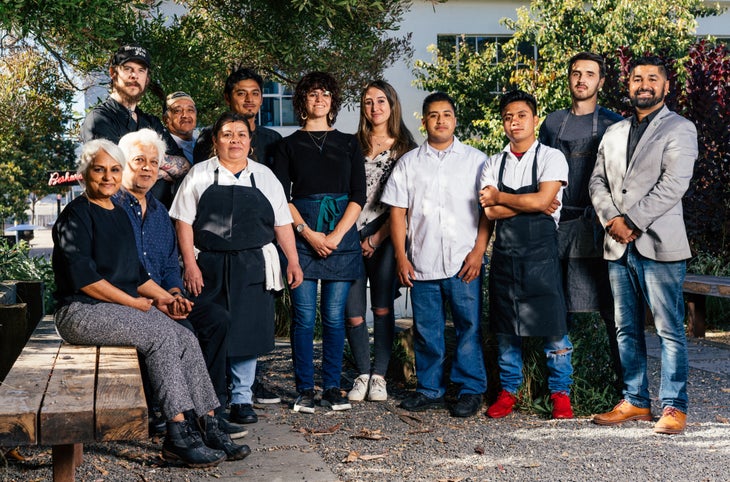 "My kitchen is all first-generation immigrants like me, because I see myself in them," she says noting that most of her back-of-house staff is from Mexico or Guatemala and generally speak different languages than Heena. "My prep cook is as old as me. The communication happens by the hands. And we never miss. She always gets me what I want her to do," says Patel who, at 56, has already raised two children who now run her social media.
"I want to highlight who I am. The Besharam – which translates to shameless in Urdu – is me," she says. "I have experienced and I have seen how other chefs feel and look and I'm not falling into that box. That's where the Besharam name comes. The Besharam name does not just represent the food itself but also the kitchen I run. It's so challenging but I accept this challenge and that makes me feel good."
---
RELATED: Chef Shenarri Freeman is Cooking Vegan Soul Food That Everyone Wants to Eat
---
Get more of what you love from VT. Follow us on Instagram, Facebook, and Twitter, and sign up for our email newsletters.