Chef Shenarri Freeman is Cooking Vegan Soul Food That Everyone Wants to Eat
At her breakout restaurant in New York City, the Richmond, Virginia-born chef is invested in showcasing healthier alternatives to treasured dishes – without compromising
Heading out the door? Read this article on the new Outside+ app available now on iOS devices for members! Download the app.
It's a sweltering day when I arrive at Cadence in New York City's East Village to meet the chef Shenarri Freeman. "Beauty & Essex" by the Free Nationals softly bounces off the brick walls in the long skinny space, which is fashioned like a bar with only twelve seats. The restaurant is closed — it's 2 p.m. on a Monday — and Freeman is wearing a halter-like black tank top, teal shorts, pink sneakers, and a camouflage-printed bucket hat. She asks me if I'm hungry. I am. "I have some lasagna," she offers, and I readily accept.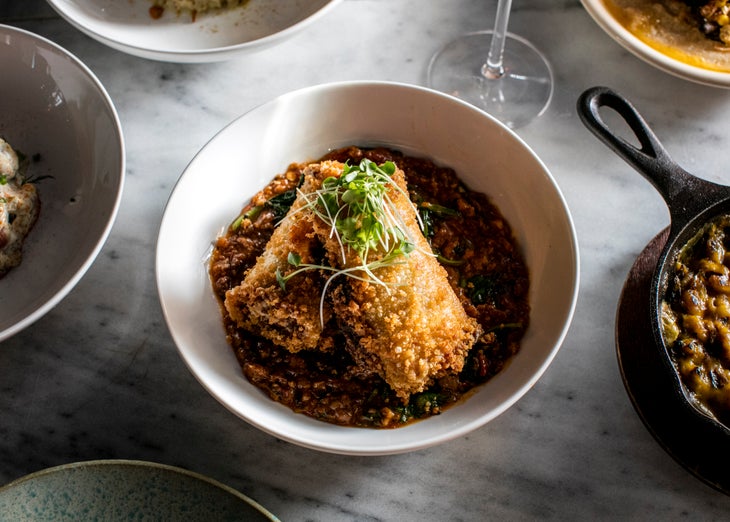 She moves behind the bar and into the open kitchen to heat up a fryer-basket full of sunflower oil and whip up an order of her Southern-fried lasagna. Like everything else served at Cadence, the dish is vegan and inspired by soul food — in this case, the lasagna her mom used to make for her when she was growing up in Virginia. Freeman first makes fresh ricotta from pine nuts, a bit of chickpea, lemon zest, and miso to layer into thick noodles. Then she fries the roll-ups until golden before plating them on top of her red wine Bolognese, to which she adds spinach and Beyond beef. It's cheesy, tender, nutty, and crispy all at once, with a subdued sweetness from the tomato sauce and a helping of meatiness thanks to the Beyond beef. It's also the only dish on Cadence's menu that contains faux meat. "I try to stay away from super processed foods," Freeman says. "But I also take a realistic approach with my cooking. I want people to know that these are things they could make at home."
Freeman spent the first ten years of her career working simultaneously in music and restaurants until she became vegan in 2016, and decided to hone in on her cooking chops full-time. "My techniques are more advanced," she reasons, "but I'm not compromising on flavor or texture. You're not missing meat or missing dairy or missing eggs. A lot of non-vegans don't enjoy the food at vegan restaurants because the food doesn't cross their palate, but I know what people want to eat." Freeman turned to veganism for health reasons, which is why she avoids using meat alternatives and prefers to cook with natural ingredients. That's also the reason she uses maple crystals instead of white sugar in her maple-buttermilk cornbread. For that, she creates buttermilk from almond milk and apple cider vinegar so it forms acidity and curd, swirls in agave for an added element of sweetness, and serves the final product with bee-free honey made of apples and seasonal jams.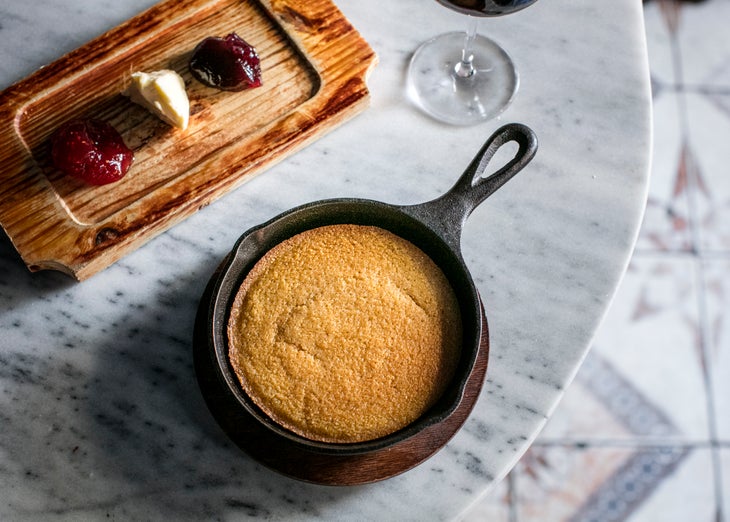 Highlighting healthier alternatives to harmful ingredients is a big part of Freeman's mission at Cadence. "A lot of people in my community have diabetes and high blood pressure, high cholesterol, all sorts of things that come from the foods we eat," she says. By fashioning traditional Black Southern foods with a new perspective, the chef hopes to bring vegetables back to the forefront of the cuisine that her friends and family know and love. "It's important to me to be able to let people know that there's another way to go about this without compromising," she says. That's why, if you dine at Cadence, you might find Freeman on the floor talking to guests while her cooks handle the frying baskets and the sauté pans. "I prefer to be in the kitchen cooking, but I don't mind front-of-house, because I understand that people want to learn about food and my journey and pick my brain about veganism," she says.
Eventually, the music turns to Solange — "Cranes in the Sky" — and the conversation shifts to vibe. The soundtrack at Cadence is a significant part of the experience, given Freeman's background producing concerts. Through music is how she was first able to take the reins in creating a laid-back, feel-good energy in dining rooms. She remembers when she was working at Marvin, a bistro and music venue in Washington D.C., and the music box broke. "So I made a playlist, and people started freaking out. From that point on, I controlled the music," she says. It only makes sense then that she controls the music at Cadence, a restaurant that is not only an expression of her diet but also of the way she likes to eat and hang out. "When I go to restaurants, I like to try everything, so I prefer small plates that I can share amongst my friends," she adds.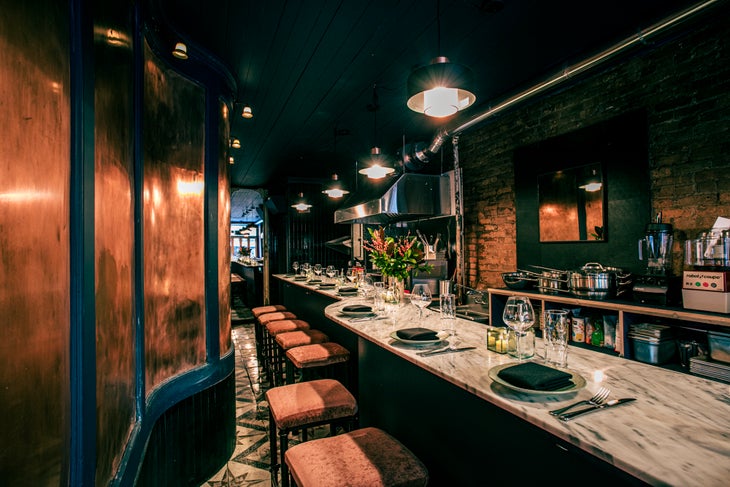 Freeman also loves to drink wine. She worked with Drew Brady, the beverage director of Overthrow Hospitality, the all-vegan restaurant group of which Cadence is a member, to create a list of vegan wines (since many wines are not vegan) made exclusively by Black producers. Some bottles come from California, others come from South Africa, and several are the result of celebrity athletes getting into wine, including Dwayne Wade and Charles Woodson. She's proud of the program, especially since it's rare. "I've never seen an all-Black wine list in another restaurant, so I think it's something that can inspire or influence other restaurateurs to adopt," she says. And the chef feels similarly about her approach to vegan soul food: "There are a lot of people from Southern states that moved up here, I have vegan people from Alabama, from Texas, Florida, Mississippi, who tell me they've been looking for this kind of food, but couldn't find it."
Cadence opened in March, just as New Yorkers were starting to get vaccinated. Meanwhile, Freeman was still finishing up culinary school, which had been on pause on account of the pandemic. She officially received her diploma in June. Now with less on her plate, she has many plans for the future of Cadence. There's her desire to plant a community garden in conjunction with the other Overthrow Hospitality restaurants, and her drive to collaborate more closely with Black farmers in New York to source ingredients. Beyond the restaurant, she wants to teach recreational cooking classes and start her own line of scratch-made vegan sauces. For Freeman, cooking smoked grits with torched oyster mushrooms and black-eyed pea garlic pancakes with pickled mustard seeds and serving them to guests in an intimate, vibey hideaway in downtown Manhattan is a sizable accomplishment within a broader goal. She's here to make her case for a vegan diet's effect on the body — and soul.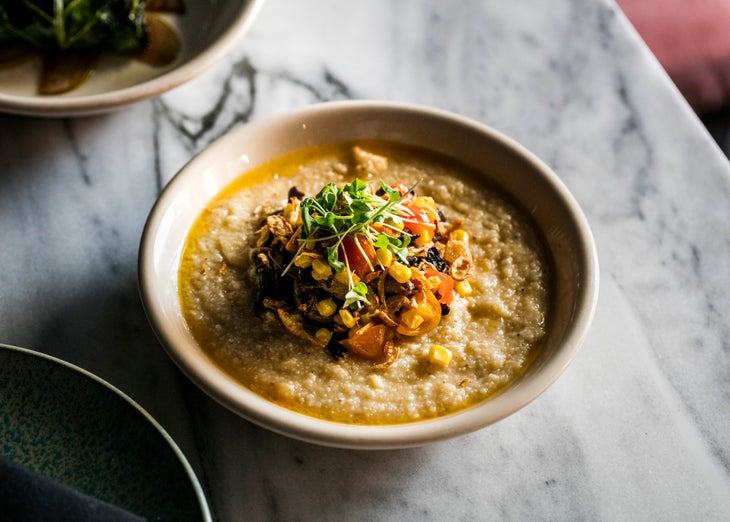 ---
RELATED: Los Angeles Baker Jen Yee Is Making Phenomenal Croissants That Just Happen to Be Vegan
---
Get more of what you love from VT. Follow us on Instagram, Facebook, and Twitter, and sign up for our email newsletters.