Eating to Look Great-Nutrition Tips and Trade Secrets from
 Timeless Beauty Author Christie Brinkley
Check out these healthy beauty and eating tips from timeless beauty author, Christie Brinkley.
Heading out the door? Read this article on the new Outside+ app available now on iOS devices for members! Download the app.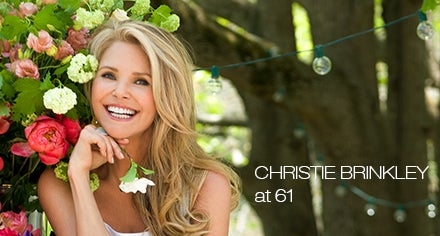 Presented by BioSil
While good genes have certainly played a role in the thirty plus year career of supermodel Christie Brinkley, the 62-year-old beauty has stayed in the game by taking care of her body, from the inside out. In her new book, Timeless Beauty (2015, Grand Central Life & Style), Brinkley shares her thoughts on nutrition, including tips for maintaining vibrant skin, hair and nails throughout the aging process.

"I want to help you discover the power of food to fuel your health, your beauty and your adventures," says Brinkley. "It's an approach that I like to call 'enlightened eating.'"

Brinkley suggests that the combination of healthy food and positive thinking will result in a healthier lifestyle. At the core of her philosophy is a predominantly plant-based diet, paying close attention to source and sustainability. Over the years, Brinkley has also discovered that her approach to healthy eating is also the secret to beautiful skin.
"Truly beautiful skin radiates with the glow of good health—no matter your age! And that starts with a healthy diet." says Brinkley. "When people ask me my big secret to looking younger than my age, I reply 'Eating right will keep you tight!'
Brinkley explains that not only is diet important for a healthy body and skin, "nutrition is the root of gorgeous hair." Strong advice from the supermodel whose hair has often been "under contract" as she famously served as spokesperson for various hair care products throughout the years.
"Just like for your skin, the right foods and supplements really can make a difference when it comes to your hair. Without a balanced diet, hair can thin, get brittle and lose its luster." Super protein collagen for example, thickens hair shaft and increases hair strength. Brinkley knows that great supplements can make a big difference. "I started taking BioSil, and I am amazed at the difference I've seen in my nails, skin and hair. The nutrients in it help the body build more collagen, the substance that keeps skin firm, plump and smooth." BioSil is clinically proven to reduce fine lines and wrinkles, increase skin elasticity and improve the strength of both hair and nails.
Certain foods also pack more of a punch when it comes to boosting natural beauty, containing powerful antioxidants that protect against free-radical damage, as well as boosting the important collagen production.
Above all, Brinkley says her favorite beauty secret is maintaining a positive outlook on life. "You really can't underestimate the power of a smile." "Joy is contagious, and very, very attractive."
Superfoods for Your Skin
Here is a list of Brinkley's favorite foods that "pack more of a punch when it comes to boosting your natural beauty."


Walnuts

Great source of omega-3 fatty acids, which help to strengthen the skin and allow it to attract and hold moisture. The result is skin that looks and feels great.

Carrots

Carotenoids help fight against aging by protecting the skin against UV damage.
Radishes

Contain vitamin C, sulfur and silicon which support collagen production and and help keep skin supple and elastic.

Red Bell Peppers

One medium red pepper contains 200 percent of the daily vitamin C requirement.
Sweet Potatoes

Provide the vitamin A that is essential for skin health and skin aging protection, by promoting collagen repair and growth.
Spinach

Full of lutein and other carotenoids which protect the skin from sun damage.
Tomatoes

Full of the antioxidant lycopene which also contains anti-inflammatory properties.
Papaya, Strawberries & Kiwis

All rich in vitamin C, which helps promote collagen growth and prevent free radical damage.
Berries

Like all fruits and vegetables in deep, rich hues, berries (such as blueberries and blackberries) are a great source of free radical-fighting antioxidants.
Green Tea

Naturally full of antioxidants that help fight cell damage that contributes to wrinkles and skin aging.
Brazil Nuts

High in the mineral selenium which helps repair skin damage and prevent premature aging.
Tofu, Soy & Edamame

Packed with powerful isoflavones which may help stop the breakdown of collagen.